Entertainment
Brooks Ayers Age 51 Married Again, New Wife & Fake Cancer Talks
Reality star Brooks Ayers garnered much controversy because of his violent outbursts during his stint at Real Housewives of Orange County. So did his forging of fake medical documents about a non-cancer diagnosis.
The revelation drew not only widespread backlash but also did irreparable damages to his girlfriend of four years & RHOC co-star Vicki Gunvalson. Married for nearly ten months now, Brooks - at age 51 - seems to have found the "it girl" in his wife.
Read along to find out more including his present job, height & the family drama surrounding child support payment!
Married In Indiana In Front Of The Family; Meet Brooks Ayers New Wife
Brooks' time away from the spotlight has done him real good!
Celebrity From RHOC:- RHOC's Shannon Beader Rejoined with Her Ex-Husband David Beador for the USC Game Despite the Divorce Process!
The 51-year-old Mississippi native and his girlfriend of fewer than two years, Christy Groves got married on 25th March 2018. A day later, he changed his Facebook relationship status and thus, making the union between the newlyweds official.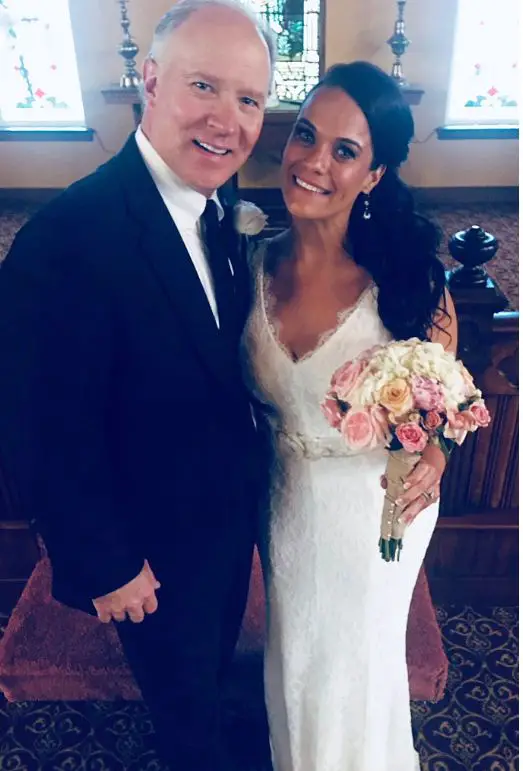 Brooks & his wife Christy on the day of their wedding (Photo:- usmagazine.com)
Held in a small white chapel in French Lick, Indiana, Brooks' marriage ceremony with his wife, Christy - an Ohio native with a 23-year-old son - was an intimate affair, only attended by kin-folks and family friends.
After the wedding, Brooks, who holds a territory manager job in Indiana, opened about their plans to return to Mississippi for more family time.
To those unfamiliar with the reality star's messy family life - despite boasting $150 thousand in net worth - he is battling his ex, Aime Catanzarite over the custody of their 9-year-old son Joey.
Besides Joey, the former RHOC star is also father to three other children - two daughters age 24 & 18 and 27-year-old son - from his first marriage. It is still unclear whether any of his four kids had attended the wedding.
Explore:- Here's How Dawn Staley Won Second Basketball Coaching Award 2018
Nonetheless, the Mississippi State University Alum couldn't be happier. Speaking with E! News, he opened about moving on & how he had never been better. When asked if he expects to hear from his ex-girlfriend Vicki, he replied:-
"I hope not. I've moved on from all that drama for sure."
It may come as a surprise to Brooks, but his former lover has moved on as well.
False Cancer Diagnosis Behind Breakup With Vicki Gunvalson?
Following the breakup, Vicki got together with Steve Lodge, a retired homicide detective. And by her admission, they could get married in no time.
By all means, the claims of Brooks - who stands a little above 6 foot in height - fabricating medical documents about a non-Hodgkin lymphoma in 2013 is correct. But it being the sole reason behind their fallout isn't.
Cancer Related Content:- WWE Star Roman Reigns Reveals Cancer Battle; How Serious Is It?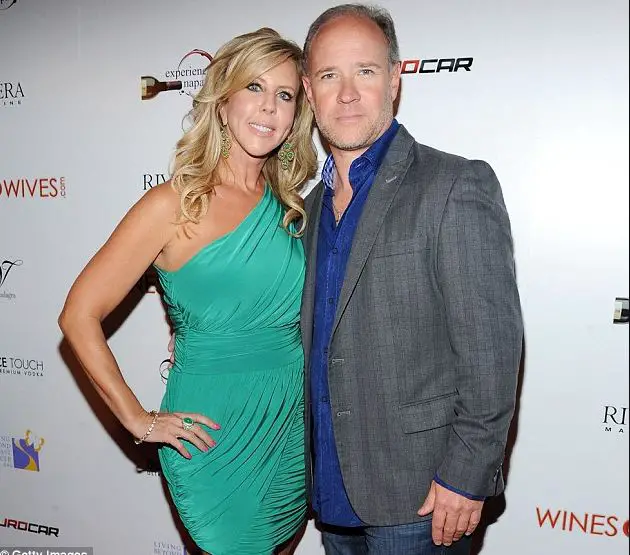 Brooks & Vicki attend an industry event (Photo:- dailymail.co.uk)
By the time the public had become aware of his scheme in 2016, Brooks bio reveals that he and his muse were no longer dating each other, having called it quits a year earlier.
In the interviews following the revelation, Vicki labeled him a sociopath and a possible murderer in the making.