News
WWE Star Roman Reigns Reveals Cancer Battle; How Serious Is It?
WWE superstar Roman Reigns' cancer is back after 11 years!
The reigning Universal champion Roman Reigns, age 33, relinquished his title in an emotional speech on last night's Monday Night Raw offering.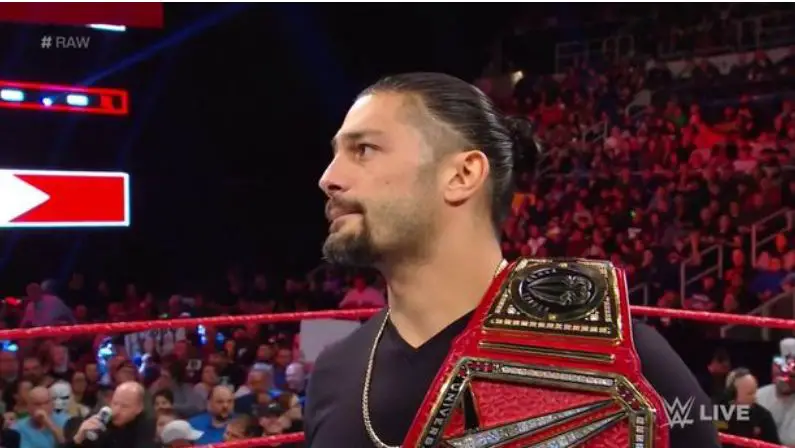 Roman relinquishes his Universal Championship following cancer diagnosis (Photo:- Mirror.co.uk)
Speaking to the fans in attendance, the Florida native - who has a reported net worth of $4.3 million - broke the news by saying:
"The reality is, my real name is Joe and I've been living with leukemia for 11 years and unfortunately it's back."
As a result of the cancer diagnosis, the WWE act - who raises three kids along with his wife Galina Becker - had to forfeit his Universal title. Roman almost choked when he said:
"And because the leukemia is back I cannot fulfill my role, I can't be that fighting champion and I'm going to have to relinquish my Universal Championship"
The 33-year-old ended his speech by claiming that although he didn't want anybody's sympathy, he will "take any prayers send at his way."
Other WWE Athlete:- WWE Newbie Kacy Catanzaro Shows Off Boyfriend, It's Not Bret Steffensen
Following the announcement, WWE released a video of Roman - real name Leati Joseph Anoa'i - being embraced by fellow WWE stars including Triple H, Paul Heyman, and Braun Strowman, to name a few.
Likewise, other WWE acts showered Roman with words of courage and praise via social media platforms. John Cena even thanked him in a tweet.
"'Courage - strength in the face of pain or grief.' You have given us your everything including a courageously vulnerable moment. We, your WWE family, give you all of our love and support. #ThankYouRoman #NeverGiveUp"
Stephan McMahon, Chief Brand Officer at WWE, also thanked Roman "for being a true champion" in Instagram. The likes of Bella Twins, The Miz, and Vicki Guerrero too chimed in with words of praise and support.
The news of Roman's cancer diagnosis comes just days after rumors of him sustaining an injury had grown rampant. The Floridian was set to get involved in the Universal Title Triple Threat match against Brock Lesnar and Brau Strowman at Crown Jewel, an upcoming WWE special.
The latest development in Roman's health forms douses the rumor of him sustaining an injury.
Similar:- Buff Bagwell Was Not The Same As It Is Now; Has A Story Besides WWE To Share
Judging by the regressive nature of his cancer, the WWE star could be looking at a long and hard battle against the disease.
Here's to Roman wishing him a speedy recovery!