Entertainment
Matt Hardy Net Worth, Wife, Kids & Latest Facts Of WWE Wrestler
Matt Hardy's net worth significantly declined with passing years... and his wife are already parents to three children...whereas the pair welcomed their baby boy...he hinted at his retirement following injury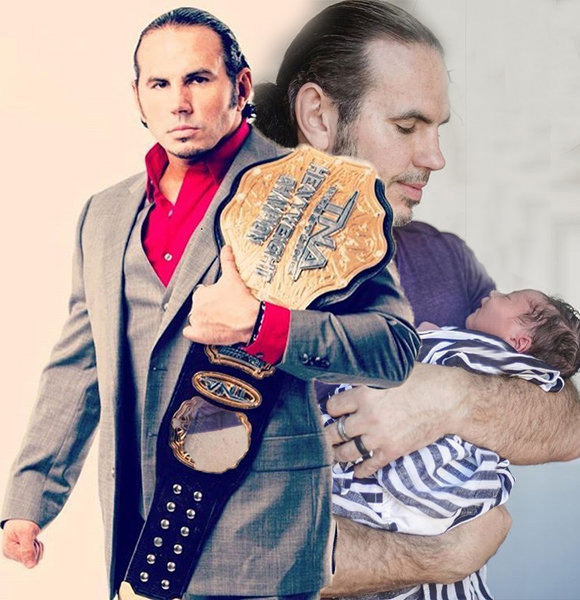 Matt Hardy (birth name: Matthew Moore Hardy) remains a legendary wrestler in WWE. He is best known for competing in the ring alongside his brother Jeff Hardy under the name tag, The Hardy Boyz.
Fans of the wrestling arena are well acquainted with his trademark moves, including The Side Effect and Moonsault. Unsurprisingly, Matt's career in professional wrestling took a heavy toll on his physical health as well.
After all, throughout his career, he suffered various injurious, including broken arms, fingers, and even an orbital bone (eye), to name a few.
Matt Hardy's Wife & Kids
As of today, Matt is married to none other than model and former wrestler Reby Sky. The two started back in 2011 while he was under contract with TNA, and his girlfriend was working as an independent wrestler.
After dating for two years, the WWE star asked his lover's hand for marriage in April 2013, and her answer was positive. Likewise, on 5th October that year, the pair tied the knot to one another in a private wedding among the woods in North Carolina.
WWE Superstar's Stunning Wife :- Finn Balor Married Status
Severable notable WWE legends, including Steve Corino and Jack Swagger, made their presence on the auspicious day. Also, Matt's famous wrestler brother Jeff Hardy was among the guests.
Despite ups and downs in their marriage, the husband-wife duo is going strong. As of today, Matt and his wife are parents to three children. His eldest daughter Maxel Hardy was born in 2015; whereas, the pair welcomed a baby boy named Wolfgang Xander on 8th June 2017.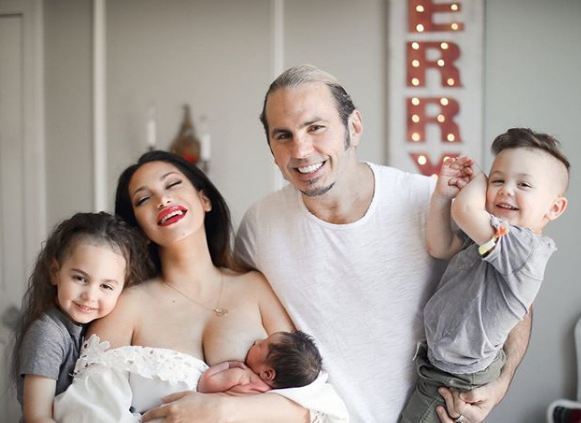 Matt Hardy, wife Reby Sky along with their children Maxel Hardy, Wolfgang Xander and Bartholomew "Bartie" Kit Hardy as seen on 6th December 2019 (Photo: Matt Hardy's Instagram)
Likewise, on 4th December 2019, their son Bartholomew "Bartie" Kit Hardy made his first presence in the world.
Retired Or Still Wrestling?
Matt made his comeback in WWE ring in 2017 with Wrestlemania 33. But, in 2019, he hinted at his retirement following an injury. He suffered the injury after he lost the match to The Revival on 30th July that year. So, on 16th September, he shared among his fans that he would be leaving the ring, and many fans mistook it as his retirement.
However, on 10th August 2019, the pro wrestler announced during his interview with Sky Sports, citing that he would still perform inside the ring for three years. So, fans can expect to see him for a few more years in the WWE, putting his muscles to use.
Net Worth Details
On the economic side of things, the wrestler net worth significantly declined with passing years. Back in 2013, his net worth was $20 million. But, by 2018, it was down to $5 million. However, considering his extravagant spending and unexpected losses, there's no denying his economic value keeps changing.
Wrestler Alexa Bliss's Net Worth :- Married, Dating, Parents
After all, he possessed a collection of luxurious cars, including a yellow Corvette and a black Cadillac Escalade at his home in Cameron, North Carolina. Unfortunately, his home suffered major damage during the tropical storm in 2018. Thankfully, Matt and his family members didn't suffer any injury from the disaster.