Entertainment
'Busy Tonight' Busy Philipps Candid On Kids That Husband Didn't Wish For
Tonight host Busy Philips chronicles her rape by her...Who knew that her husband would put her through another emotional...Speaking to Parents in October 2018 the Illinois native shed light on the strain their marriage had suffered after the birth of their first child...Besty - who has a reported net worth of...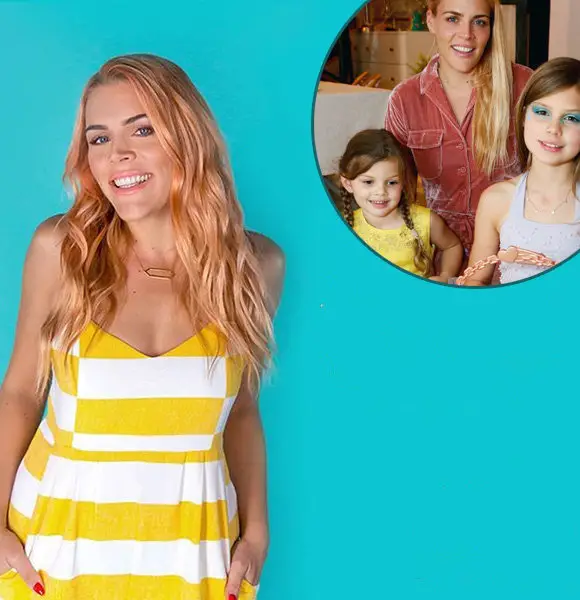 In the  book This Will Only Hurt a Little, the Busy Tonight host Busy Philips chronicled her rape by her then-high school boyfriend in a painfully excruciating detailed fashion.
The trauma - she had felt growing up as a result - manifested itself in the form of nightmares before her wedding and while giving birth to her kids with no pain relief.
Who knew that her husband would put her through another emotional rollercoaster ride after the birth of their first child?
Busy Tonight Host On Her Husband: "I Was Parenting By Myself."
The birth of a new life marks a new beginning.
Read Also:- Kia Proctor & Cam Are Parents To Adorable Daughter, Net Worth At Age 29?
But for Busy, her daughter's birth pushed her towards the vortex of everything she hoped she wouldn't go through yet again. The Culprit, you ask? Busy's husband, Marc Silverstein, a renowned Hollywood writer and producer.
Speaking to Parents in October 2018, the Illinois native shed light on the strain their marriage had suffered after the birth of their first child, Birdie.
To add insult to the injury, when she approached her husband about the desire to have another child, Marc brushed her off. The Dawson Creek actress shared:
"When I told him I wanted to have a second child, he said, 'Fine, but it's all on you.' That was so heartbreaking."
Busy - who stands 5 foot & 6 inches(168cm) in height - acknowledges that marriages are inherently a steep mountain to conquer. However, she was going to give up neither on her husband nor their marriage. About the confrontation between her and her husband, she recalled:
"I went to Marc several times and said, 'I cannot do this anymore. Something has to change, and it's you.'"
Since the bust-up, the pair have had discussions and even counseling, claimed the Cougar Town actress. By her admission, Busy is taken aback by how participatory her husband has been throughout the process.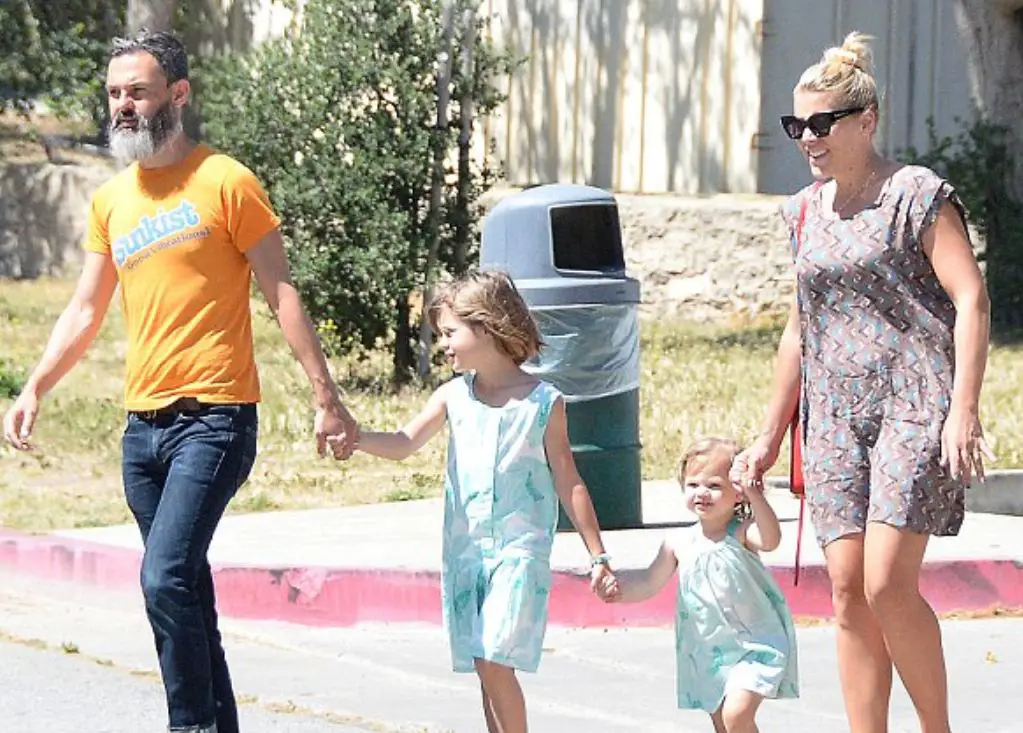 Busy Philips, husband Marc Silverstein, and their kids on a day out (Photo:- dailymail.co.uk)
Birdie (age 11) and Cricket's (age 6) parents' relationship has gone from strength to strength ever since; culminating in the pair recreating flashback photo to celebrate their 8th wedding anniversary.
Enjoying Life
Busy Philips is finding the rhythm to happiness once again after a shocking halt to her talk show, Busy Tonight. After less than a year of the initialization of the show, the host was deeply saddened by the decision undertaken by the productions.
Discover:- Heather Madden Children Alert, Married To Exec, Husband Invests
However, she was back in her usual best, enjoying quality time with her husband Marc Silverstein during their visit to Disneyland in August 2019.
Rocking a blue-tinted sunglasses and white sneakers, the actress was on a carefree mood as she grabbed the front row seat on the rollercoaster ride with her hubby. After a fun-filled day at the park, Busy also sat for a discussion the next day regarding her difficulties with husband Marc during parenthood. 
Saying that she added, they might not be on the same page some days but, their aim is always to do good to their two daughter Birdie and Cricket. Apart from that, she also accompanied her best friend Michelle Williams in the 2019 Emmys.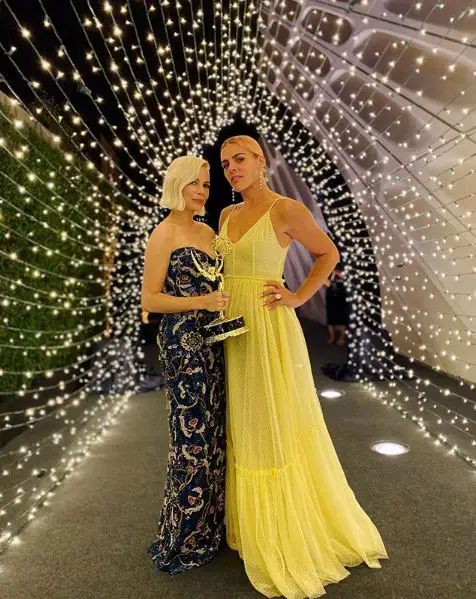 Busy Philips with Michelle Williams during 2019 Emmy in September 2019 (Photo: Busy Philip's Instagram)
The former Dawson Creek actress looked as lively as ever flaunting her new tattoos. She posted pictures of the symbols on her Instagram and resembled their meaning to her life and the upcoming book, which she is so excited about.
Busy Philips' Wedding Vow
By the time their second daughter Cricket was born in 2013, both Busy, age 40, and her husband Marc had put their past transgressions behind them.
The couple even celebrated their 8th wedding anniversary by recreating their 2007 wedding photo. The Busy Tonight host took to her Instagram to mark the joyous occasion by sharing the said three-way photo; talk about romantic gestures!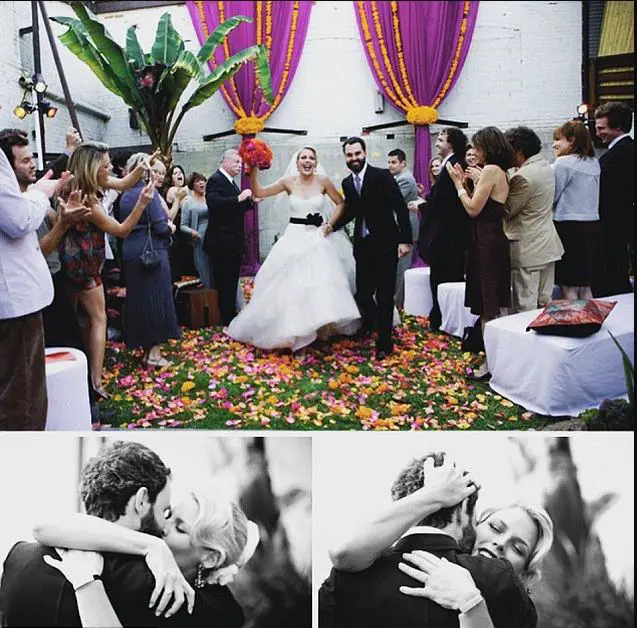 Busy along with her husband recreate their 2007 wedding photo (Photo:- dailymail.co.uk)
Her husband, likewise, is all for romantic gestures. On the day of their wedding, Marc presented her with a binding contract as revealed by her 2010 Ok! Magazine interview. Busy - who has a reported net worth of $12 million - quipped.
Interesting:- Susan Mikula Wiki: From Age, Net Worth To Relationship With Rachel Maddow
Later, the whole debacle would be played scene by scene in the movie The Vow, whose screenplay was written by Marc; thus forever immortalizing their romance in a film.
They too have worked together in various projects including He's Not That Into You and I Feel Pretty.