Entertainment
Callan McAuliffe Dating Status At Age 23; Found Perfect Girlfriend? Find It Out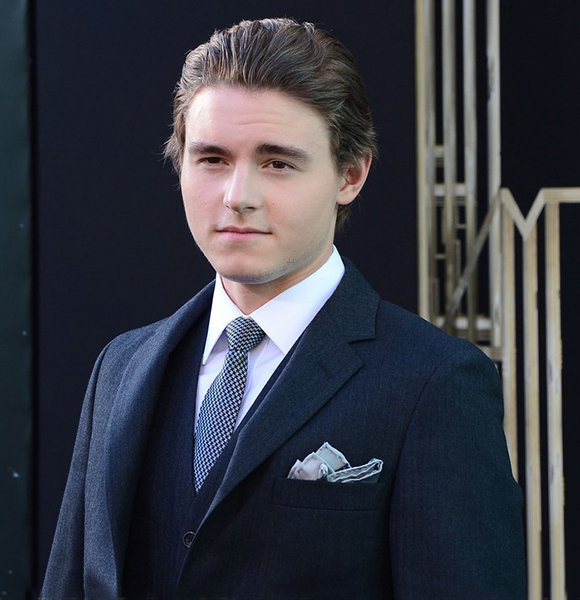 Remember the teen-actor, who portrayed the role of Young Gatsby in the 2013's movie, The Great Gatsby. Well, the actor is not a teen anymore.
Australian television and film actor Callan McAuliffe has pawed on many acting credits since the portrayal of young Jay Gatsby. Born on 24 January 1995 to the author mother and journalist father, he got his break in his career at the age of 15 with the movie,Flipped. With his debut movie in the Hollywood, he might be frosting a path in Hollywood — but he's not interested in having a glamorous girlfriend on his arm.
With his glittering career, he indeed was rumored to be dating the young actresses of Hollywood but he indeed never dated anyone.
Fuels Dating Rumors; Rumored Girlfriend Takes Him As Brother
Heart-throb Callan McAuliffe, who insisted that he has no time for romance, was previously linked with Modern Family star Ariel Winter in 2011. After many speculations about their dating life, Callan confirmed their relationship to be just limited to Friends.
See Also:- Did Gay Man Dwight Eubanks Got Married And Turned Fiance Into Wife?
Though Callan, age 23, claimed he has no interest in dating life in 2016, he indeed was in a relationship during his teenage days. With the interview with timeout.com in July 2010, he talked about his character in the movie, Flipped. 
In addition to describing his role in the movie, he portrayed the character of a shy teen, Bryce, and his character falls for another beautiful character, Juli, portrayed by Madeline Carroll.
Since the movie Flipped is about the young love, so when the interviewer asked Callan if he had a girlfriend. Callan said that he used to have a girlfriend, but he does not have any dating relationship now.
"I've had a girlfriend. Not anymore, because it's kind of hard to do long distance."
The two on-screen romantic couple also took their timeout after filming ended. It seems Callan found a good friend in his on-screen girlfriend, Madeline Carroll. The Flipped co-star attended the 10th Annual Movies For Grownups Awards at the Beverly Wilshire Four Seasons Hotel on February 2011.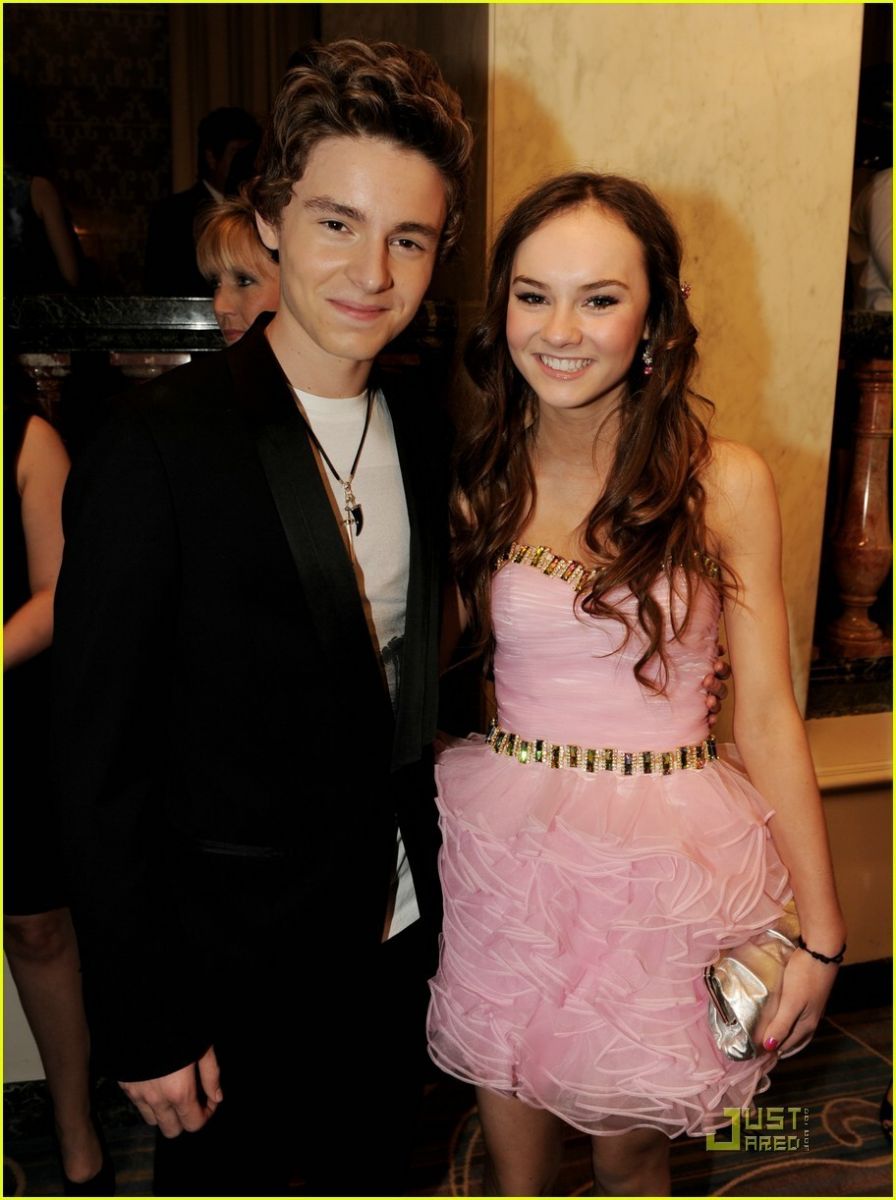 Callan  McAuliffe attends the 10th Annual Movies For Grownups Awards with Madeline Carroll (Photo: justjaredjr.com)
Also, the UNICEF's National Ambassador, Callan shared that they were instant friends and enjoys each other's company. 
"We were instant friends — going to dinner, hanging out with each other, going to movies on the weekends. It was great."
Well, it seems their on-screen romance was only limited in front of the camera, as on 2011, Callan walked the red carpet with the then-13-year-old actress Ariel Winter.
Related To Ariel Winter:- 5 Things About Levi Meaden You Should Know! His Age, Romance With Girlfriend And Rumors Surrounding Him 
They hit the several red carpet events together and were even spotted arm-in-arm at the 2011's Primetime Emmy Writers Nominee Reception. With their cozy appearance on the public, they have named the hot teen item but they insisted to be a best friend.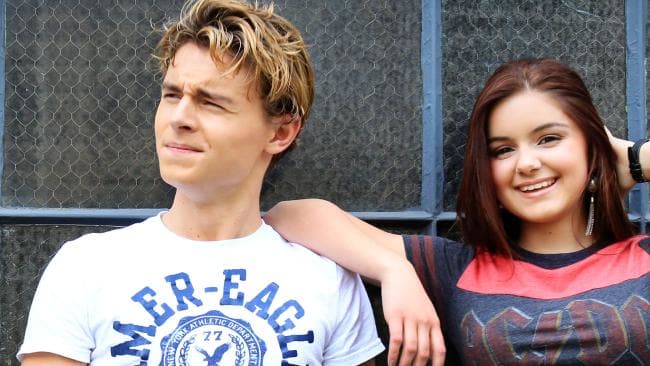 Callan  McAuliffe with Ariel Winter in Sydney, Australia spending her vacation in 2011 (Photo: dailytelegraph.com)
However, the Sydney boy quickly fed the rumor mills which produced the rumors about them to be an item. When he was caught up with the Los Angeles bestie, Ariel Winter in Australia, the rumors of their relationship got more fire. he said:
"We're really good friends and have been since we met in the LA teen actor-scene when I first went over there. The truth is we are just really good friends - but I'm up to playing with anybody's minds as much as we can and to take the piss out of the idea. It sounds like fun."
When Ariel was asked about her reason to visit Sydney, she claimed that hers and Callan's mother have become close friends and she went to spend her holiday in Australia.
She also responded to the dating rumors that the couple is more like brothers and sisters. She said:
"It's really weird people think we're anything but good friends - although we do fight like cats and dogs sometimes, but that's more like brothers and sisters."
Speculation about their relaionship was quickly spread but Callan's prom night with another beauty Danielle turned the eye from Ariel to Danielle. He took to Twitter in 2011 writing Danielle was attractive and he was looking forward to meeting her.
Dating At The Age Of 23?
Callan started his acting career at the young age, and since he hits the age 23, he still does not have any interest in having a romantic relationship with the girlfriend.  
Though he has not confirmed his romantic relationship to any brunette, he indeed hints on his dating life of a year back in 2016 via tweet. He took to Twitter to quench the thirst of his followers disclosing his dating status but later claimed that he just makes too many dad jokes.
You May Also Like:- Sissy Spacek True Love - Husband & Young Daughter Fascinating Story
With his dating jokes came to an end, he shared a snap on Instagram on February 2018, with all the Valentines day gift which he referred as "Trash." Though he does not have any girlfriend on this Valentine's Day, he indeed helped his followers with the gift for.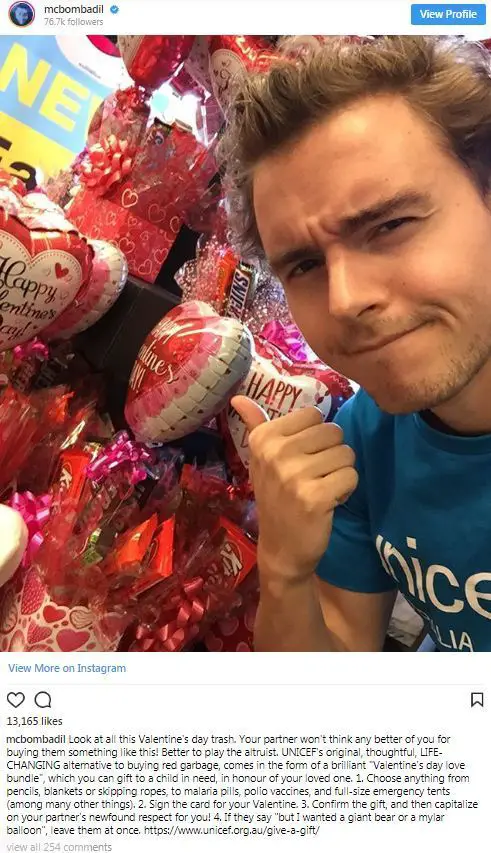 Callan McAuliffe hinted on Valentine's day gift (Photo: Callan McAuliffe's Instagram)
Since Callan has not spotted to any romantic relationship till date, he might be hiding something under his belt. The dashing actor of Hollywood, paving the journey alone is not something his followers can digest, but until he sheds the light on his interest on dating life, his relationship status cannot be confirmed.