Entertainment
Reading Cameron Hanes Married & Family Life With Wife Like An Open Book
Breaking the family curse - no matter the context - is asking a lot. But for someone like bowhunter-cum-author Cameron Hanes, the generation malediction poses itself as an opportunity to right the wrongs.
A child of a broken home, Cameron hasn't let the mistakes committed by his parents come in between the married with his wife of over two and a half decades. Despite all this, he gets called gay by friends of PETA all the time because of his day job which involves killing animals.
Read along to learn more including his age, height & net worth!
Defying Family Curse By Staying Married For 26 Years; Catcalled Gay Despite Wife's Presence
Like an open book, Cameron lay it all bare his family secrets on his 2010 essay aptly titled Mastering the Art of Suffering.
Discover New Today:- Best Happy Birthday Wishes That Works On Anyone; Guarantee Heart melts
However, it wasn't until his dad's passing - four years later - that he shared the said piece on his Facebook. The outdoor adventurer begins his deeply personal essay with these chilling words:-
"My dad died yesterday. This was written with a heavy heart and while my life hasn't been perfect, this story explains why I am who I am."
Born out of puppy love, Cameron's parents separated when he was just four years of age. According to him, he would have given anything if it meant that his family would be a whole again.
When his mother remarried, he wouldn't even engage with step-dad because, in his mind, it represented a "deferral of his childhood dream."
Considering what Cameron went through because of his parents' divorce, one would assume that he grew up resenting institution of marriage. But defying all odds, he became just the opposite -- a family man.
Equally Tragic Story:- Lucy Spraggan & Wife A Lesbian Power Couple; A Teary Story To Bliss
Married to his wife Tracey Hanes for over 26 years, the world-renowned bowhunter is living a dream that he had always imagined his parents would.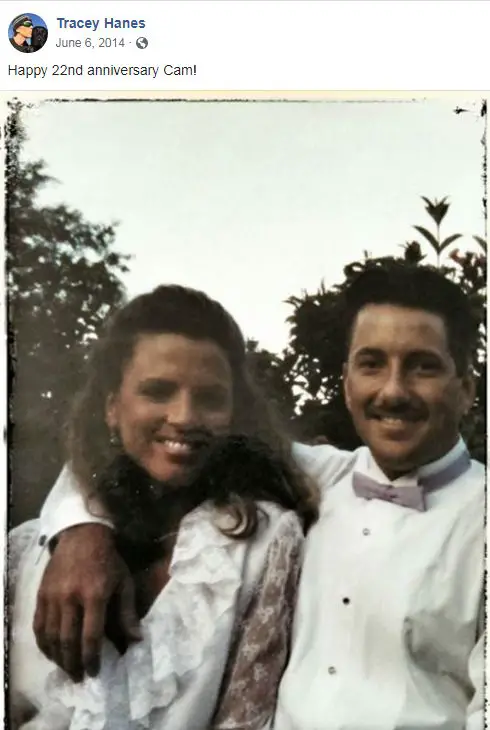 Cameron's wife Tracy shares a snap from their wedding day (Photo:- Tracy Hane's Facebook)
Much to his friends and family's delights, who have him known for ages, he along with his wife have opted to lead by an example to their three kids Tanner, age 25, Truett, and Taryn, age 14. Since helping them to get into the sports of hunting as well as fitness, his children have only grown to admire him more.
The so-called admiration, however, hasn't been "widespread." Animal activists and liberals alike have called for a stop on the killings by him; so much so that some people take the measures to the extreme by catcalling him the proverbial gay.
Cameron Hane's Net Worth At Age 51 From His Job
Nevertheless, at age 51, the name calling and online harassments have done very little to put a dent on his ever-growing net worth.
Author With Impressive Net Worth:- Race Matters' Author Cornel West Wife Rift; Education, Net Worth & Facts
All thanks to his earnings from his YouTube channel which boasts an excess of 160 thousand subscribers and hunting clothing line, Cameron - who stands 5 foot & 8 inches in height - leads a comfortable life as the stream of income never have any signs of drying up.
His other sources of revenue include royalties from his two books Bowhunting Trophy Blacktail & Backcountry Bowhunting A Guide to the Wild Side and occasional TV commercial as well as hosting gigs.