Entertainment
Cancer Survivor George Alagiah: How is His Health Now? Is the Illness Coming Back?
Illness is something that teaches a person the real value of life. We have been hearing that health is wealth. A good health is essential to enjoy your life fullest. A bad health will either bother you to live the life the way you want or it will encourage you to live it fullest.
Today we are going to talk about Cancer Survivor George Alagiah, his health and his battle with Cancer. Alagiah is one of the popular BBC news presenters.
Diagnosed with Cancer Classed as 'Stage Four'
In April 2014, BBC World News presenter George Alagiah was first diagnosed with cancer. He first noticed some blood in his stools and then went for a colonoscopy. He was diagnosed with stage four bowel cancer which is the most advanced stage.
Other Cancer Stories:- Julia Baird Reflects On Health Crisis | Cancer Threatens Married Life
The cancer was also seen in his lymph nodes and there were eight tumors on his liver. In an interview with Dailymail, George recalled the moment when he was diagnosed with cancer. He said:
"When the oncologist was looking at my scan, he kept gently shaking his head, and every time he did it was like a hammer blow. They described my condition as "serious", and I knew it was as bad as it gets. No one uses the d-word. You have to work that out for yourself."
Following his diagnosis, he was showered with words of support from individual and institutions alike.
His Health Now: "I'm Clear Of Cancer...But I'll Never Be Same Again"- George Alagiah
Battling for around 18 months with around 17 rounds of chemotherapies, Alagiah had then finally become cancer free. By November 2015, he was already cancer free. After battling with cancer, in an interview with Dailymail in Nov 2015, Alagiah said:
"I'm feeling really good, I have more energy every day, and feel stronger."
He then professed doubts over his full rehabilitation by claiming that his cancer won't go away any time soon. But for the time being, he asserted a sense of achievement now that he was cancer free despite having to go through scans every three months.
Discover:- Does Comedian Dan Soder Have Girlfriend Amid Stormy Tour Dates?
The BBC personality showed an eagerness to return to his day job as he shared how his fans, colleagues, and family had supported him throughout his hospital stay.
"So getting back to my team at work is wonderful. I also want to get back on air for my audience. I received hundreds of letters from viewers while I was ill, in which they talked as if we knew each other. That support was incredible."
George returned to TV screen shortly after his Daily Mail interview.
Cancer Strikes Back: Return Of The Illness
Sadly, his fans' and colleagues' joy was short-lived.
About two after announcing to the world about his cancer-free state, the Sri Lankan born BBC newsreader broke the dreaded news via Twitter.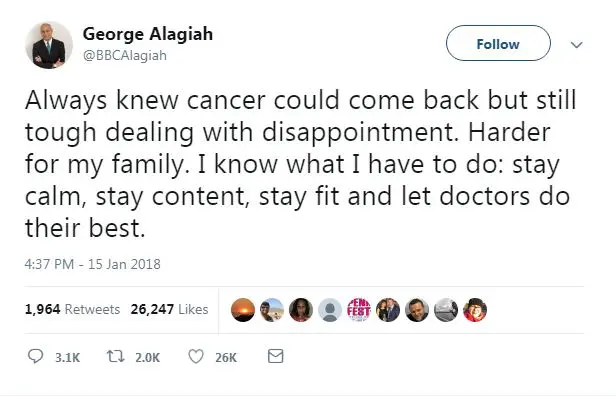 George announces that his cancer has returned (Photo:- George Alagiah's Twitter)
Two months later, George spoke about how the English health care system had failed him in an interview with the Telegraph. He explained:
"Had I been screened, I could have been picked up. Had they had a screening at 50, as they do in Scotland . . . I would have been screened at least three times and possibly four by the time I was 58."
Ever since his diagnosis, he has been a regular feature on campaigns by Bowel Cancer UK and Beating Bowel Cancer to lower the age of cancer screening in England.
Similar:- WWE Star Roman Reigns Reveals Cancer Battle; How Serious Is It?
George Alagiah's Short Bio:
Born on 22 November 1955, in Colombo, Ceylon, George Alagiah is a British Journalist. He attended an independent Roman Catholic school called St John's College. He then attended Van Mildert College, Durham University where he read politics. In the year 1989, he joined BBC. He has been an only presenter of the BBC News at Six since 3 December 2007.
Likewise, since 1 February 2010, he has been the main presenter of GMT on BBC World News. He also presented the BBC Ten O'Clock News. Finally, he announced that the treatment was officially over on 28 October 2015 and subsequently returned to the BBC on 10 November.