Entertainment
Candace Cameron-Bure & Husband On Love; Glance At Wedding Pics After 22
There are a few couples in Hollywood who can maintain a long-lasting relationship let alone marriage. 
Fuller House actress Candace Cameron and her husband may be one of the few lucky enough to manage a great balance between their personal and professional life. 
In addition to being parents of three children, Candace and her partner have also become successful in protecting and savoring the marriage for more than two decades. 
Today let's spare some time to learn about the long-lasting wedding between the two celebrities!
22-Years Married To Husband; Children
Candace has been married to her husband, Valeri Bure for more than 22 years now. Her husband, aged 44, is a former professional hockey player.
The Christmas Detour star, age 42, was first introduced to Valeri by her Full House co-star, Dave Coulier. The couple dated for a while before finally tying the knot on 22 June 1996. Not much had been revealed about the wedding until Candace shared the wedding pics on the couple's 20th Wedding anniversary.
You May Find Interesting:- Jessica Lu's Dating Saga With Boyfriend: Wedding Hint & Anniversary Suprise
On their 20th anniversary, Candace posted a throwback picture of the pair's newly married pictures.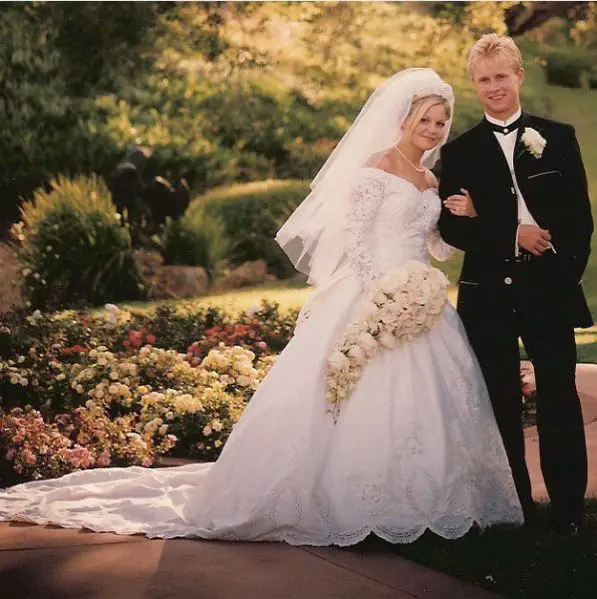 Candace Cameron with husband Valeri Bure on their wedding day (Photo: Candace Cameron's Instagram)
While asked about the reason for the longevity of their marriage, Candace mentioned that the pair frequently live apart from each other which helps the couple grow closer to each other. She also confessed that the two were not an ideal couple and even have occasional fights between them, but whatever happens, they always get along together.
Talking to US Weekly, Candace discussed her married life,
"Marriage is a wonderful, beautiful thing but there's always going to be tough times. There's no one that has this amazingly perfect marriage."
Apart from a successful marriage, Candace and Valeri are also parents to three children named Natasha, Lev, and Maksim who age respectively 20, 18, and 16. Further, the couple also has a pet dog named Boris.
Content Married Life
Their first-born Natasha is actively pursuing her career as an author and has even released her first book titled, "Let's Be Real." Both Candace and Valeri attended Natasha's book launch party in March 2017 and even posed for a pic to promote their child's book.
See Also:- Political Column Pat Buchanan Wiki: Trump Talks, Books, Net Worth & More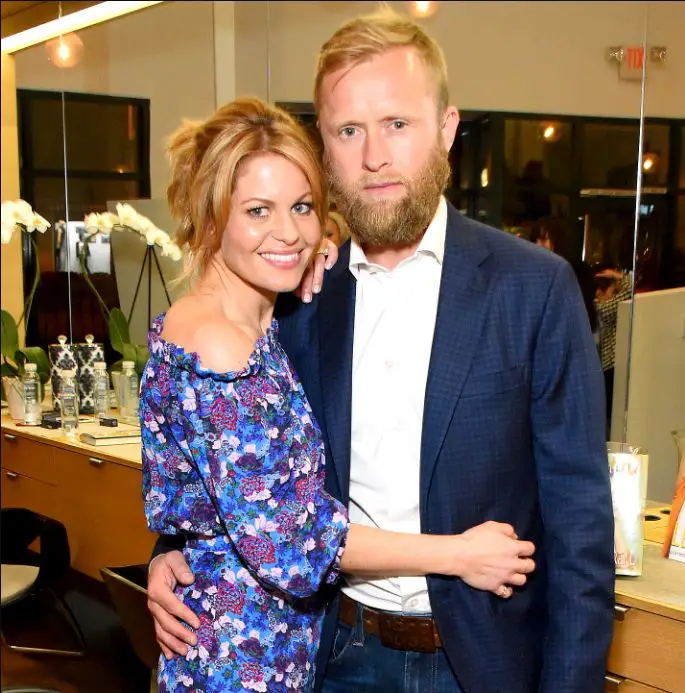 Candace and husband Valeri attend their daughter's book launch party in March 2017 (Photo: GettyImages.com)
Candace, who recently celebrated her 22nd married anniversary with her husband, shared a post on social media to mark the day. She wrote, 
"Our second in-person date 1994, our wedding day 1996 and a few years later ?. -Happy 22nd Anniversary my love."
The Panorama City, Los Angeles native and her married life seem content living their life as a family, but there is one person who has contradicting views on marriage: Cameron's brother Kirk Cameron.
Candace's elder brother Kirk once told The Christian Post,
"Wives are to honor and respect and follow their husband's lead, not to tell their husband how he ought to be a better husband... When each person gets their part right, regardless of how their spouse is treating them, there is hope for real change in their marriage."
From Kirk's statement, it seems like Candace's brother has no intention in sharing any love and affection from his future wife.
More From LiveRampUp:- Hannah Gadsby Partner Talks Beside Stand Up & Weight Loss | All Revealed
In addition to a successful marriage and happy family, Candace also enjoys the privilege of looking like 20 in her 40s which she credits to her weight loss and balanced diet. Candace, who suffered from bulimia in her early twenties, has now shed off the extra weight and is maintaining a healthy and balanced diet to keep her weight in check.
She also regularly visits gyms and fitness centers to balance the body weight in her 40s and achieve any extra weight loss to make her look forever young.