Entertainment
Cari Champion: Married To Metaphorical Husband, i.e. Profession, Living With Her Loved Ones: Boyfriend?
Do you know how it feels to get the job you have always longed for? If you don't, then you must read about ESPN's anchor, Cari Champion. She can correctly describe the ecstasy of doing the desired job. Well, to know how she married her metaphorical husband i.e., her profession, read our full story.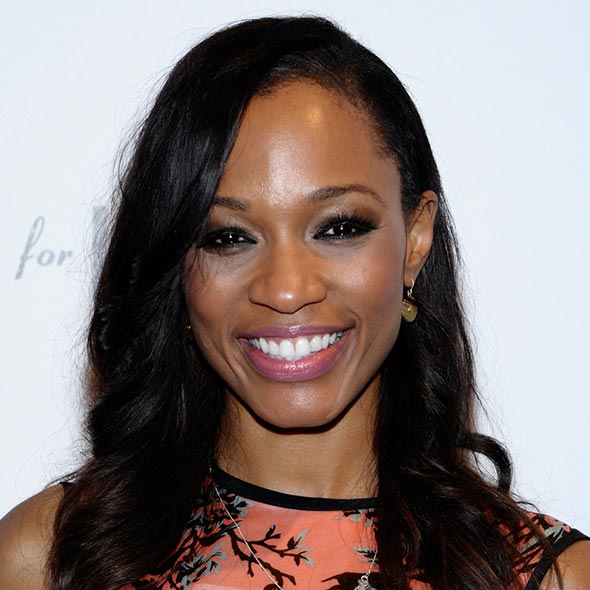 Only a few know what's it's like to get the job of their dream. Among the few, Cari Champion's name comes at the top. An anchor at the ESPN channel, she is so ecstatic about her current job that she chooses to describe it as her metaphorical husband i.e., her profession.
But is the reporter really just mocking about her love-life referring it to her profession or does she really had a real lover under the cover. Read more to find it out!
Reporter Cari Champion Married To Her Job!
The hardworking woman, Cari Champion moved to West Virginia after completing her graduation from Los Angeles to pursue a television career. The job she did in West Virginia became an impressive part of her life. She shared about the difficulties she faced during those days in an interview with Tennis View magazine. She said,
"I was a one-man-band carrying a camera and a tripod and that was God-awful. But I loved it because I wanted to do it. I always wanted to be a reporter."
After working for the media like Orange Country News channel in Santa Ana and WPTV-TV in West Palm Beach, Cari Joined WGCL-TV in Atlanta.
Read Also: Cynthia Frelund Bio: Hottest NFL Reporter's Salary To Married Status
Cari rose to prominence after working as a host for the channel. However, in November 2007, Cari was fired from the channel in the charge of uttering offensive words while on air.
But Cari dispelled the accusation and told that the microphone accidentally picked up the conversation that was addressed to the unhandy screenwriter. She said,
"I called the screenwriter a 'mothersucka' not the f-bomb."
Later, in 2008, when it was proved that Cari was charged with groundless allegations, she was re-hired in WGCL-TV. However, she soon left the show to start the broadcasting from Florida. In Florida, she covered about some interesting human stories and life-threatening hurricanes in the state.
At the same time, Cari became tempted towards Tennis after covering stories of players like Serena Williams and Venus. She confessed to the Tennis View Mag (mentioned on Aug 3, 2011, article) about her newly developed love towards tennis. She said,
"I absolutely love tennis. Here's the funny thing about me: as a kid I had no coordination, and I tried all these different sports, every sport, and I couldn't get it together. It wasn't until I became an adult that my coordination came together, I covered a lot of tennis, especially the Williams sisters, and they made me love the sport even more. They opened the door to tennis for so many different people."
Following the temptation, Cari auditioned for the Tennis Channel and got selected among fifty candidates. She joined the channel in 2009 and worked as a courtside reporter. Cari left Tennis Channel two years later and moved to ESPN in 2012 which was a step further in her career.
More ESPN Crews: ESPN's Jay Williams & Wife First Baby Daughter, Amelia Is Extra Significant
She entered ESPN network as a host of ESPN2's live debate show "First Take". After serving for ESPN2's "First Take" for about three years, Cari joined ESPN's SportsCenter as an anchor in 2015.
She revealed in an interview that she has always been fond of the show and being part of it was a dream come true. She said:
"I grew up watching 'SportsCenter' — it is the flagship show so I am living the dream. When I first started working here, I would casually petition for it — but there's always a long line."
Cari extended her time in ESPN:
According to Big Lead, Cari Champion has recently signed a new multi-year deal with ESPN. The anchor seems very positive towards the huge recognition and followers ESPN has provided her. Cari recently appeared at the seventh annual ESPN Women + Sports summit last week along with other female athletes and sportscasters.
Along with David Llyod, Cari is the co-host of the Coast to Coast edition of SportsCenter and also hosts a podcast named Be Honest.
Don't Miss: Trey Wingo's Net Worth & Salary As Huge As His ESPN Co-Host's? Bio & Facts
Earlier in 2018, ESPN announced that the stunning reporter will be making her debut at the SportsNation along with co-host Marcellus Wiley and LZ Granderson starting from March 12.
Cari Hosting for ESPN'S SportNation (Photo: Cari Champion's Instagram)
According to the SportNation Coordinating producer  Richelle Markazene, he complimented Cari for her performance saying:
"Michelle Beadle has been the significant driving force in SportsNation's popularity and success and it is very difficult to say goodbye to her, but Cari Champion is one of the most talented personalities at ESPN and we are thrilled to have her on the SportsNation team. Cari will bring a new approach and energy to the show and we are excited to begin this new era of SportsNation with her."
Prior to SportNation, Cari was the anchor for SportsCenter. She was named co-anchor for SportsCenter Coast-to-Coast with David Lloyd.
Does Cari Really Have An Actual Boyfriend/Husband?
Cari has been smart enough so far to keep her personal life low profile. No rumors about her affairs or lover have been heard so far. Keeping her entire love life under wraps, Cari has not given a single hint about her potential boyfriend in her life. However, she did leave a tweet about her relation which reads as: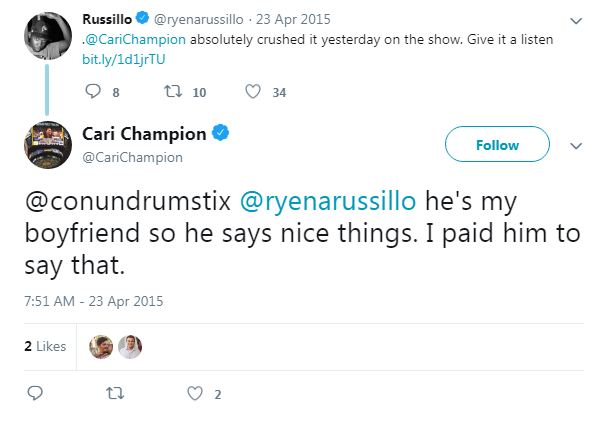 Cari mockingly tweets about her potential boyfriend (Cari Champion's Twitter)
Moreover, Cari was once dragged into a controversy due to comedian Artie Lange. Artie had posted some slave sex fantasy tweets about Cari, which disappointed many including Cari's fans and other TV personalities.
Following the series of criticization, Artie finally apologized to Cari about his tweets.

Belonging to black ethnicity, Cari was born on June 1975. She majored in English and minored in mass communications in her graduation year from University of California, Los Angeles. She joined ESPN as the new host of ESPN2's live debate show First Take on October 1, 2012. She is currently the anchor of morning edition of SportsCenter in ESPN since July 2015.