Entertainment
Cas Anvar Wiki: From Birthday to Personal Life of The On-Screen Martian
Every actor has a deep desire to ace in all kinds of roles to show their versatility in each of the characters. And one of the finest Canadian actors, Cas Anvar, seems to be achieving some level of versatility already on his acting resume. 
From the movies like "Diana" to "The Martian," Cas Anvar has aced all the roles that purely displays his adaptability at his best all over his on-screen life. 
Well, you might have witnessed the flexibility of Anvar on his on-screen life but have you ever wondered about his love life after seeing him enjoying a romantic relationship on-screen? 
Why don't you figure out the answer yourself through the complete bio of the actor, Cas Anvar?
Cas Anvar's Wiki: The Versatile Actor After All!
The Award-winning actor, Cas Anvar, who was born in Regina, Saskatchewan has been maintaining a very low-key personal life. Well, his exact birthdate and age is still a secret for the media. However, we have come to know that he celebrates his birthday every year on March 15, after 'The Expanse Writers' wished him 'Happy Birthday' on March 15, 2017. 
The Canadian actor, who holds diverse ethnicity, was raised in Montreal, Quebec by the Iranian parents. As for his formal education, he attended Beaconsfield High and later went to McGill University where he studied psychology.
However, his acting profession started after he got the graduation degree from Canada's prestigious National Theatre School. He landed his career's first big break in the film 'Shattered Glass', which was later nominated for four Spirit Awards and a Golden Globe. Prior that, he appeared in 2000 Canadian English drama film, Seducing Maarya, where he played the role of Zakir.
Known for the versatility, Anvar explored all his acting skills in the big screen films like 'Argo,' 'Diana,' 'Source Code,' 'The Factory,' and many more. Similarly, he is not a rookie on the small screen as he has made various appearances on 'NCIS: LA,' 'In Plain Sight,' 'Boston Legal,' 'Castle,' 'Intelligence' and '24.'
Through talent, hard work and dedication, Anvar has upped his way to the award section too. Nominated for two Gemini Awards and two ACTRA awards, the actor won the SAG award for Best Ensemble Cast for his role in 'Argo.'
Now, Anvar has more than 60 credits to his name in both film and television which includes films "The Terminal" "Miss India America" and "The Vatican Tapes." His role of Alex Kamal, a pilot for the Pur'n'Kleen ice hauler, the Canterbury, in The Martian (2015), is one of the most acclaimed roles which has helped him to build his influential career. 
Well, that's not all; Cas Anvar even has the knack for the voice work, especially for games like 'Call of Duty: BO2,' 'Halo 4' and 'Assassins Creed: Revelations.' Well, Anvar is now working as the Artistic Director and Founder of the Repercussion Theatre company. 
Anvar's success in different fields has made the actor enjoy the worldwide fame along with the net worth of $ 1 million.
Cas Anvar's Romance: Does It Run From OnScreen To OffScreen?
Unlike his well-known career, Cas Anvar is little different when it comes to his dating life. The actor has his share of on-screen romance on the 2013's film "Diana" where he portrays Dodi Fayed, the Egyptian film producer who was romantically linked with the former wife of Prince Charles, Princess Diana. 
As the film "Diana" depicted the real-life story of last two years of Princess Diana's life, Anvar plays the role of Princess Diana's partner, who fells in love with Princess Diana after her married life came to an end.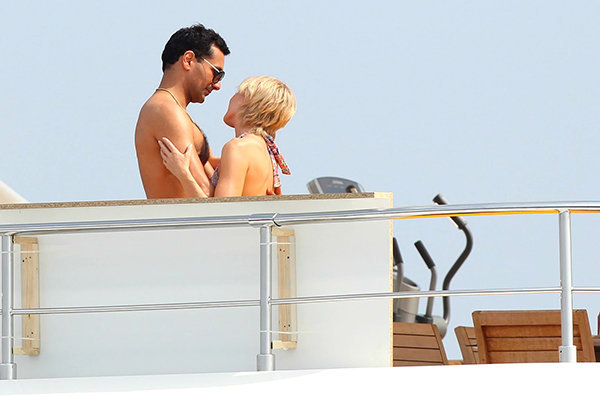 Caption - Cas Anvar who portrayed Dodi Fayed on the 2013's film "Diana" with his on-screen partner Naomi Watts
Photo Credit - Pinterest
However, when it comes to Anvar's real life, there is no such romantic sight to see. The actor is still with blank pages without any signs of girlfriend. 
As the absence of girlfriend poses the gay rumors for the secretive actors, it does not seem to be true in Anvar's case. He has never spoken or did things that hinted him as gay, so the rumor seems to be just a rumor after all. 
However, talking about his romance, Anvar might be still waiting for his lady love with whom he can start a family. For the time being, he is currently focused on adding more number of acting credits in his career chart.