Entertainment
Chris Potoski Bio: Age, Job, Family Struggle & Married Life Bliss
Chris Potoski might not be a very famous name in the adult industry, but without his support and motivation; his wife would not have been the top-rated actress which she has become.
The couple together overcame several obstacles in their lives and are now struggling hard for the benefit of their community.
Chris and his wife of more than two decades have proven to the world that professional life can't hamper a relationship when two people are truly in love.
Long-Lasting Married Life Blessed With Massive Net Worth And Daughter
Chris has been involved in an open marriage to his longtime partner. He married his wife, Tracey Livermore aka Brandi Love on 10 February 1995.
You Will Also Like:- James Fitzgerald, Retired FBI Agent's Static Married Life! Wife & Family Status Now
The couple is also business partners and started a business named Grapevine Greetings, which designs custom labels for wine bottles.
When Chris suffered a heart attack due to his constant traveling and stressful work in the early 2000s, the doctor advised the partners to think of an alternate career. As both of them had connections in the adult industry, Chris and his wife thought of making porn videos.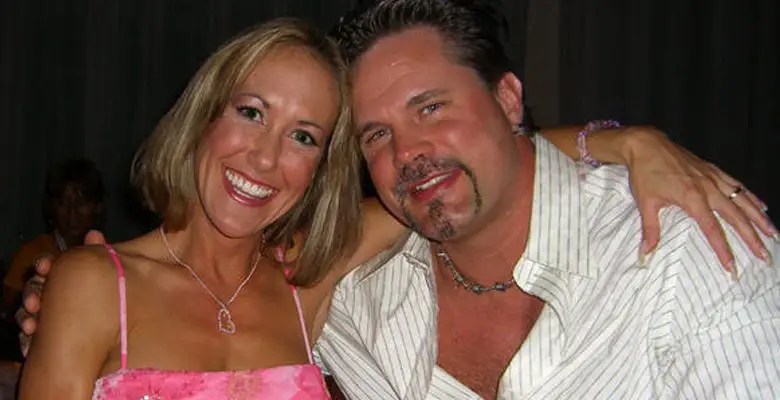 Chris Potoski, along with wife, Tracey Livermore aka Brandi Love (Photo: ShowbizPost.com)
The couple started by shooting adult videos where they would perform sexual acts on camera and upload it to Tracey's website. In 2008, she got an offer from Naughty America and moved to Los Angeles from their home in Raleigh, North Carolina.
In the meanwhile, Chris, who age 46, also has a job running an adult entertainment business called No Rivals Media. Chris' bio reveals that he has even founded a company called Tracey Jordan properties where he takes up the job as the Chief Operating Officer.
More From LiveRampUp:- WWE Host Peter Rosenberg, Beautiful Wife & Massive Net Worth Suits Best
Chris and his wife currently enjoy a net worth of $8 million and are also maintaining a happy married life. The pair is blessed with a daughter; however, her name and other bio-related details have not been disclosed due to privacy issues.
Together the three are a happy and content family. Recently on 10 February 2018, the longtime partners celebrated their 23 years marriage anniversary. Tracey, age 45, even posted a tweet to mark the occasion and expressed her undying love towards Chris. She wrote in the tweet,
"It's a beautiful day. Sick or not we celebrate 23 amazing years of marriage. I feel like the luckiest woman alive! #Anniversary"
However, their lavish life may not be what it appears on the surface as Chris and Tracey's married life has been subject to constant struggles.
Struggles Amid Negativity And Hate
Chris and his wife have faced immense hatred from the so-called civilized people, who have nothing to do other than criticize Tracey for earning a living and trying to secure a better future for her daughter.
Some years ago, when Chris and his wife were on a business trip to New York, the couple received a panic-stricken call from their nanny. Apparently, some judgemental social workers had entered their home located in Raleigh, North Carolina searching for any inappropriate material and also trying to interview their daughter.
It later turned out Chris and Tracey's family had known about her job as a porn actress from her interview on Howard Stern's radio show, so they wanted their grandchild to be away from the vulgarity.
Similar Article:- Austin Jones Is Arrested And Will Face Court In Charges Of Child Pornography!
Even though nothing indecent was found in the couple's home, they were aware that the incident might happen again. So, they tried hiring a lawyer but were rejected by nearly 20 firms before one of those accepted to handle their case.
Enraged by the perception of the lawyers towards the people working in the adult industry, Chris said to the Daily News,
"I would ask lawyers, So you represent people in murder cases? You represent people in rape cases? But you're not willing to represent someone who works in a legal industry? That's shocking."
Following the incident with the lawyers, Chris even developed a website called "Parents In Adult" which hires lawyers looking to represent the people involved in the porn movie industry. He mentioned that the website was set up to provide adult-entertainment workers with better parenting tips.
"Our goal with Parents In Adult is to provide resources for parents in the adult industry and information on how to become a better parent,"
Together, the husband and wife are trying to make a better social status for people working in the porn movies. And as a famous person's mother had said, "No work is inferior, and there is no religion greater than work."