Entertainment
Chudney Ross And Husband Choose Parent Duty Before Getting Hitched!
Chudney Ross is not a new name to the ones who are familiar with American singer and actress Diana Ross. The daughter of Diana Ross, Chudney is in a married relationship and shares a child, making it a family of three.
Well, this segment is dedicated to TV producer Ross' personal life including her love life so without further ado let's get started.
Low-Profiled Husband; Rockstar Daughter
Chudney Ross met her life-partner, Joshua Faulkner through a mutual friend; followed by their first date in a bar. Recalling the moment, in an interview, Joshua revealed,
"She totally 'petted me' on our first date."
Chudney also recalled the moment by saying,
"He was handsome and it's so rare to meet such a gentleman in L.A.; it was like I needed to touch him to confirm he was real."
While dating each other, the couple welcomed a beautiful baby girl named Callaway in September 2012. Chudney announced the arrival of their baby girl as,
"We are so excited to welcome Callaway Lane to the world. She was born on September 19, 2012 at 6:40 pm and weighs 7 lbs 8 oz!"
Chudney's boyfriend-turned-husband, Joshua proposed her, after six years of being involved in a romantic relationship, at their home on Chudney's birthday. Only the couple and their daughter, Callaway, were present at the time of proposal, to which Chudney said "yes."
See Also:- Pixie Lott & Boyfriend Engaged! Super Hot Fiance Liked It & 'Put A Ring On It'
Recalling back the proposal, Chudney shared how Joshua popped the question to her and said,
"Callaway handed me a box wrapped in a drawing she had made. When I looked back up, Joshua was on his knee, asking me to be his wife."
Chudney got engaged with the father of her child, Joshua, in January 2015 and married him in June 2015 in Hawaiian Island (Maui), United States.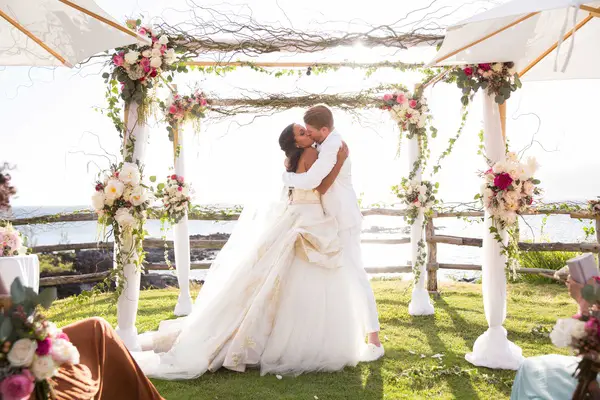 Chudney Ross and her husband, Joshua Faulkner at their wedding in Maui in June 2015 (Photo: insideweddings.com)
The couple had spent their babymoon time on Hawaiian Island (Kauai) before. Chudney's mother, Diana Ross also helped planning Chudney's beautiful wedding.
As time passed by, their daughter--aged six, is ready to go to school. Chudney seemed more excited and happy than her daughter for preparing for the school. She Instagrammed the adorable picture with her daughter mentioning how the mother-daughter duo was looking forward to this day and in fact, stated that they were preparing for the whole year to make Callaway ready for her school.
Discover:- Jamey Johnson Age 43 Really Divorced Wife For Sake Of New Album?
Since their daughter is ready to go to school this year, the couple has also marched to the beautiful year with their married life.
With the beautiful bonding, the couple has already marched into the third year of their married life. On 21 June 2018, she Instagrammed the adorable pictures from her wedding diary quoting a beautiful message.
The little Callaway has already dimed the fame for being a rockstar as Chudney described that "she leaves a little sparkle wherever she goes." The mother-daughter duo had the greatest night at the 2018's American Music Awards as Callaway accompanied her mother in singing, dancing and partying.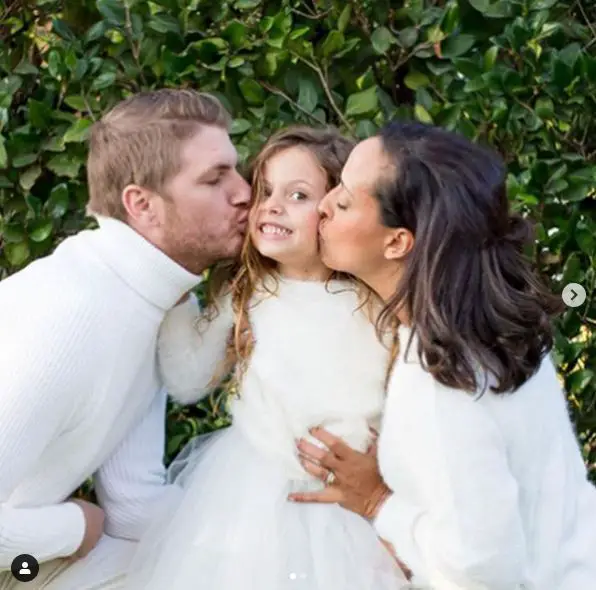 Chudney Ross celebrates Valentine's Day 2019 with husband Joshua Faulkner and daughter Callaway (Photo: Chudney Ross' Instagram)
Chudney alongside her husband leads a happy family of three. Together, they love to take vacations to different exquisite destinations and celebrate various events including birthdays, Christmas, 4th of July, Thanksgiving, and many.
The couple has not decided if they want to gift their baby daughter with a sibling to have some play time with her and it may seem like it may take a while before the pair plans on having a second child.
Who Is Joshua Faulkner?
Besides the fact that Joshua Faulkner is Chudney Ross's husband, Joshua has kept a very low profile about his professional life. He has hardly given any information regarding his profession, which his wife, Chudney is also successful in hiding.
Even Chudney supports the fact that her husband is very low-key while talking about the proposal in an interview. Revealing her husband would go for private proposal, she confirmed that Joshua's low-key by saying,
"The proposal was perfect! Joshua is a very low-key guy and so it was definitely his style to do it with just us [present], but I love to celebrate. So it was fun to get to celebrate after with my family."
However, Joshua's Instagram verifies that Joshua is a family man who prefers to spend his time with his wife and daughter. Sharing a recent Instagram image on 28 January 2018, Joshua made the family bond evident to all the fans.
Family Of Artist; Career; Net worth
Chudney Ross, whose real name is Chudney Lane Silberstein, was born 4 November 1975 in the United States. She was born to parents: father Robert Ellis Silberstein and mother Diana Ross. Chudney has two sisters; Tracee Ellis Ross and Rhonda Ross Kendrick and two brothers; Evan Ross and Ross Naess and is the youngest child in the family.
You May Also Like:- Guy Penrod, Wife & Their Spectacular Family Of 8 Children | Love Everywhere
For formal education, Chudney joined and graduated from the Georgetown University, Washington D.C. Aside from her education, Chudney is best known as the producer and production manager for the works like Mesmerized (2004), Fame (2003) and others. With her hard work and dedication towards her craft, she must have accumulated a decent net worth which is yet to be revealed in numbers.
Even if she faces a financial crisis, Chudney will have nothing to worry about as both of her parents are multi-millionaires. Her mother, Diana Ross, being a veteran actress-singer has accumulated a net worth of $250 million.
Chudney's father, Robert Ellis Silberstein, is also a rich Jewish man - who is a businessman & music executive and has worked several successful musicians including Meat Loaf, Billy Preston, Status Quo, and Rufus. He has also garnered a substantial net worth from his career which amounts to $50 million.