Entertainment
What's Clemence Poesy Married Status Now? Does She Have A Husband?
Clemence Poesy is best known for her role in the 2008 movie In Bruges. Also, she is more prominent for her role in the Harry Potter series.
As of today, she has landed a leading role in the upcoming movie Tenet (2020). This movie is yet another big break in her career as it's being directed by highly acclaimed A-list director Christopher Nolan- known for high ranking movies like The Dark Knight (2008) and Inception(2010)
Married Status, Husband, Children
The French actor falls under those celebrities who are very successful in keeping their personal life away from the public radar. However, she didn't succeed 100%, all thanks to her co-star Omar Sy from the movie Demain Tout Commence (2016).
Interestingly, in 2017, during a French radio interview, Omar accidentally revealed that Clemence had given birth to her son named Liam. The reveal was undoubtedly a big one since she has been known to keep her personal affairs to herself.
British Vlogger And Radio Personality :- Openly Gay Dan Howell Coming Out Story & Parents Details
Moreover, during an interview with Evening Standard in 2016, she was asked about her love life to which she frankly responded saying
"I never talk about it at all."
So, that is the primary reason that her son's father hasn't been revealed yet. As a result, her marital and dating status remains a mystery. However, as of now, she is pregnant with her second child.
She was spotted with her baby bump at Paris Fashion Week's Stella McCartney show on 30th September 2019. As expected the French star hasn't let out any info on her upcoming baby's father either.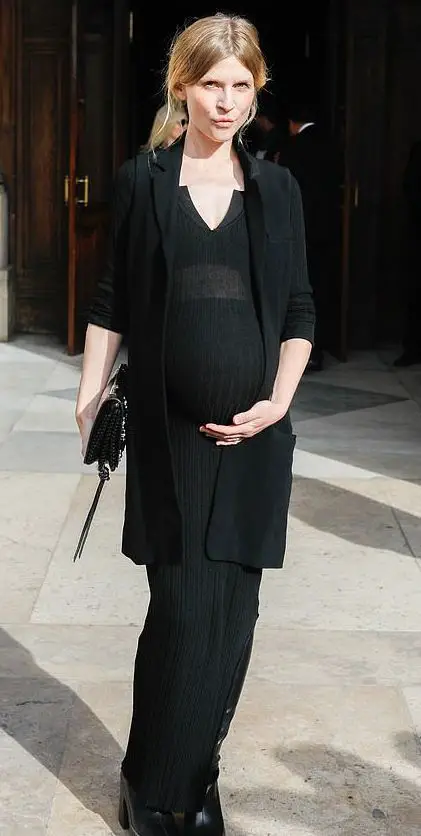 Clemence Poesy flaunts her baby bump at Paris Fashion Week's Stella McCartney show on 30th September 2019 (Photo: dailymail.co.uk)
Talking about her ex-boyfriends, there were reports that she was engaged to Emeric Glayse and broke off in 2016. Also, the Tenet star was rumored to be dating actor Max Irons in 2013.
Movies And TV Shows
Clemence ( born on 30th October 1982) made her onscreen debut at the age of 20 with the TV series Un homme en colère(1999). Since then, she has landed roles in various TV projects in France as well as Hollywood. Her list of French projects includes movies such as Le grand Meaulnes(2006), Pièce montée (2010), and Le grand jeu(2015).
Who Is English-French Actress Emma Mackey Dating?:- Know Sex Education Star's Boyfriend & Family
However, her portrayal of the character Fleur Delacour in Harry Potter and the Deathly Hallows: Part 1(2010) bought her to the international spotlight. Also, she acted in several other TV shows like The Tunnel (2013) and Genius (2018).