Entertainment
Openly Gay Dan Howell Coming Out Story & Parents Details
British vlogger and radio personality, Dan Howell is known for his show on BBC Radio 1. With his co-host and best friend Phil Lester, Dan has been working on Dan and Phil since 2013.
Dan's show, coupled with his YouTube Account, domes him the title of a famous YouTube star as well. His fans & subscribers called the "Llamarmy" have reached more than 6 million in number.
In 2019, Dan entertains his viewers through three channels "Danisnotonfire," "danisnotinteresting," and "DanandPhilGAMES," all dedicated to different aspects of his life. Aside from his show and multiple YouTube channels, he is also known as a comedian and a foodaholic.
About His Early Life & Family
Dan was born on 11 June 1991 and was raised alongside a younger brother named Adrian Howell in England.
His parents provided him with a humble life. With his father working in a departmental store and his mom managing a beauty parlor, Dan received a proper upbringing.
He attended the Forest School, where he completed his early schooling. He later got enrolled in the University of Manchester to study law in 2010. However, Dan dropped his education a year after to pursue his passion for video blogs.
You May Like :-  DATING Alert! Ryan Rottman & Lucy Hale Holding Hands Wiggles Romance Spec
His first video, titled Hello Internet, was released in October 2009. The first time vlogger received much appreciation for his works from Phil and other friends, motivating the man even further.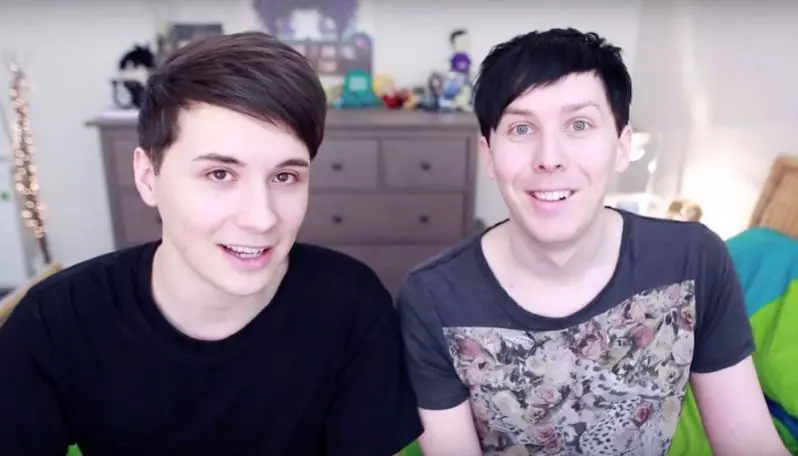 Daniel Howell with best-friend and co-host Phil Lester (Photo: teneightymagazine.com)
In subsequent years, Dan garnered much attention and love for his work. In 2012, Dan won the YouTube competition SuperNote, adding more viewers to his content. Slowly, he spread his line of work, from a vlogger to a radio personality on BBC. He soon became a famous YouTube star for his breath of fresh air content.
Dan's Coming Out Story
Dan's life is quite complicated when talking about his sexuality.
In his childhood, he was confused about the concept of homosexuality. With mixed information about homosexuality from family and classmates, he did come out but as bisexual through his Myspace profile in secondary school.
Out & Proud:- Ben J. Pierce Coming Out Gay In Style At Young Age; Has Large Family Now
For his action, Dan received harsh comments and was even bullied for it. Eventually, he attempted suicide.
Things, however, started to be in his favor later on. On 13 June 2019, Dan officially came out as gay. Through a YouTube video titled Basically, I'm Gay, he went on to share his preferred orientation with his fans.
While he previously claimed that he was bi and not gay, all things were cleared from his one post.
His fans and followers shared much love and respect for his decision to come out. Dan also explained how happy he was after receiving the positive attitude and comments from his well-wishers.
Sadly, he is yet to disclose a relationship or a lover. Dan was, however, previously linked to actress Lucy Hale. It was presumed that Lucy was his girlfriend in 2013, but it was just baseless rumor and nothing more.
Some Interesting Facts About Dan
Dan's full name is Daniel James Howell.
He claims to be allergic to colors. To prove his point, he even went shirtless on his Twitter handle at one point.
Dan admits that he was a feminist and criticized the ignorance and misunderstanding that irked feminism.
His height is 6 feet 3 inches (1.91 m).
Dan doesn't follow any religion and is an Atheist.