As the daughter of a famous Hollywood duo, high expectations were placed on Cleo Rose Elliott.
And, although she didn't disappoint with her career, Cleo's violent incident with her mother led many to doubt if she was indeed the biological daughter of Sam Elliott and Katharine Ross.
Is Cleo Rose Adopted?
While many think otherwise, Cleo is, indeed, the biological daughter of Hollywood star couple Katharine Ross and Sam Elliott. She possesses the same ethnicity as her parents, which is a mix of German, Scottish, English, Dutch, and Northern Irish heritage.
However, her constant feud with her mother led many to suspect that Cleo could be an adopted child.
Back in 2011, Katharine acquired a restraining order against her daughter after Cleo allegedly attacked her with scissors. Cleo was also accused of threatening to kill her mother. Further, Katharine claimed that her offspring had been aggressive since her teenage years.
Physical Assault Accusation:- Model Elsie Hewitt Sues Her Boyfriend Ryan Phillippe, Accusing Him of Drug Abuse and Domestic Violence!
However, the family later resolved their issues. And, they are now happier than ever. Katharine also enjoys a significant portion of her parents' combined net worth of $15 million, which has helped her maintain a luxurious lifestyle.
Cleo Rose Elliott Bio
34-year-old Cleo is a talented singer-musician. She started early with her music career and even took singing lessons during her childhood. She is also an accomplished model who appeared in the hair-styling show called Sexyhair. Further, she modeled for an edition of The Malibu Times in 2013.
Cleo - who stands at a height above 5 feet 5 inches (1.65m) - is also recognized for her distinct fashion sense and outfits. Her ever-changing hairstyles are considered the most attractive features.
Not Married; Engaged
While Cleo's former affairs are a forbidden knowledge, her romance with boyfriend-turned-fiance is no secret.
Cleo's relationship with a boyfriend named Randy Christopher Bates first came to light in October 2018 when the guy identified her as his "baby." However, reports suggest that the two had been dating long enough before coming out publicly.
By February 2014, the pair were already engaged as mentioned by Randy in his Instagram profile. Despite their engagement of more than five years, the couple has shown no interest in getting married and settling down.
Soon-to-be Married:- Brad Falchuk & Girlfriend Soon To Get Married, Inside Her Wedding Plans
However, it seems that Randy is the only husband-prospect for Cleo as the man has even succeeded in getting on well with his fiancee's parents.
Cleo and Randy, along with her parents, are like a family as they often are spotted together in public. Earlier in September 2018, the foursome attended the premiere of Bradley Cooper and Lady Gaga starrer A Star Is Born.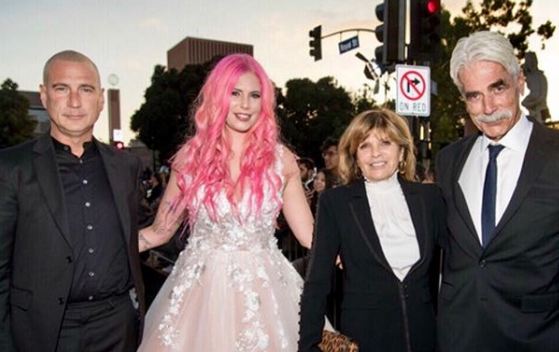 Cleo Rose Elliott with fiance Randy Bates, mother Katharine Ross, and father Sam Elliott at the premiere of 2018 movie, A Star Is Born (Photo: Randy Christopher Bates' Instagram)
Further, they were present at the 2019 Oscars, where Cleo's father Sam Elliot was nominated in the category of Best Supporting Actor for A Star Is Born. Unfortunately, he lost to Green Books' Mahershala Ali.
Unlike Sam's nomination, Randy and Cleo's romance is not a lost cause, and fans hope to see the couple getting married soon.