News
Brad Falchuk & Girlfriend Soon To Get Married, Inside Her Wedding Plans
Brad Falchuk and Gwyneth Paltrow are to be pronounced husband and wife this weekend!
Multiple sources have revealed that Brad Falchuk, the comedy-drama television series Glee star, is set to tie the wedding knot with his longtime girlfriend Gwyneth Paltrow, who is known for her role as Pepper Potts in Iron Man.
See Also: Glee Star Kevin McHale As Gay! Official Sexuality Statement Amid Dating
The couple, who have been together for a while now, will be exchanging the wedding vows in the upcoming weeks. While the couple's wedding is just weeks away, Gwyneth was recently spotted shopping at a lingerie store in New York that specializes in bridal lingerie.
It has come to light that the wedding ceremony will be taking place this Saturday in her home in Hamptons. A source close to Gwyneth revealed about their secret wedding. Adding to it reports also stipulate that the couple has been using hashtag #TheFaltrows.
Turns out, the guests will be enjoying a whole weekend of activities complimented by cocktail parties and golf. Brad and Gwyneth have invited some A-listed celebrities to celebrate their big day.
According to a source, the guest list includes Cameron Diaz, Robert Downey Jr. and also Reese Witherspoon. Well, these guest will not just attend the pair's wedding but were also on the guest list during their engagement party held in Los Angeles.
Related: Who Is James Purefoy's Girlfriend-Turned-Wife? Son's Mother & Partner Not The Same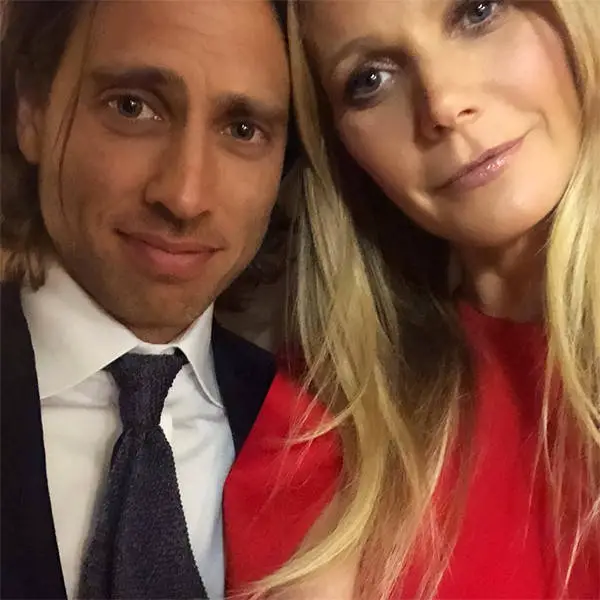 Brad Falchuk with his girlfriend of four years Gwyneth Paltrow. (Photo: eonline.com)
The pair threw a ravishing party for their loved ones back in April 2018 while celebrating their engagement. The party came after Gwyneth confirmed her engagement during her cover story for Goop Magazine's Sex & Love issue.
The couple, who were linked since 2014 after the met on the sets of Glee, went public with their romance in April 2015. Gwyneth describes her relationship with Brad as her first "adult relationship" even though she previously shared a decade of marital bond with Coldplay's Chris Martin with she even shares three children
You may also like: Peter Billingsley On The Path To Get Married! Turned Fiance Into Wife Yet?
As for Brad, he is also blessed with two children Brody and Isabella whom he shares with his former wife Suzanne Bukinik. Brad parted ways from Suzanne back in March 2013.