Clint Capela is a basketball player for the Houston Rockets...has no girlfriend...is no information about his dating life...rumors about him being traded to Boston Celtics...family is everything to him...has Swiss nationality and also...has a height of 6 feet... recently bleached his hair...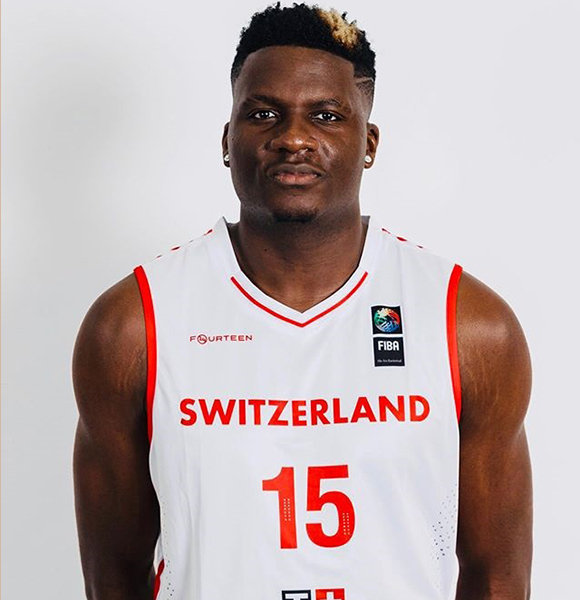 Clint Capela is one of the most recognizable basketball players in the world; with his bleached hair and 6 feet 10 inches (2.08m) height, he is hard to miss. Playing for the Houston Rockets, Clint has been able to make a name for himself in the NBA through his hard work and dedication.
Maybe his work-ethic and his dedication comes from his turbulent past, perhaps not. But one thing is clear - he is an inspiration to everyone who wants to make it to the top of any field, be it sports or anything else.
Dive into this Swiss basketball player's background - his family, his childhood, and his relationships - in the article below.
Clint's Family And Background
Clint Capela is not one of those people who are born 'with a silver spoon in their mouths.' He was born to African immigrant parents - a Congolese mother and an Angolan father, who left his mother to deal with her problems shortly after Clint's birth.
After his father's departure, Clint's poor mother, who used to work from dusk to dawn to meet needs, put Clint and his elder brother Landry Capela in a school and group home. They only went home to meet their mother and their older sibling, Fabrice Capela, on weekends.
Read More:- Nicolas Batum Wife, Dating, Parents, College
Clint grew up moving from group home to group home and playing football and basketball on the streets. Despite the hardship, the athlete never gave up and always put his truth in his mother above anything else.
Finally, the athlete made his NBA debut in 2014, after being drafted by the Houston Rockets. So, after his draft in the NBA, the player paid his mom's debt of over 20 years. It took almost all of his rookie salary to do that. He said,
It just made me so proud to tell my mom that she didn't need to work anymore. Now she can be happy and do what she wants. Now she gets to go back to Congo to visit her parents and her sisters, then comes back and spends time with me here in Houston. Giving her that freedom is something that I have dreamed about for a long time.
Now, he plays as a center for the Rockets and signed a five-year, $90 million contract extension with them in 2018.
There have been rumors about Clint being traded to the Boston Celtics, but the deal seems unlikely at his current price.
Clint, despite his rise in stature, hasn't forgotten his roots. He still returns to Geneva, Switzerland for a few weeks once a year. He visits his mother and his brothers who live there, and get in touch with his past, even if for a little while.
Charity Work
It must be hard growing up in foster care. And, nobody knows the pain of that better than Clint. So, he wants to help foster kids with their life and their growing up.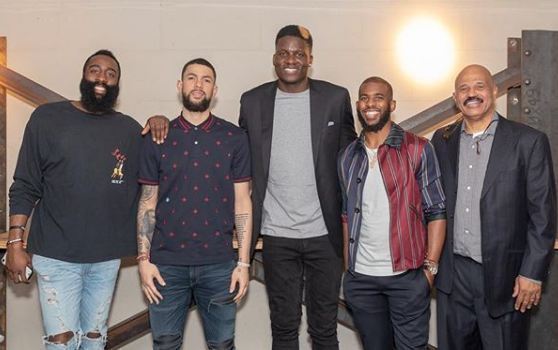 Clint Capela poses with teammates during the launch of his foundation on 2nd April 2019 (Photo: Clint Capela's Instagram)
With the vision of helping foster kids, he set up a foundation - CC15 Foundation - with a target of providing back-to-school supplies, Thanksgiving dinners, Christmas gifts, etc. to orphan and homeless children, working with local Texan non-profits such as DePelchin and Casa de Esperanza.
Clint's Bio: Personal Life and Dating
Now let's return to talk a little about Clint's private life. Born in Geneva, Switzerland, to immigrant parents, Clint came into this world on 18th May 1994. And, the 25 years old boasts the birth sign, Taurus.
Having the full name of Clint N'Dumba-Capela, the athlete weighs around 240 lbs or 108.9 kgs.
As per his nationality, despite being born in Switzerland, Clint mostly grew up in France. But, he has Swiss nationality and also represents his native Switzerland in international basketball competitions.
You May Also Like:- Mohamed Bamba Stats, Salary, Career, Parents
As per his dating life, the athlete is not involved with any woman right now. There are also no rumors about Clint having a girlfriend in the media.
However, Clint could be keeping his relationships away from the media limelight, but there is no way of knowing for sure.