Entertainment
Israel Gutierrez Wife Talks Are Myth! Gay & Married - Personal Details Revealed
Israel Gutierrez always had troubles admitting to his gay identity... Often mistaken as a married man with a wife... Israel, who possesses a ethnicity... Israel and his then-fiance got married on... The wedding was attended by the couple's...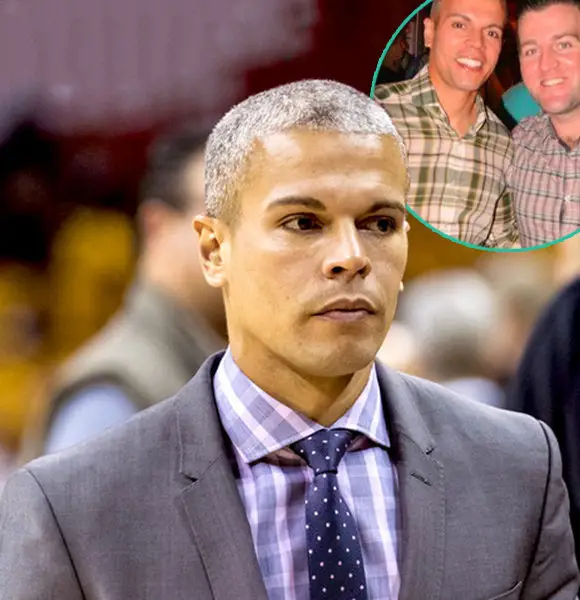 Israel Gutierrez, who works as a sports reporter on ESPN, has always had troubles admitting to his gay identity. Often mistaken as a married man with a wife, Israel could not come out of the closet until he found the love of his life, who cherished his company and accepted Israel for who he really was. 
However, after the couple got married, it seemed as though the pair had distanced themselves from each other as Israel is supposedly dating another man. 
Munch on the whole article to discover Israel's journey of coming out along with his wedding details and rumored boyfriend!
Making Gay Revelation, Engaged
Israel Gutierrez has his own story to tell of him being gay and finally, revealing out to the world. Remaining closed about his gay sexuality for a long time, the revelation only came after he wrote a personal blog named Thanks for reading on 4 September 2015.
Started with the line "I've been agonizing for months trying to figure out how to do this.", Israel disclosed he was getting married to his boyfriend, the same guy who helped him to fully embrace his gay sexuality. 
Don't Miss:- Ben J. Pierce Coming Out Gay In Style At Young Age; Has Large Family Now
He took his blog to talk about the struggles of hiding his sexuality and his decision to come out openly as gay. Israel further mentioned that although his friends and family were aware of his sexuality, he didn't dare to come out to the public. He Israel wrote on his blog,
"It's been incredibly difficult, to the point where I usually talk myself in circles and end up making very little sense. So I decided on this simple blog entry. No formalities, no restrictions, just me letting you into a portion of my life I've kept largely separate from my professional career.I'm gay, which plenty of people, I'm sure, have either deduced or just guessed as much over the years."
He revealed through his blog that from his teenage years to his late 20s at every birthday he wished not to be gay. 
"Starting in my early teens until somewhere in my late 20s, I'd blow out my birthday candles with the same wish: 'Please don't let me be gay.'"
Israel even dated several women to hide his sexuality but never got serious with any of them as he had no intention of making them his wife. It was only after meeting David Kitchen that he realized being gay was nothing to be ashamed of.
Israel's coming out journey would not have been possible without his gay partner, David Kitchen.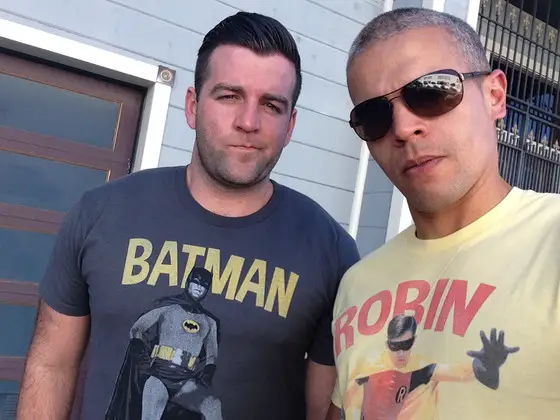 Israel Gutierrez with boyfriend David Kitchen (Photo: NewNowNext.com)
See Also:- ESPN's Darren Rovell, Wife & Their Healthy Family! Complete Bio - Details Revealed
The pair met back in 2009, and within a day Israel realized that David was the one for him. David made him feel special and even made him realize that Israel was putting unnecessary pressure on himself.
"In one 24-hour span that began with that introduction to David, it all changed. Not only was there, possibly, someone out there for me, but I had been making life so unnecessarily difficult on myself… I still remember the moment the revelation swept over me. I had been so dumb."
Shortly, after meeting David, Israel moved from Phoenix to live with his partner. The couple eventually got engaged in February 2014, at which time Israel had not revealed his gay identity. 
Wedding Ceremony; Dating Another Gay Man 
After dating for nearly six years, Israel and his then-fiance got married on 12 September 2015. The wedding was attended by the couple's friends and family members. Israel, who possesses a Dominican ethnicity, flaunted a flawless look dressed in white whereas his partner wore a blue tuxedo.
TV host, Tony Reali even posted a picture of the happy couple through his Twitter on the day of the marriage.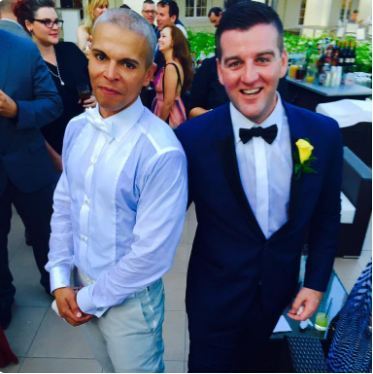 Israel Gutierrez, along with husband, David Kitchen on their wedding day (Photo: Tony Reali's Twitter)
Unfortunately, as of 2018, the partners appear to have broken up as Israel is supposedly dating a guy named Anthony Alfonso.
Anthony, who came out as gay via an Instagram post on 30 June 2018, revealed that Israel was his longtime friend, who helped him come out of the closet. Anthony even shared some pictures of him with Israel where the two appeared to be a couple.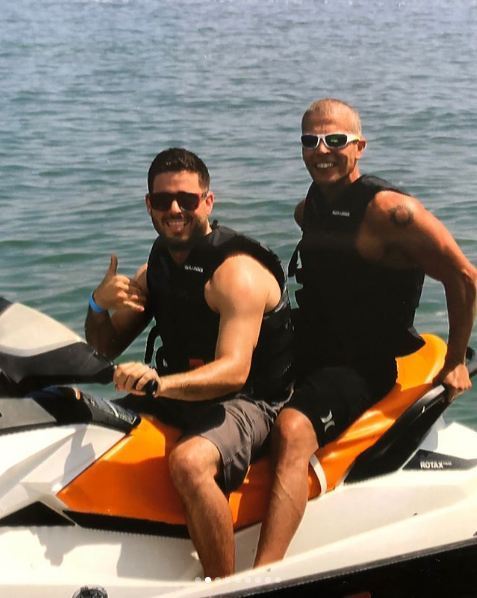 Israel enjoys a vacation with alleged boyfriend, Anthony Alfonso (Photo: Anthony Alfonso's Instagram)
Israel later re-shared the photos on 1 July 2018. The alleged couple has not yet revealed if they are casually dating or getting serious in their relationship, however, it seems like they are very comfortable in each other's company.