At his 12th birthday, Corbyn Besson recieved a guitar - his very first instrument - as a gift. In the years that followed, he began developing a passion for music.
Starting with the cover of pop stars such as Selena Gomez, Taylor Swift, and Justin Bieber, the Texas native amassed a massive fan following. His very first single "The Only One" - and the follow-up record "Marathons" - charted the iTunes.
Likewise, his rendition of Jake Miller's "First Flight Home" on Soundcloud gained him much-need traction.
The watershed moment, however, would come in 2017 when he became a member of the boyband "Why Don't We." Together with Daniel Seavey, Jack Avery, Jonah Marais, and Zach Herron, Corbyn makes up the talented musical quintet.
That's his musical career! Delve into the "8 Letters" hitmaker's biography to learn about his private life!
Bio - Age, Parents & Net Worth
Born on 25th November 1998, Corbyn grew up in Fairfax, Virginia despite being a native of Texas. He comes from a family of five. Besides him, his parents share two more children - Jordyn and Ashley.
It was his biological parents, who gifted the guitar as mentioned earlier on his 12th birthday. And, what a decision it proved at the end.
With unbridled support from his family and equally talented bandmates, Corbyn has amassed five-figure sum in net at the tender age of 20. The large chunk of his income is the direct result of Why Don't We's soldout tour dates as well as sales from the band's merchandises.
So far, Why Don't We has released three projects in total - all EPs. Upon its release, their self-titled EP hit number one on the US Heatseekers chart.
Height, Weight & Hair
No doubt, Corbyn is a complete package!
Besides his apparent high musical aptitude, the Taking You singer boasts gorgeous silky hair. Though he stands at the proper height of five feet and eight inches (173 cm), his spikey hairdo makes him atleast two inches taller.
Recommended:- Nettie Stanley Bio, Kids, Net Worth, Husband
Nevertheless, his 63 kilograms body weight perfectly complements his lean stature.
Dating A Girlfriend Or Single?
Corbyn is quite a catch, isn't he? - Even if he weren't as famous as he is today, the chances of him being single for too long is unthinkable.
As things stand, the 20-year-old musician is dating makeup guru-turned-YouTube star Christina Marie Harris, better known by her moniker BeautyChickee. Believe it or not, Christina is Corbyn's first ever girlfriend. The duo began dating in May of 2016 and has been inseparable ever since.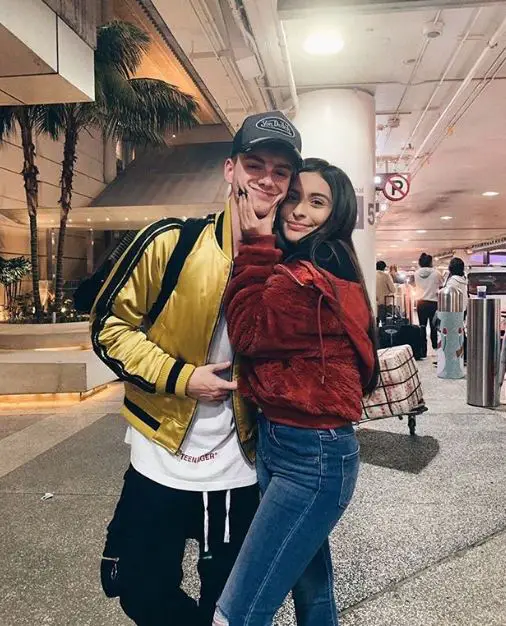 Camera shy Corbyn Besson poses next to his girlfriend Christina Harris for a photo circa Jan 2019 (Photo:- Corbyn Besson's Instagram) 
Both Corbyn and his vlogger girlfriend aren't shy of showing each other off on their respective social media. On their first anniversary, Christina shared a montage of adorable clips featuring the two on Twitter.