Entertainment
Corey Gamble Age 38 & Kris Jenner Won't Be Getting Married, Here's Why
Despite the 25-years age difference, producer-turned-reality star Corey Gamble seemed to have found a soulmate or better yet a "sugar mama" - according to an insider - in his girlfriend, Kris Jenner.
Dating since 2014 after meeting at a birthday party, Corey & the Keeping Up with the Kardashians matriarch have endured their fair share of tumult. From denouncing being married as an option to sporting a "rock" only to again doubled down on the anti-marriage rhetoric, fans of the lovebirds have wondered if the pair will ever drive off to a sunset.
Have the Kardashians family taken a liking to their mom's boyfriend of four years? Has Corey's ex-girlfriend chimed in on their relationship yet? Read along to find out & more facts including his net worth, bio & job!
Dating To Getting Married With Kris Jenner?; Family Happy With Their Relationship?
A native of Atlanta, Corey, age 38, bio suggests that his foray into the world of entertainment came as he landed a job under Justin Bieber's manager Scooter Braun.
Related To Justin Bieber:- Yovanna Ventura Bio: Age To Family - Model Who Dated Justin Bieber
Over the years, he fostered a nephew-uncle-like relationship with the Baby hitmaker. Interestingly enough, it was because of his association with the Canadian pop star that got him invited to designer Riccardo Tisci's 40th birthday party, where he met Kris.
The Morehouse College Alum would later recall their first ever dance in an episode of the Keeping Up with the Kardashians.
With the blessing from the Kardashian family, he and his girlfriend Kris seemed ready to take their relationship - little under three years into dating - to the next label until a source came forward with a revelation.
In June 2017, the stated source told PEOPLE:-
"Their relationship is more business than romantic. Kris is basically his sugar mama. They will never get married,"
On the contrary, there seems to be little to no credence to the mentioned insider's claims as Corey is a self-made millionaire with a reported net worth of $2.5 million.
Nonetheless, earlier that year, appearing on the Ellen DeGeneres show, Kris - who is exes with Robert Kardashian Sr. & Caitlyn Jenner (formerly Bruce) - had echoed a similar sentiment about being married the third time. She had quipped:-
"You know, I've done that twice, and it didn't work out so well. So I don't know — you never know. I'm going to take a page out of Goldie and Kurt's book. Or Kourtney's book. I just think as long as things are going so well, why ruffle it up?"
Considering how the pair split for a brief moment following the source's claim, the idea of not seeing a future together sit all too well with Corey. Also, the Kardashian sisters admiration seemed to have declined by then. As for a reason behind the split, Kris' rep cited the urgency to focus on her family life.
One Of Kardashian Clan's Love Interest:- Rita Ora, Relationship With Ex-Boyfriend Again? She Just Split With One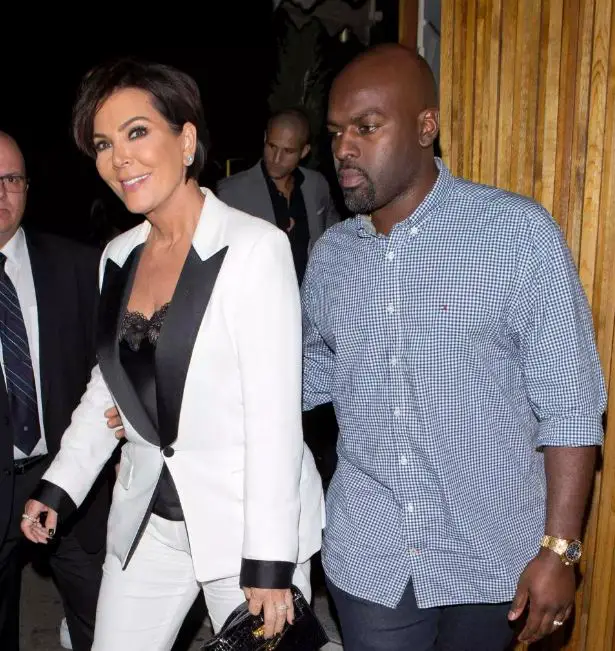 Corey escorts Kris to their vehicle after dinner date (Photo:- thesun.co.uk)
But as fate would have it, he and his muse returned with a bond stronger than ever in 2018. Now sporting an engagement ring, Kris, age 63, appeared to befuddle when presenter James Corden quizzed her about it during an appearance on the latter's late night show.
Just when their fans had begun to suspect wedding chimes for the duo, Kris shut down all the rumors when she made a guest appearance on September 2018 episode of Divorce Sucks! Podcast. Citing her two failed marriages, the mother of six explained:-
"You know, you never say never, but I often say it's just not what I think I need to do again based on my past. I'm in a really great relationship right now and I'm happy and I don't want to mess that up... "
Maybe, for better or worse, Corey & his 25 years senior girlfriend could do better without getting married. Why fix it if it hasn't broken?
Bio Unveils Staggering Facts Revealed By His Ex-Girlfriend & His Job
Rest assured, in the event of his breakup with Kris; he will have a tough time moving on. Just ask Corey's ex-girlfriend & Atlanta Exes star, Sheree Buchanan.
Discover TV/Film:- NBC Cancelled Timeless (Again), Will It Get Renewed After Series Finale?
Accusing him of stalking, Sheree filed - and later granted - a restraining order against Corey in 2010. In 2014, expounding on the harassment, she told In Touch:-
"He would just show up at my house and come inside. I had to change my locks because he'd managed to somehow get a key... "
Additionally, Sheree, who's happily married, also advised Kris to watch her back. She quipped:-
"I know Corey. He's all about power and money and will do whatever it takes to get it... "
Born on 10 November 1980 in Atlanta Georgia, Corey currently serves as a tour manager for SB Projects.