Entertainment
Leafar Seyer First Baby With Wife Kat Von D | Find Out His Name
Musician-cum-author Leafar Seyer and his wife Kat Von D have welcomed their first bundle of joy, a "beautiful baby boy."
Ever since getting married in a thematic wedding, the pair's relationship seems to be going from strength to strength. And with the newest addition to the Von D-Seyer household following their first baby's birth, Leafar and his wife have added one more milestone in their life. 
Will the birth of his very first son help Leafar mend and his relationship with his estranged daughter?
Read along to learn how the couple has many things to look forward to in their life including the baby's name as well as Kat Von D's net worth!
Leafar Seyer & Wife Announce Birth Of Baby Named Leafar Von D Reyes
Unlike many couples in Hollywood, Leafer and his wife Kat Von D waited few days before revealing the birth of their first child, Leafar Von D Reyes.
Interesting:- Mike Caussin & Wife Welcomes Second Baby Keeping Married Life Strong
But much like her Hollywood counterparts, the married pair opted to do so via Instagram. On 3rd December 2018, Kat shared a snap of Leafar holding their baby with the caption:-
"Meet our beautiful baby boy, Leafar Von D Reyes."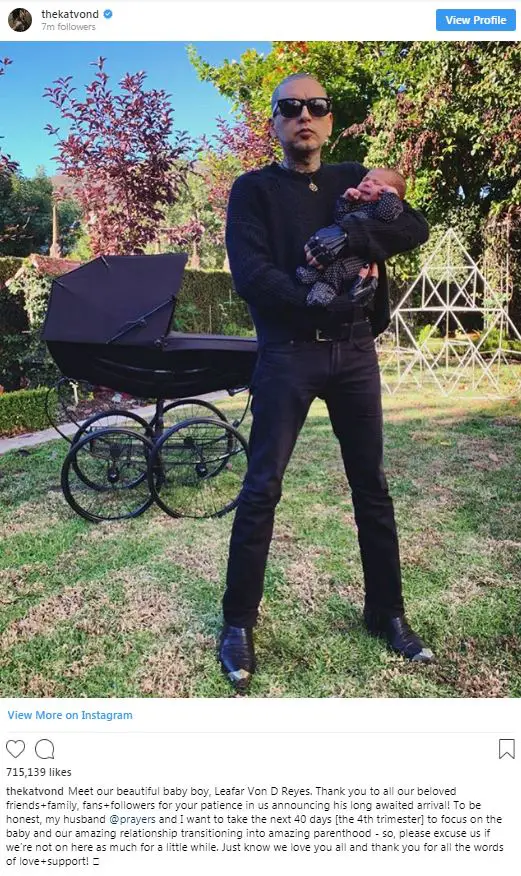 Leafar's wife shares the first glimpse of their baby Leafar Von D Reyes (Photo:- Kat Von D's Instagram)
In addition to thanking their family and well-wishers, the L.A. Ink alum announced that she and Leafar would remain absent from activities online as they "want to take 40 days" to focus on their newly born.
Back in May 2018, the pair had first announced the pregnancy when they had sat down for an exclusive interview with US Weekly. Then-three months pregnant Kat quipped:-
"I'm really lucky I have a husband who is really involved in the entire process. Not by choice, you know, I don't force it on him. He's super excited to be a part of everything. I'm lucky."
And four months after opening about her pregnancy, the pair would give another update on their impending parenthood to the same publication. Again, Leafar's wife, Kat took center stage as she revealed how they wanted to "have a natural, unmedicated, drug-free home birth in water." She explained:-
"After that, we ditched the doctors and found a midwife. We did a lot of research. We're excited."
What's interesting is the fact that the tattoo artist didn't always have the hots for children. Nothing typified her distaste for motherhood than her December 2017 interview with Dr. Drew Pinsky, where she said:-
"No children for me. The funny thing is that I've known since I was 7 years old that I was never going to have kids... I don't know if I'd be a bad mom, but it's not what I want. I don't want to put my body through it."
What changed though?
Read Also:- Jacqueline Laurita Daughter Intimately Married At Age 27, Who Is Her husband?
More on Leafar Seyer Including His Relationship With Daughter & Wife's Net Worth
Kat Von D's marriage with Leafar did more than change her views on the childbearing process, it seems.
After announcing their marriage in February 2018, Leafar and his then-fiancee Kat got married in a Gothic-chic themed wedding ceremony held in Los Angeles four months later.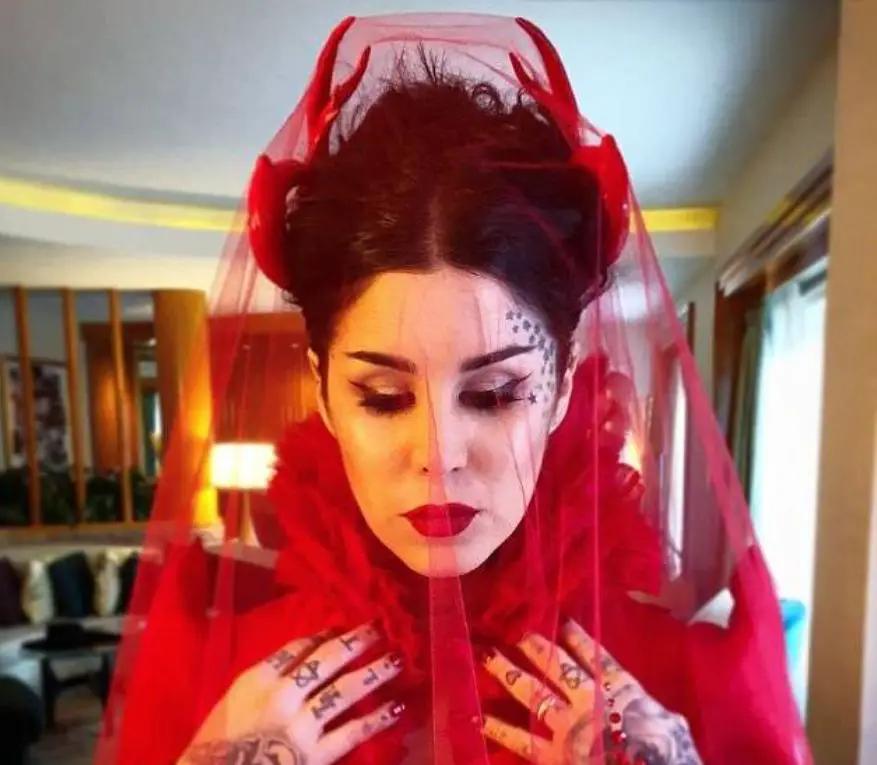 Kat Von D on the day of her wedding (Photo:- dailymail.co.uk)
The wedding marked Kat's second marriage; she was previously married to tattoo artist Oliver Peck between 2003 and 2007. Also, the 36-year-old LA Ink star - who has a reported net worth of $14 million - was engaged to Jesse James for a year in 2011 and to musician Deadmau5 from 2012 to 2013.
Discover:- Nick Jonas & Priyanka Chopra Unite Culture In Stunning Interracial Wedding
As for Leafar, besides the fact that he has an estranged daughter, very little is known about his intimate life before his wife. In a rare 2018 interview with Medium, the lead singer of Cholo-goth Band Players shared his tumultuous relationship with his daughter by saying:-
"It's been a rough four years, but this music has been the salvation of me... "
Will the birth Leafar Von D Reyes help make amends between the estranged father-daughter duo? Only time will tell!