Entertainment
Damon Dash And His tragic Love Life where Affair With Girlfriend Came to A Dejecting Halt And Wife Added Up To His Downfall
We have been hearing a proverb that says, "Matches are made in heaven." But keeping your bond strong and stable with your partner is certainly dependent on what kind of relationship you share with him/her.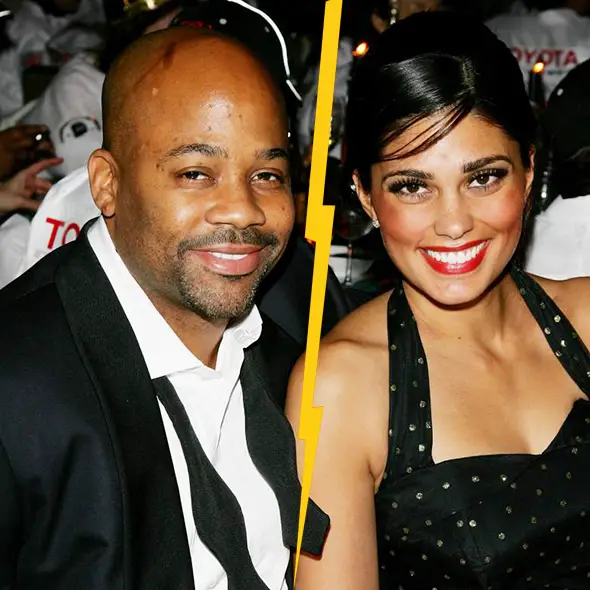 "Matches are made in heaven" but now always. Sometimes people struggle with finding their perfect partner and igniting love in their life.
It seems that American music producer, actor, and entrepreneur Damon Dash is not blessed enough to find his perfect match though he has been in several relationships. Not only his affairs, but his high profile marriage also wasn't stable which affected his opulence. However, Damon was once said to be deeply in love with R&B singer Aaliyah. 
But after her tragic death, the actor got involved with his former wife just to call a rough end to their relationship. Who the actor is linked with currently is yet to be found out!
A Tragic End To His Girlfriend: Damon Bids Farewell To Aaliyah!
There may be fewer people who may be less aware of the "Film Therapy" star Damon Dash's romantic relationship with R&B singer Aaliyah. Damon met Aaliyah through his accountant in late 1999 and eventually started dating. 
They both were a power couple of the music industry until their relationship had a tragic ending. On August 25, 2001, Aaliyah died from a plane crash in The Bahamas.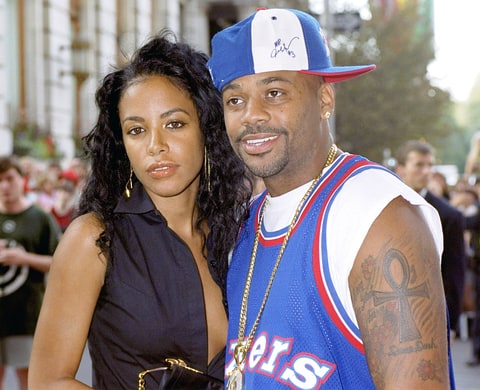 The "Film Therapy" star Damon Dash with his late girlfriend Aaliyah (Photo: Us Weekly.com)
It was more tragic to find out that Damon had been blaming himself for Aaliyah's death for a long period of time! On April 2016, Damon appeared on "The Real" where he said that Aaliyah would have never died if he was with her during the flight during an interview. 
He also stated that there was no any chance for them to be on that plane if he was with Aaliyah.
The power couple of the musical industry, Damon and Aaliyah was not officially engaged but had plans of getting married.
A Rough End With Former Wife: Broken Dash Family!
After the episode of Aaliyah, the musical star then moved on with a new lady in his life. In January 2005, Damon tied the knot with American fashion designer Rachel Roy in Mexico. He first met Roy while working together at "Rocawear." During that time, Roy was an intern at "Rocawear." 
They together have two daughters Ava Dash, 16, and Tallulah Ruth Dash, 8. Likewise, he has two sons named Damon Dash II and Lucky from his past relationship.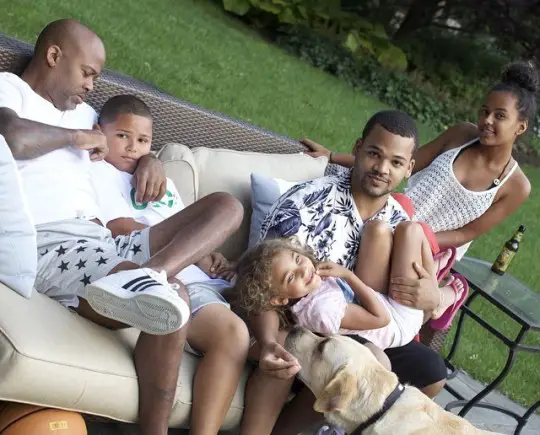 Damon Dash with his sons and daughters Damon Dash II, Lucky, Ava Dash, and Tallulah Ruth Dash (Photo: bckonline.com)
Dash's family was living happily for almost four years. The couple got separated in 2009 with a divorce. Damon, who had a problem related to Marijuana, at that time might have been one of the reasons for their separation.
Similar Article: Selma Blair Dating Status; Post Divorce, Bashing Futile Boyfriend Talks
Meanwhile, there were also rumors about Roy's affair with Jay Z. However, the exact reason behind their divorce is not yet revealed as there are many twists and turns and as well as a lot of allegation in between them.
When Rachel slapped her husband with divorce papers in Manhattan Supreme Court, problems added up as Damon was nearly broke after having a financially terrible year. 
In 2013, he revealed that he was almost broken. He said-
"I am currently several months behind in paying my personal bills, for instance, I am currently over $100,000 behind in rent for the only home in which I live and at risk of being evicted."
The sole custody of their daughters was granted to Roy and Damon had to pay $24,000 every three months to his ex-wife Rachel for the support of their daughters. 
Previously he was allowed to see Tallulah for overnight stays and regular visitation but later his visits were monitored, as his ex-wife claimed that he had weed problems which affected their children. 
He was ordered to stay away from it for 24 hrs before meetings his kids. Rachel revealed that her ex-husband used to smoke in front of the kids and during one visit, she saw them having Damon's Rice Krispies and pot-laced cake.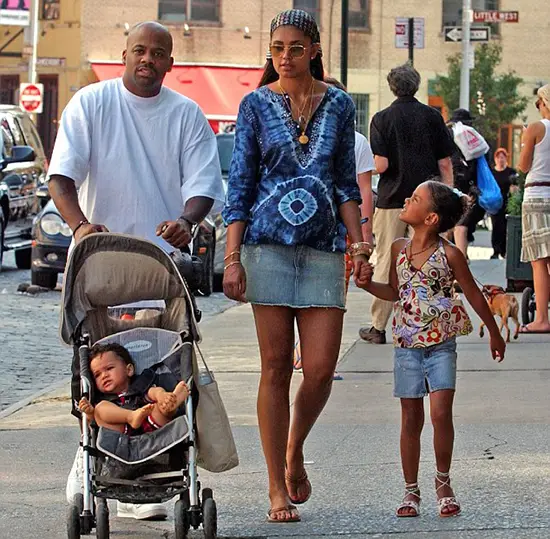 Damon pictured with his ex-wife Rachel Roy and two daughters in New York in 2005 (Photo: Dailymail.uk.co)
Likewise, for the support of his son, he had to send another $4,341.10 per month. Similarly, he had many other expenses because of which he was under massive debt.
His luxury Chevrolet Tahoe was also seized. Damon Dash, who had an estimated net worth to be of $2 million, was deeply in debt and sources say his divorce and lack of financial stability added up to his downfall.
Damon's New Relationship With Girlfriend Raquel Horn:
It was after his rough end with his former wife Rachel Roy that he finally found someone who he could share the time of his life with. The MTO News released the picture of Dame with his new girlfriend Raquel Horn enjoying some time together at the Farmer's Market. 
It has been reported that the pair has been carrying out their 10 years of relationship under the wrap as not many information about the duo has been found till date.
More Article: Taylor Lautner Dating New Girlfriend & It's Official | Announced With A Kiss
With his daughter growing more adult with age, at age 47, the former head of Rocafella has been linking with the most loyal person in his life who has been with him through all his ups and downs.
Raquel also shared the picture of the duo in her Instagram with the caption:
"Happy Valentines my love! ... you inspire me every second of the day ... you are the best man a woman could ask for and an amazing father ... congratulations on this movie baby I am so proud of you! @duskopoppington ❤️"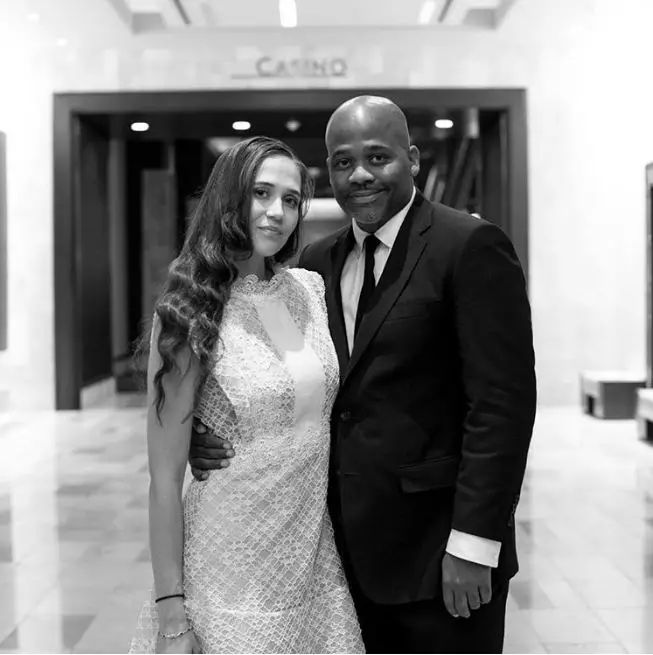 Raquel shares an adorable post on Instagram to wish her lover a Happy Valentine's day (Photo: Raquel Horn's Instagram)
Mto News also reported that the duo who were passionate producers have a long list of movies to be released in 2018.
Don't Miss: Matt Cardle New Girlfriend After Dark Days, One Who Cares Like Wife
As of now, after his first girlfriend's death and a jagged relation tie with former wife, Dame seems to have finally walked the right path with his new girlfriend!