Entertainment
Dana Delany Despises The Idea Of Getting Married But Active In The Dating Field? A Lesbian Refusing To Be Called Cougar?
When you have been in a lot of relationships, you might want to get settled in one and turn that into a marital bond. But it is not what applies for Dana Delany as she is yet to get married and by the looks of it, she is not hurried in tat at all. So let us have a look at this very regard.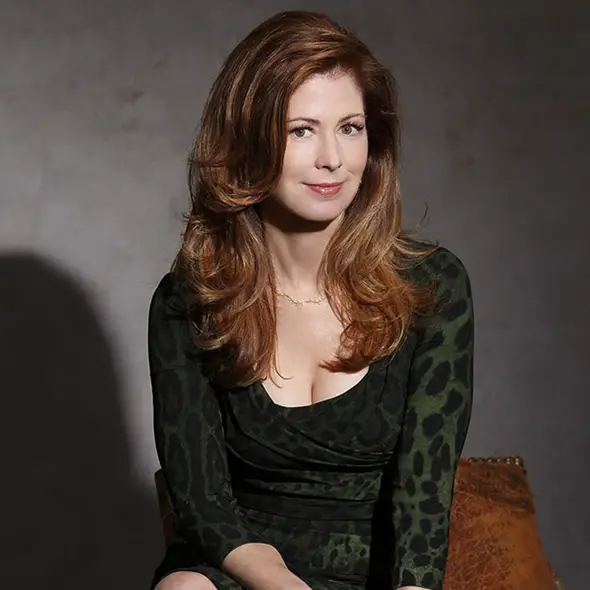 When one has been in a lot of relationships, one might want to get settled in one and turn that into a marital bond. But it is not what applies for Dana Delany as she is yet to get married and by the looks of it, she is not hurried in that at all. 
Or does she not want to get married at all even after reaching the age of 60? Let us have a look at this very regard.
Delany Didn't Have An Interest On Getting Married Since A Young Age!
Marriage is a holy bond which not only connects two people but connects two different worlds. But in Delany's case, she is happy in her own world, and reports suggest that she is not willing to get married or bear any children. 
More From Desperate Housewives: Maiara Walsh Boyfriend & Dating | Bonus - Ethnicity, Parents & Facts
She is well and truly entitled to living her life alone, and she is not bogged down by the fear of having to live her life alone without a husband or any kid. Appearing on the show "The Talk" she revealed the fact that why she is yet to get married, she said, 
"People think I'm so weird. I just never really thought about marriage. I come from a divorce household, I didn't see marriage as this positive thing and it just wasn't something that I thought was going to make me happy so I didn't really look for it."
But it is not that she does not like to be in a relationship as her relationship history shows she has dated a few men in her life. She further added, 
"I do (like relationships), but I have to admit, the older I get, the more I love my solitude, and I don't wanna give that up."
Also, as one of the famous and pivotal cast member of the hit series, "Desperate Housewives," she, in a sitdown, said, she does not want to be a desperate housewife.
'I have tried hard all my life not to be a desperate housewife. I grew up with 70s feminism and I try to hold true to those principles. A job is often a better bet than many men, and more fulfilling."
Moreover, having a strong work ethic like her mother, she further stated that she did tell her mother that she is never having a child.
'My mother is 80 years old and still works as an interior designer, so I was raised with a very strong work ethic. I didn't think that being a wife and mother made her happy, so I remember saying to her when I was 16: "I'm never going to have kids." She said, "Oh, you'll change your mind", but I never did. "
The only thing left to see if the actress has changed her mind ever since.
Dana Delany's List Of All Potential Husbands Who She Ended Ties With!
Delany was once in a relationship with actor Treat Williams. She and Treat are known to have dated from 1981 to 1984. But not much of insight and details hit the limelight regarding their relationship and their tragic break-up.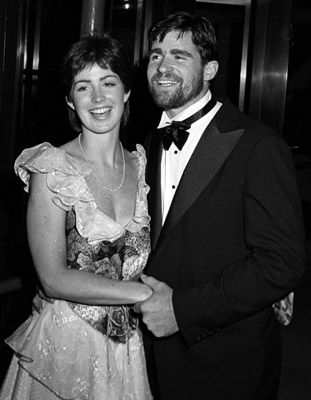 Caption: Treat Williams and Dana Delany once dated each other before getting separated. (Photo: whosdatedwho.com)
But even after they broke up, Treat even took it to Twitter to wish Dana on her 39th birthday which shows that they are close to each other despite their break up. 
Dana also as a friend replies to Treat Williams tweet in a loving way where she wrote;
Also talking about their friendship, Dana said in an interview;   
"Treat and I are friends. In fact, we just talked on the phone today."
Talking about her dating history, she has also been involved in some sort of a relationship with Dave Holmes. Although no major and ample information is found regarding their relationship, they were reported to have had a thing going between them. 
Don't Miss: Does Madison De La Garza Have Boyfriend Now? She's All Grown Up!
Delany has also been involved in several other relationships, and she also has been in a relationship with a man who was 13 years younger than her which made people recognize her with a cougar tag, but she refused to be called such. She said, 
'I date a lot of younger men, but they are always the ones who approach me. My last boyfriend was 13 years younger and for six months I fought him off, saying, "You're too young". But he just persisted.'
 
Famously, the star has been in a relationship with Henry Czerny (1993 - 1997), and that must be the longest relationship she has been until now. But sadly the couple could not last their relationship to end up in marriage and broke up without any official statements.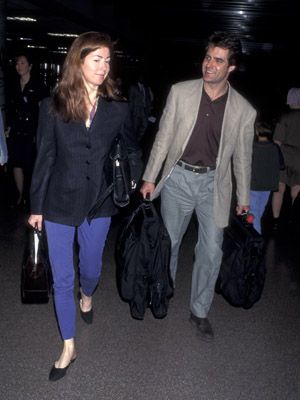 Dana Delany and Henry Czerny reported having a relationship in the years gone by. (Photo: whosdatedwho.com)
Dana was also in a relationship with John Sacret Young (1990-1992) but like her past relation, her love life with John could not make it to the aisle and thus, without any official reason, the relationships ended. 
This shows that she has been in a relationship but is not willing to take it to the next level and get married. But it is her who decides the flow of her life and relationships, right?
But when it comes to speaking about her current boyfriend, The Body of Proof actress seems to enjoy her singlehood life currently. Though she likes to tease her followers with her suspicious boyfriend tweets which she playfully shares it on her social media.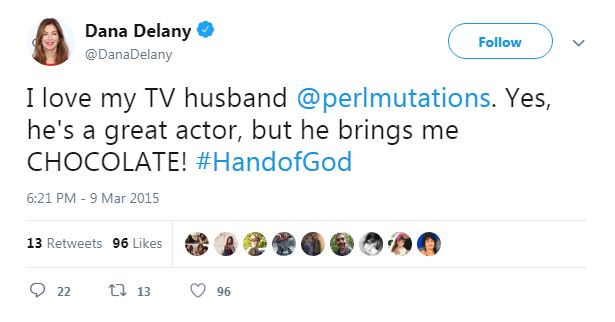 Dana mockingly shares about her TV husband to her followers (Photo: Dana Delany's Twitter)
She has also left few hints about her love when she posted a picture of her in the mere background holding a red rose given to her by an anonymous person on Valentine's day, which she joyfully shred on Twitter with the caption "Will you marry me?"
Swirling Lesbian Rumors!
Having portrayed various lesbian roles on screen, people often tend to wonder and ask if she is a real-life lesbian given the way she has portrayed all of her lesbian roles thus far. 
Similar Article: Kelsey Plum & Boyfriend Talks Amid Lesbian Rumor! What Is Her Ethnicity?
Furthermore, the revelation of her getting naked with Jennifer Beals made people raise eyebrows on her sexuality even more. But having dated several men in the past, she is less likely to be a lesbian, and it shall be safe to call her a straight lady. 
Has She Undergone Any Sort Of Plastic Surgery?
Having aged a lot and still rocking out the beauty, Delany is often put to the sword by people accusing her of undergoing plastic surgery.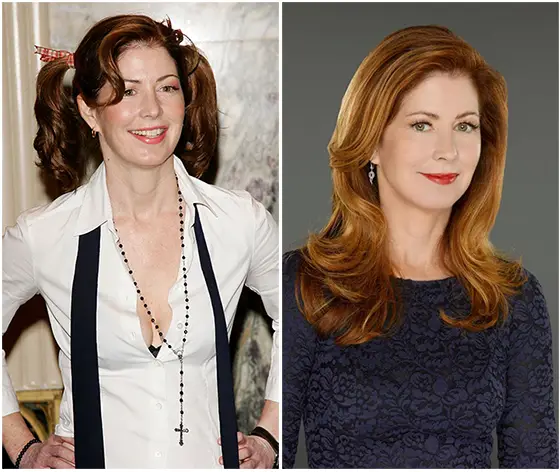 Dana Delany still holds the same beauty which she possessed while she was young, which raised many eyebrows and assumed her to go under the knife.
But no such major evidence has come forth through which one can stay put on this accusation. However, around the year 2003, she is said to have gotten a droopy eye when she was on the wrong end of a Botox injection that went amiss. Talking about her Botox injection on a talk show she said, 
"I had never heard of Botox. My dermatologist was saying "You should try this"
But that all went wrong which she further explains, 
"He injected my forehead, hit a nerve and created a huge hematoma. The nerve has been dead ever since."
Regardless, she looks absolutely beautiful even at this age in her life.  
But, no matter how much unnecessary attention that she gets for her looks or personal life, the Hollywood sweetheart still remains unstoppable when it comes to acting. Her recent roles Colonel Eisa Turnbull has won her many praises, as she dashes ahead as a commanding officer of the Marine Corps in the military drama "The Code".
Her on-screen's role of Eisa as a mother of two sons who serve overseas has been a topic that is much discussed when it comes to Dana Delany. 
Her popular contribution in the movies Moonlight, Magnum P.I., Body of Proof, Where The River Runs Black, has all helped her win the Hollywood spotlight, non the less had earned her a total net worth of $10 million.