Arguably the most celebrated artist of the 20th Century, David Hockey dons one too many hats including that of a painter, printmaker, draftsman, photographer and stage designer.
An essential component of the '60s pop movement, the Bradford, England native's status as a once-in-a-generation talent got further cemented when his painting got sold for $90 million (£70 million) in November 2018.
Despite the immense popularity of his work, David's love life remains a low-key affair!
Does Gay Artist David Hockney Have A Partner?
For as long as David has been a fixture in the art scene, he has never shied from owning his sexuality. He even explored his appreciation of gay love in his paintings -- 1961's We Two Boys Together Clinging and 1963's Domestic Scene, Los Angeles.
Gay Love Personified:- Nico Santos Bio, Gay, Partner, Dating, Net Worth
Three years after Domestic Scene came to existence, in 1963, he got acquainted with once-partner Peter Schlesinger, who was his student at UCLA. In the years that followed, Peter regularly appeared on his painting, working as a model, while the two enjoyed a blissful romance.
Peter Getting Out Of Nick's Pool; The Room, Tarzana; La Parc des Sources, and Vichy; Portrait Of an Artist (Pool With Two Figures) are some of David's most revered works that were - more or less - about his then-gay partner Peter.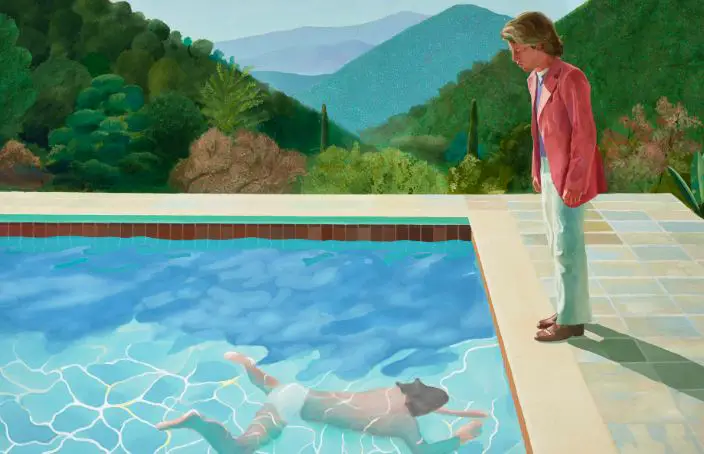 David Hockney's famous expensive painting til date, Portrait Of an Artist (Pool With Two Figures) 1972, inspired by his former gay partner, Peter Schlesinger (Photo:- theguardian.com)
But by the early '70s, the former gay duo's relationship had already hit rock bottom. So publicized was their breakup that it even made it to the film - A Bigger Splash (1974). The age difference was to blame for their fallout.
Today, David resides in LA with his partner of more than 17 years, Jean-Pierre Gonçalves de Lima, a French native who doubles as chief assistant.
Inside David Hockney's Net Worth
The wounds of his relationship with Peter resurfaced in 2018 after the painting - Portrait Of an Artist (Pool With Two Figures) - inspired by the split went for a record price.
Dethroning the previous record set by Jeff Koons' Balloon Dog (Orange) for $58.4 million, David became the most expensive living artist when it went for $90 million (£70 million).
Another Painter In Our Vault:- Rainer Andreesen Partner, Gay, Married, Net Worth
Following the milestone, his former gay partner Peter gave an interview downplaying his role by saying:-
"It's an amazing picture, and it contains his two most iconic genres in one picture, swimming pools, and double-portraiture, but I can't speak to its emotional element because I don't think it is emotional... "
Auctioned at Christie's auction house in New York City, The Portrait Of an Artist (Pool With Two Figures) painting is now Marc Porter's possession.
Despite the hefty sum paid for the stated work, David recieved very little proceed from the sale - if anything at all. While it's true that the transaction didn't immediately boost his fortune, it sure helped raise the price of his other paintings.
Not only the Bradford England-native one of the most expensive artists alive but, also one of the richest, with millions in net worth. 
Bio - Age, Height & Family
Born in 1937 in Bradford, Yorkshire, England, David - now age 81 - grew up idolizing the greats including Picasso, Dufy, Matisse, and Fragonard.
His family - parents Kenneth and Laura Hockney, in particular - were supportive of his career path since the beginning.
Artist You May Know:- Susan Mikula Wiki: From Age, Height, Net Worth To Relationship With Rachel Maddow
Pursuing his artistic aspirations, David - who stands little above five feet and five inches in height - Bradford Grammar School of Art and later graduated from Bradford College of Art.
Facts On David Hockney
Between 1959 and 1962, David attended the prestigious Royal College of Art.
He's the recipient of the 1991 Praemium Imperiale from the Japan Art Association.
Peter Schlesinger was 19 years of age when David first met him.
In 1999, the painter extraordinaire sold his Malibu pad for whopping $1.5 million.