Painter-turned-model extraordinaire, Rainer Andreesen needs no introduction. With a client base that includes the biggest names in Hollywood, he is an easily recognizable face in the modern American art scene.
Besides his work as a revered artist, his "brush" with fame gets closely associated with his life partner.
Bio Unveils Parents & Height
His fascination art - & painting, in particular - dates as far back as to his early childhood days.
Born in Prince Rupert, Canada in 1963, Rainer's parents were very supportive of his artistic aspirations. Family support coupled with encouraging words from art instructors convinced him to take up the vigorous four-year arts and design program at Capilano College in his native land.
Bio You Might Like:- Hannah Alligood Bio, Age, Parents, Ethnicity
After graduating in 1986 with honors, he honed his designing and illustrating skillsets working at a top advertisement agency for six years. In that period, he set up a successful design studio, where a photographer asked him to model.
Impressed by his height of six feet and two inches and equally chiseled physique, a renowned Milan-based modeling agency acquired his signature. While in Europe, the 46-year-old's bio reveals that he built an esteemed group of clients which include Giorgio Armani, Gucci, Valentino, Hugo Boss, and Zenga.
Net Worth
Above all, his three-year stay in European made him a better painter as he managed to study the work of the great European masters and their arts to the fullest.
A thoroughly enthused Rainer returned to New York in the mid-'90s and later relocated to Los Angeles. The move to the West Coast of the United States got met with immense success.
Over the years, he earned a master-like proficiency in portraiture while maintaining a strong client base.
The likes of Ben Affleck, Jennifer Garner, Nathan Lane, Clive Davis, J.J. Abrams, Alfred Molina, Whoopi Goldberg, Martin Short, Laura Linney, Alan, and Arleen Alda, and David Hyde Pierce have either collected or commissioned a piece by Rainer.
Artist With Equally Respectable Fortune:- Susan Mikula Wiki: From Age, Net Worth To Relationship With Rachel Maddow
Hence, it's understandable that he would boast a net worth in thousands or possibly in millions. In contrast, his partner garners a jaw-shattering net worth of more than $5 million.
Gay Painter Married With Partner Or Dating Still?
Interestingly enough, Rainer's return to North America coincided with his acquaintance with actor Victor Garber, his gay life partner of more than three years.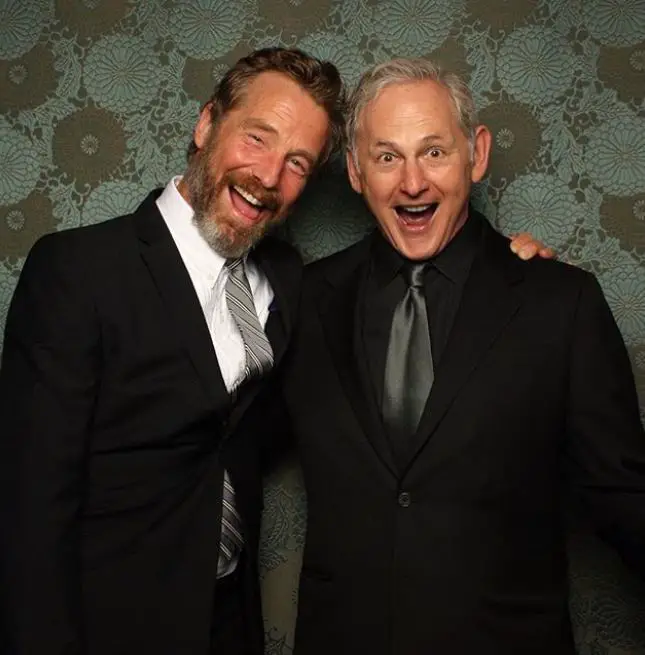 Moments after tying the knot, openly gay pair Rainer Andreesen and Victor Garber pose for a photo circa 2015 (Photo:- Rainer Andreesen's Instagram)
Married on 10th October 2015 in an intimate wedding ceremony, he and the former Alias star dated for almost 16 years after getting introduced to each other through a mutual friend, Neil Meron.
The happily married duo, however, wouldn't begin dating until two years later following their breakup with their respective partners.
Another Long-Term Gay Couple:- Openly Gay Lance Bass & Husband | Wedding, Net Worth & More
Throughout their two-decade-long relationship - first as boyfriends and then as husbands - Rainer, age 55, and Victor have relied on each other. By the former's admission, the latter is a great "help through the whole painting experience."
Admittedly, the admiration is mutual.