Entertainment
NFL David Irving, The Dallas Cowboys Star Stats Stumble With Girlfriend Issue
Trouble seems to be one constant fixture in David Irving's life; for as long as the Dallas Cowboys' defensive lineman has been in the limelight, the Compton California-native's off-field antics have stood out like a sore thumb in otherwise a promising career.
Though supremely talented, his abusive relationship with his girlfriend of more than half a decade coupled with his laid-back demeanor around his teammates meant that he would never be able to tap into his natural footballing skillsets fully.
With the news of him failing his drug tests multiple times, David's NFL career faces uncertainty despite boasting impressive stats.
NFL Stats With Dallas Cowboys; Contract & Salary
David's tumultuous footballing endeavor dates back to his college days.
The immensely talented football player got kicked out of Iowa State University's football following the 2014 incident at the VEISHA Festival. Despite missing a whole of football season, he ended his college career with impressive stats of 32 games (eight starts), 44 tackles (7.5 for loss), one forced fumble, three sacks, one interception returned for a touchdown, three blocked kicks, and eight passes defended.
25-year-old Athlete In Archieve:- Meet Bradley Beal Age 25 Model Girlfriend, Kamiah | Wife To Be? Find It Out
David's reputation as troublemaker proceeded him. That's a sole reason why he went undrafted in the 2015 NFL Draft. Nevertheless, Kansas City Chief eventually offered him a contract before getting swooped by his current team as a replacement for Davon Coleman on 15th September 2015.

David Irving's NFL stats playing for Dallas Cowboys (Photo:- nfl.com)
Playing all 12 games in his rookie season, he registered a total of eight tackles and five assists. The following season saw him tackling skills surpass all the expectations as he recorded 12 tackles, five assists, four sacks, and four forced fumbles.
In his third season - his best till date states wise - David assured impressive stats of seven sacks, 13 tackles, and nine assists despite playing eight games only. On the back of a successful season, Dallas Cowboys agree to renew his contract for a year in 2018. As per the agreement, the San Jacinto High School Alum, age 25, would make $2.91 million in salary.
Since signing the lucrative deal, his career has unexpectedly gone downhill. His personal life is to blame for the slump.
Girlfriend Recants Physical Violence Allegations
Contrary to the news which suggested David's exclusion from the team's starting line up stemmed from him being out of shape, his focus dramatically shifted from football after a California judge granted him the full custody of his beloved daughter in June of 2018.
Discover:- Madison Pettis Parents & Boyfriend; Who Are They & What Is Her Net Worth?
Asked if he could on focus on his career, the 25-year-old simply replied:-
"To me that's impossible. I do have a daughter and other things to deal with. There's a balance to everything. Everyone questions my commitment. When I'm on the field, I don't really get too much questioning."
For David, the battle to win over his daughter's custody proved all but an easy task. He even got accused of perpetrating domestic violence on her by his ex-girlfriend & the mother of his daughter, Angela Sanchez.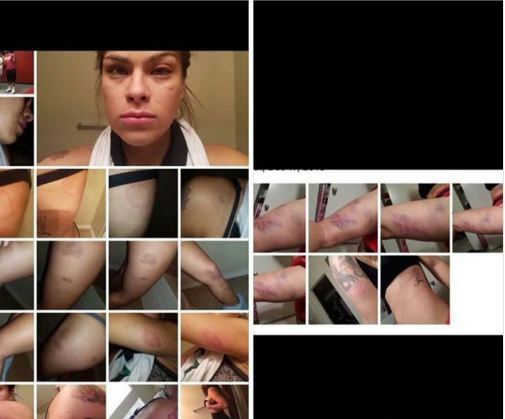 David Irving's high school sweetheart Angela posts her bruised body pictures on Instagram in May 2018 (Photo:- Mark Lane's Twitter)
Angela later dropped the charges and recanted her earlier statement by professing that she made up the whole story as the part of her modus operandi.
Dating since high school, the NFL athlete - who boasts six feet and seven inches (204 cm) height - and his ex-girlfriend remain in good terms as parents to their 5-year-old daughter despite all the drama.
David Irving's Teammate:- Dak Prescott Stats & Latest Contracts | Girlfriend Info, Salary & Facts
With the domestic violence now sorted, David looked all set to resume his promising career until reports of him failing drug tests gained tractions in January of 2019. NFL is yet to suspend the Dallas Cowboys defensive linebacker - who abjectly denounces current drug tests policy - as failure to comply doesn't necessarily equate to a failed test.