Entertainment
David Mazouz Girlfriend, Dating, Parents, Net Worth
Some people struggle to find their real calling entire life, while some know what they are meant to be. Blessed with innate talent and extraordinary genes, David Mazouz is one of the gifted actors of the 21st century.
Playing one of the leads young Bruce Wayne in the extraordinary American drama series Gotham, David worked on all five of the seasons.
On its last season, the show went on to be focused on his character, more on the transformation of the young one into the caped crusader Batman, garnering attention to his methodical acting and rising stardom.
Dating Co-Star Girlfriend?
A palpable and romantic duo, David's character Bruce shared quite the intrinsic relationship with Selina Kyle, portrayed by the lovely Camren Bicondova. The on-screen romance between the pair was so charming, fans of the show could not help but want to ship them together.
On the show, the tension and attraction between the two were all too real, and soon dating rumors began to fly. On a tweet made by Camren, she and David were even seen hanging out together.
Talking About Relationships:- Noomi Rapace Husband, Dating, Son, Net Worth
While the two seemed to be interested in each other, sadly, they are nothing more than friends. In a video post made on the Gotham's Twitter fan page The Bat & The Cat, the rumored girlfriend made it clear that the duo was not dating each other.
As of 2019, the only insight to his dating life is from a prom photo in June 2019.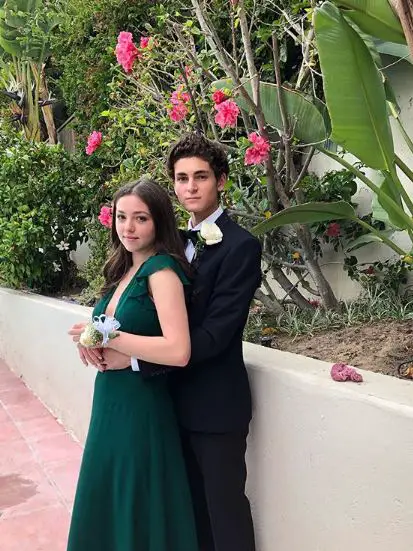 David Mazouz with his prom date Talia in June 2019 (Photo: David Mazouz's Instagram)
While people usually take there loved ones - close ones or just a friend on a particular day, David's Instagram has not yet revealed the nature of his relationship with his prom date Talia.
Parents & Career Bio
David Albert Mazouz - height 5 feet 9½ inches (1.77m) - is a resident of Los Angeles, California, born on 19 February 2001. The 18-year-old actor is the son of psychotherapist mother Rachel Cohen and physician father, Michel Mazouz.
He shares Greek Jewish and Tunisian ethnicity from his family. Also, a part of this heritage is his elder sister, Rebecca Mazouz - age 21.
Life Details:- Joe Mixon Personal Life, Family, Net Worth
David's acting career began by appearing in commercials at the young age of eight. Soon after, he went on to make his first TV debut through the film, Amish Grace in 2010. After his first role, David grabbed on to subsequent projects like Coming & Going Private Practice, Criminal Minds, The Office, Dear Dumb Diary.
In 2014, he took on the role of Ivan Drago in The Games Maker and went on to work on his most promising character of Bruce Wayne in Gotham.
Net Worth Details
David's character of Bruce Wayne not only did bring originality to the series but something different entirely.
Assigned the topic of "How 'Gotham' Re-Invents Batman's Sexual Politics," the show and its entirety of characters brought new concepts to fans of DC. While David and Camren's portrayal brought the story of young love on the series, his co-star Robin Taylor has presented the diversification of gay romance and visualization in the show.
From a distinct group of cast members, David is sure to earn quite the sum from the show. However, a figure on the actor's net worth is yet to surface.