Entertainment
"Fame" Actress Debbie Allen Flaunts Rare Family Love With Husband & Children
American actress Debbie Allen is most recognized for playing a dance instructor in the 1980 movie Fame. Three times Emmy nominee owns the impressive four decades of acting career, but she is still as busy as ever.
And it's not only her career that's keeping her busy; she has a loving family on her side with husband and children.
She has been married for 34 years now. Why don't you dissect Debbie Allen's married life and find the whole story!
Prosperous Married Life Despite Earlier Divorce
Debbie is currently married to former NBA player, Norm Nixon who, played for Los Angeles Lakers and Los Angeles Clippers. The couple got wedded on 27 April 1984.
The married couple also welcomed two children from their union, born in 1984 and 1987.
Longtime Married:- Phil Donahue, At Age 82 With Wife Of Nearly 4 Decades, Where Is He Now?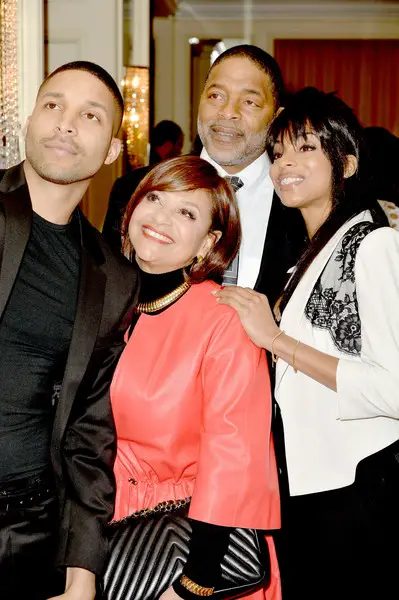 Debbie along with husband Norm and children attend an event on 25 February 2016 in Beverly Hills, California (Photo: Getty Images)
Debbie and Norm have been married for 34 years now and celebrated their 32nd Marriage Anniversary in 2016.
For their special day, the couple rented a yacht in Marina del Rey. In the event dubbed as " White Party," the pair were joined by longtime friend Wesley Snipes and Debbie Allen Dance Academy crew. All the attendees had fun dancing and drinking the whole night.
Debbie even shared a picture of the self-satisfied couple via Instagram.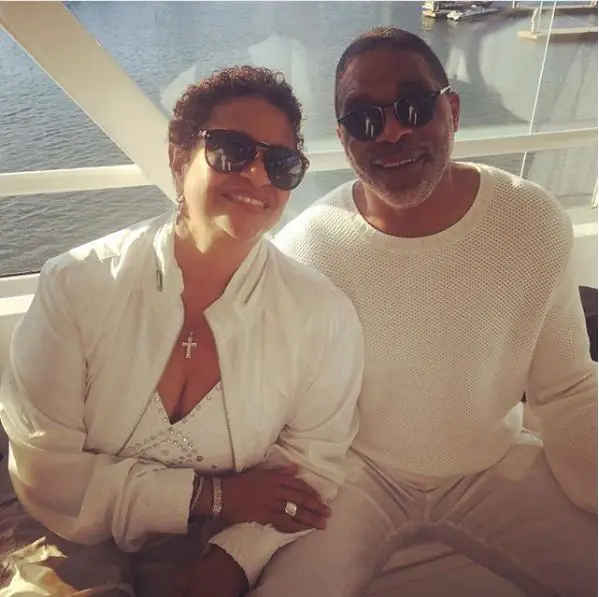 Debbie and husband Norm Nixon celebrate their 32nd Marriage Anniversary in Marina del Ray (Photo: Debbie Allen's Instagram)
Anniversary Surprise:- Is Emma Willis Pregnant? Talks On Renewing Wedding Vows On 10th Married Anniversary
In November 2017, Debbie opened up to Closer Weekly and talked about her long-lasting married life. She said in the interview,
Last night was so cute. After my husband and I finished dinner, I was so sleepy. He said, 'That's it! You're not going to take off your clothes. We're going to bed just like we are. It was fun to just cuddle up and pass out together. We slept so well.
Debbie further spoke about her children,
They are good people — Norman Jr. is a comedian and a great composer who wrote most of the music for Freeze Frame, and Vivian [dances] in it. She is my muse!
On 28 April 2018, Debbie's daughter Vivian shared a picture of her parents on Instagram and congratulated them for their 34th Anniversary.
Debbie may be living her dreams with a supporting husband and family, but in the past, she had to go through a tragic divorce.
Before her marriage with Norm, Debbie was married once before to Winnfred Wilford. The former spouses wedded on 22 June 1975. However, they divorced after nearly eight years of marriage in 1983 citing irreconcilable differences.
Similarly, Norm was also earlier involved in a relationship with a woman before he met Debbie. He even has a son from his former affair, who is none other than actor DeVaughn Nixon.
DeVaughn - who is known for playing in movies and TV shows including Terminator 2: Judgement Day, The Unit, The Bodyguard, and more - is not the biological son of Debbie. But, he still loves her nonetheless.
Further, DeVaughn is also close to his younger half-siblings and often spends any leisure time with his family. Even at Debbie's 69th birthday on 16 January 2019, the whole family gathered up to show their love towards her.
Parents And Siblings
Debbie was born as the youngest child of Afro-American parents in Houston, Texas. Her mother, Vivian Ayers, was a Pulitzer-winning poet whereas her father, Andrew Arthur Allen Sr, was a dentist.
Despite being a doctor by profession, Debbie's dad was a Black Rights activist and a close associate of Martin Luther King Jr. Andrew was regularly seen at events hosted by the civil rights activist and showed unconditional support towards the movement.
Siblings Info Revealed:- Erin Foster Boyfriend, Dating, Siblings
After the divorce of Debbie's parents in 1957, she was raised by her mother. Debbie even lived in Mexico for two years with her mother and siblings.
Despite her parents' divorce, Debbie remained close to her father. Debbie and her older sister, Phylicia, even run a production company D.A.D which stands for Doctor Allen's Daughters. Sadly, Debbie's father died a mere ten days after accompanying his daughter to Emmy awards where she won the Best Choreography award in 1982.
Debbie also has an older brother, Andrew, who is a jazz musician and another brother, Hugh, a real state banker in North Carolina. The siblings meet up on occasions.