Entertainment
Demetrius Ivory From WGN-TV - A Father To Twins And A Loving Husband To Reporter Wife
Demetrius Ivory From WGN-TV - A Father To Twins And A Loving Husband To Reporter Wife. Well, you may say that such man does not exist, but Demetrius Ivory is here to change your thoughts. Ivory, a meteorologist from WGN-TV, is an ideal man who checks out the list of perfect fine men. Not only is he good at what he does but he is also someone who keeps family life up close. However, no one just stumbles upon such type of happiness just like that; everybody has their share of ups and downs.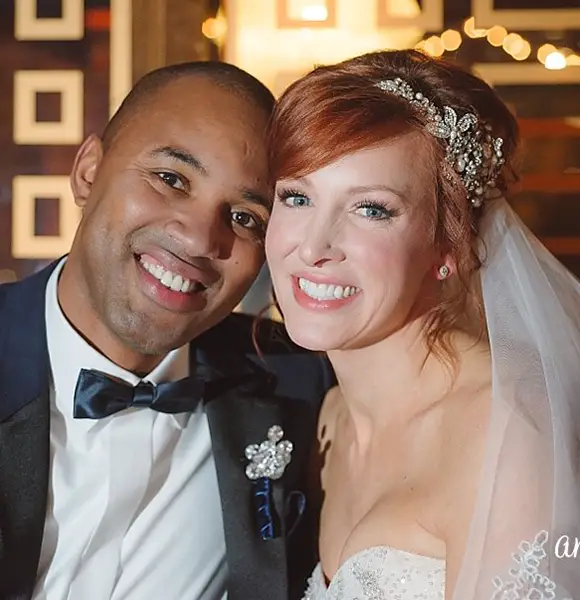 Does a perfect man exist; A man who is successful as well as a family material; supports his wife and can keep up with family?
Demetrius Ivory, a meteorologist from WGN-TV, is an ideal man who checks out the list of perfect fine men. Not only is he good at what he does, but he is also someone who keeps family life up close.
However, no one just stumbles upon such type of happiness just like that; everybody has their share of ups and downs, and Demetrius is no different. He had his shares of troubles which finally landed him with the happiness of a perfect family.
Today, let's learn in detail about the dad to four children and husband to a reporter wife!
Married Life With Wife, Found Love On WGN-TV
Demetrius Ivory, age 43, is a married man and calls Erin McElroy his wife. Yes, the same Erin McElroy from WGN-TV, who covers traffic. Demetrius and Erin have been together for a while now sharing the marital bond.
The couple dated for a while before they exchanged the wedding vows. Turns out the pair remained notoriously silent at the beginning of their relationship not even letting in their co-workers on their new found romance. The duo opened up about their relationship only weeks before they tied the nuptial knot. Well, the news surely came as a surprise to everyone around as they were selective of the romance that they shared.
However, despite their silence, it has been speculated that the duo, who worked together, must have found their romance on the sets. 
Insight On Family:- Fox 5 Chrissy Russo Family Insight With Husband Who Met Her Wearing This
The couple got married on 21 December 2014, at the Salvage One in Chicago. The couple also had a special person as a photographer for their wedding ceremony, Amy Aiello, who previously used to work with WGN as a photographer.
Amy talked about the couple's special day,
"There are so many wonderful memories from their big day, though one of my favorites came just after the ceremony. Erin's Maid of Honor had a family emergency to attend to, but parted the reception by giving her speech. She gifted a clock to Erin and Demetrius, having stopped it the exact moment they were pronounced husband and wife. She presented the clock, inscribed with where the hour and minute hand would forever remain, leaving many in the room with teary eyes."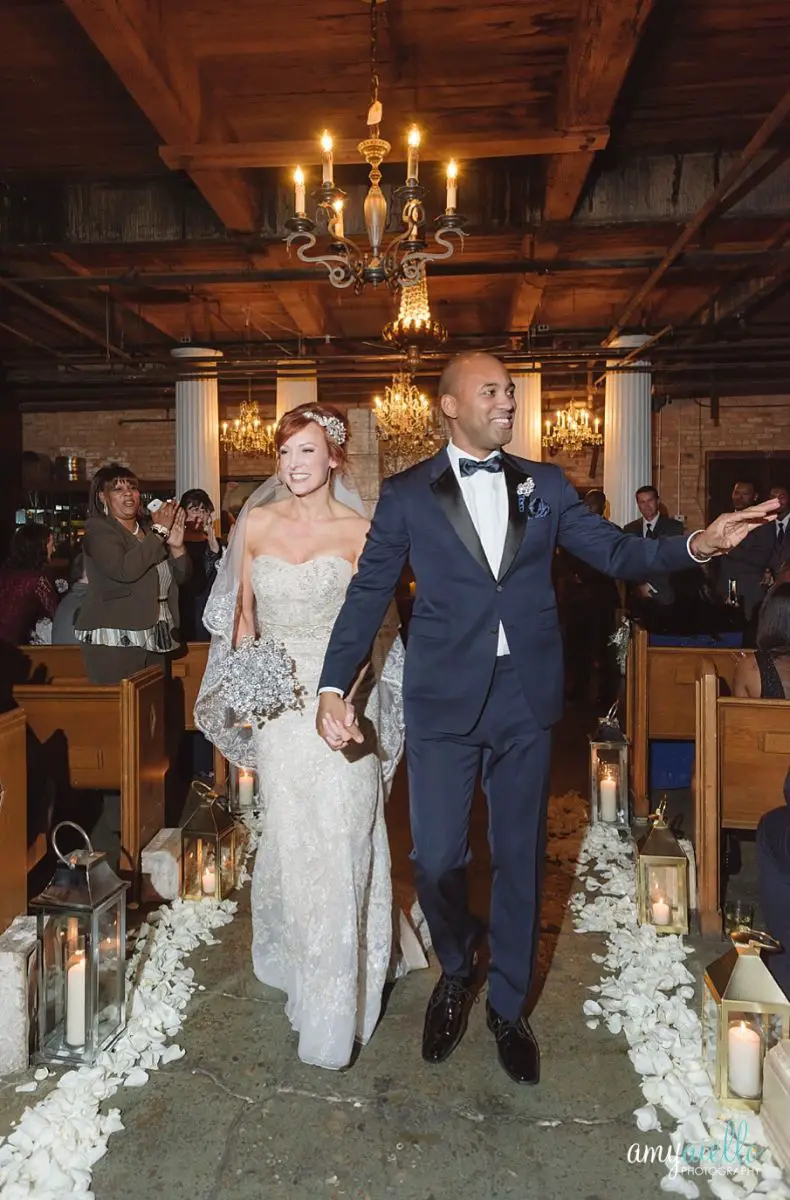 Demetrius Ivory and Erin McElroy on their wedding day in December of 2014 (Photo: Amy Aiello)
After the wedding, there comes another crucial step in every couple's life, and that is starting a family of their own. The couple was proud parents to their two kids until they faced troubles after Erin's second pregnancy. To be honest, it was a dreadful situation for the couple.
A Family Of Four, Complications Before Twins!
The couple had some complications when it came to starting a family of their own. Ivory's wife Erin had two pregnancies providing them with the happiness of two kids Joaquin, who is at the age of 14, and Lucia, who is at the age of 10; however, the second one did damage that was serious and affected her chances of carrying a baby gravely.
Similar Married Bliss:- Inside KPRC Britta Merwin Age 34 Married Life With Husband, It's Flawless
The couple had clear instructions from the fertility doctors that wife Erin could get pregnant, but in the end, it wouldn't matter because she would just miscarry it. The struggle went to a point where Erin's mother volunteered to carry the baby for the couple, but even then, it couldn't happen because willpower just couldn't subside the physical conditions.
While there is always a way of getting what the heart desires, the couple became familiar with the in-vitro fertilization process. A large bag of medication was handed to the couple by the doctors; medication which would force Erin's body to produce multiple eggs.
"This is our first baby bag, which has more medications than you could ever imagine. The scary part is this is only gonna take us through the first eight days -- $7,000 worth of drugs in this bag. We were doing two shots in the morning and three at night."
All the process made the couple grow closer because it was both of them who were suffering the cause. While the husband and wife were hurdling for having a baby, Erin still wished to be the one carrying the baby.
"As grateful as I am I wish I could be carrying our babies right now."
However, all the embryos made were destroyed.
Ivory expressed the moment,
"I can't even describe that moment. When we found out that we lost all of them."
They did not give hope although their funds which were not covered by insurance was lost. However, the couple landed their savings. With their 401k (A savings feature by an employer which piles with every salary ) gave their chances of having a baby another chance. This time, it was again four embryos of which only two survived for implantation.
As a joint vote of the surrogate and Erin, they decided to implant both embryos at once, despite Ivory saying that they should save one in case of a failure.
And then came the happy news that was doubled, as the doctor announced,
"You're five weeks and six days pregnant today." 
The doctor revealed after the pregnancy announcement that there were two babies in the womb. Erin's and surrogate Jamie's decision indeed was pretty after all.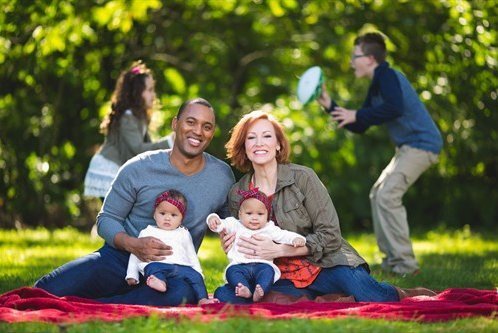 Demetrius Ivory with wife Erin and children. (Photo: chicagoparent.com)
The surrogate, who carried the couple's twin babies, said,
"There are so many people out there that need help that are looking for someone to help them have a family. I had such a sense of pride and accomplishment. Their lives will be forever changed because I was able to help them."
The two little angels were born on May 2, 2016, and Demetrius named them Harlow Winter and Hadley Walker, both of age two.
Wedding Vows With husband:- WKYC's Betsy Kling's Strongly Hold Wedding Vows With Husband, Lifelong!
The baby duo witnessed their parent's second marriage anniversary just months after their birth. And now the proud parents are on their fifth year of togetherness as a married couple.