Entertainment
Dennis Haysbert Not Getting Married? Or Working On It After Failed Relationship With Wife?
Hollywood has many talented actors who have won million of hearts with their performances. No doubt they have a large fan following who is always interested in their personal life.
Well, not every celebrity has opened up about their personal life though, but due to the nature of their profession, the media has an eye on their personal life, constantly and being surrounded with questions related to their personal life, is inevitable. 
In this context, we will be focusing on the personal life of African American film and television actor Dennis Haysbert, who suffered two failed marriages and find out his current relationship status.
Is Dennis Haysbert Single After Two Unsuccessful Marriages?
People get married with a thought to enjoy a blissful married life, but life is not under our control and has its own plan for us. 
Sixty-three-years-old "Incorporated" star Dennis Haysbert knows that falling in love is easy but staying committed in a marriage is comparatively difficult.
Haysbert has been married twice. On April 13, 1980, Hausbert got married to his first wife, Elena Simms. His marriage to Simms lasted for four years, which subsequently ended in a divorce on Aug. 17, 1984.
After Elena, Haysbert got married to Lynn Griffith. The couple first met each other in the year 1987 and eventually fell in love.
The pair, who dated each other for almost two years, got married in 1989. A year later, Griffith gave birth to their first child, son Charles Haysbert on November 19, 1990. Following that, they welcomed their daughter Katherine Haysbert on Sept. 9, 1994.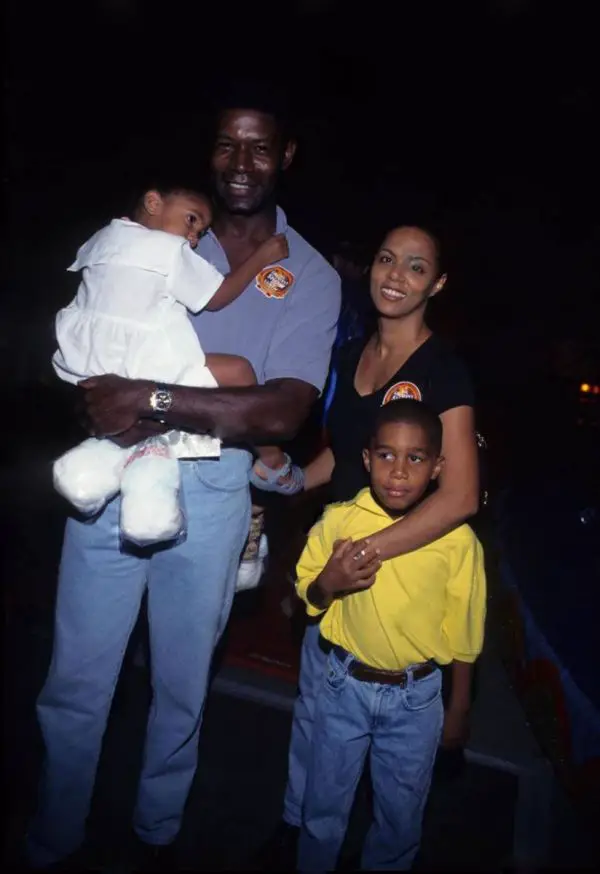 Caption: Dennis Haysbert with his wife Lynn Griffith and kids pictured together during an event.
Photo Credit: Alamy
Haysbert, who enjoyed a family of four with his wife Griffith, was in a marital relationship for more than a decade before they ended their marital relationship with a divorce in 2001.
After two failed marriages, Haysbert has now been maintaining tight guard over his personal life, which creates confusion regarding his present relationship status.
However, in an interview with The Guardian back in the year 2003, Haysbert revealed that he has a Caucasian girlfriend, with whom he discussed the differences between mixed-race relationships in Britain and America. Haysbert furthermore said that a black woman looks at him strangely when he walked with his girlfriend.
Since that instant, Haysbert hasn't talked about his love life openly; creating a mystery over his love life. Likewise, he is not spotted with any lady who could be supposed as his love interest. It seems that Haysbert is busy inclining his career even at this age.
The talented actor, who has attained a considerable height of success and popularity, is currently working on his acting projects, which include Incorporated, Fist Fight, The Dark Tower, Naked, Kodachrome, and Reverie.
He is also known for appearing on Fox network television series 24 (2001-2006) as 'President David Palmer.' He has appeared in the drama series The Unit (2006-2009) as lead character Sergeant Major Jonas Blane and also appeared in commercials for Allstate Insurance. As a successful actor, Haysbert currently enjoys the net worth of $42 Million.
Stay with us for the budding updates on Dennis Haysbert!