Entertainment
Devin Haney Bio Divulges Net Worth, Father Info, Salary & More
Devin Haney is one of the youngest athletes in the history of boxing. He achieved such feat as the youngest boxer(at age 17) to fight at MGM hotel in Las Vegas in 2017.
His precociousness has been a constant in his career. At the age of fourteen, he became the youngest member of the USA Junior National Boxing Team. To date, he has won Youth World Championships and the title of World Boxing Council World Light. 
Let's dive into finding out the details of his life, career, and personal life.
Devin Haney Bio & Age
Devin Haney was born in San Francisco, California, on 17 November 1998 to father Bill Sr and mother April Clay. Devin has an older brother Bill Jr, a younger brother Sean, and sister Arabella. His parents separated when he came into this world but stayed close friends.
He lived with his father, who moved to Las Vegas from Oakland as he thought there were bad influences for young Devin. But even then, Devin got into a lot of trouble during elementary school because of his aggression due to which he started boxing.
Explore Another Boxer:-Tommy Fury Girlfriend, Parents, Family, Net Worth
Since then, Devin's father homeschooled him. His father also looked after his daily routines to help him with boxing. Eventually, the boxer's father also became his trainer and manager when Devin started his professional career.
Personal Life
Devin Haney was linked to the reality star Black Chyna. There was speculation that the two started hooking up early 2018. But, the official news of the relationship between the two came out in July 2018.
Interestingly, Devin is eleven years younger than Blac, but the age difference did not seem to affect the lovebirds.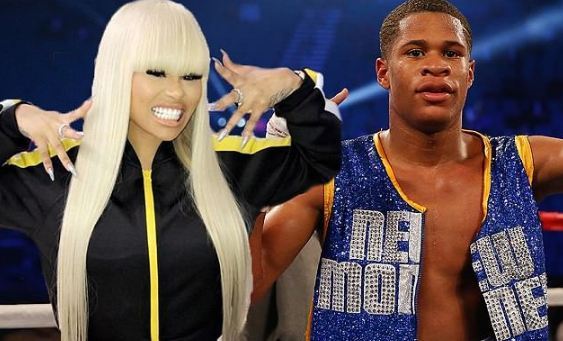 Devin Haney and Blac Chyna side by side on July 2018 (Photo: dailymail.co.uk)
There was news that the pro fighter reached out to the reality star after he learned their lawyer was the same.
Sadly, the relationship between the two came to a halt as the couple seems to have broken up as of 2019. But when or why they called it off is a mystery to all.
Career, Salary & Net Worth
As an amateur player, Devin won seven National Titles when he was just sixteen years old. His wins made him the youngest boxer to win the Youth World Championships in Reno. His success mesmerized a lot of professional boxers. As such, Floyd Mayweather Sr. complimented on how he is the future of boxing.
"I've not seen a fighter as outstanding as Devin Haney since Floyd Mayweather Jr. He is the next big thing – the future of boxing."
With all the fame he grabbed, Devin, in April 2019, signed a multi-million dollar contract with Matchroom Boxing head Eddie Hearn. Then, as a pro player, Devin fought Antonio Moran in his debut fight. He emerged victorious on the match, which was held at the MGM National Harbor in Oxon Hill, Maryland, on 25 May 2019.
There are no certain numbers when it comes to the pro boxer's salary or net worth, but he was seen on an Instagram photo flaunting his cold-hard cash. He also flaunted a Lamborghini Urus, which his father gave him as a gift. As such, one can assume that he does indeed hold a hefty net worth.
You Might Be Interested In:- Deontay Wilder Girlfriend, Wife, Children, Family
Furthermore, he mentioned to boxingscene.com that he would like to fight Ryan Garcia for his next fight. Eddie Hearn further commented that this could be a mega fight in 2020. The fans will have to stick around to see if the fight will happen anytime soon or not.