Entertainment
Don Diamont & Wife Share Staggering Family Stories! 7 Children, Struggle, & Happiness
Don Diamont is known for his portrayal of 'Bill Spencer' in the series, Bold and the Beautiful; the role with a bad reputation of being a father, who sleeps with his own daughter-in-law Steffy in the show.
But in real life, he is way different, in fact, a great father to seven sons, sharing a great intimacy with them. Though he does not share the biological bond with all of them, he proved that love and feelings matter more than the biological bond.
Also, he shared the best friend like a relationship with the father, who he lost at an early age. So, in memory of his father, brother and his relationship with his seven sons, he published his autobiography on the Father's day.
Super Woman Wife; Family Includes Seven Children
American soap opera veteran, Don Diamont had been cherishing his deep desire to be a father but never had he imagined, he would be more than lucky. He became the father to seven sons from his two marriages and shares the beautiful bond with all of them. 
On one hand, Don was entertaining the series, Young & Restless's audience for 12 years, and on other, he became a father to four sons with his ex-wife Rachel Braun, whom he got married on 5 March 1994. Their four sons named are Lauren, Sasha, Alexander, and Luca. However, the family of six could not stand firmly as the couple ended their relationship in divorce in 2002.
See Also:- Ina Garten Shares A Happy And Long Married Life With Veteran Husband; Here Is What You Did Not Know About The Couple
Shortly after his divorce, he got engaged to his actress girlfriend Cindy Ambuehl and also welcomed the twin son named Anton and Davis in 2003. Also, he moved to Bold & Beautiful in 2009 leaving his long-term role on Young & Restless.
After the more juicier roles in Bold & Beautiful, his life also became more beautiful by exchanging the wedding vows with the fiance of almost a decade, actress Cindy Ambuehl back in 2012 at the Chateau de la Chevre d' in Eze, France.
Well, he not only fathered her biological sons but also raised his sister Bette's son Drew Mazur after her passing. Also, his two sons, Lauren and Sasha is not his biological son but also he took them as his own son. As of now, he is cherishing the parenthood and fatherhood to the seven boys.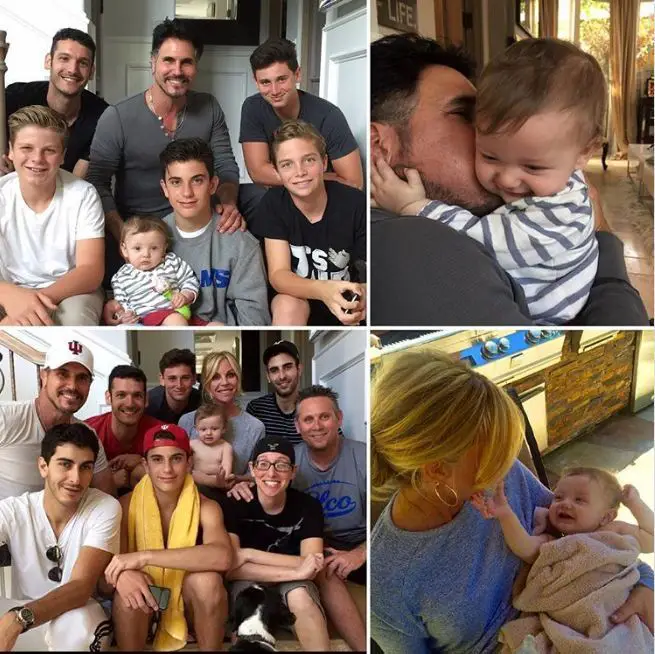 Don Diamont with his sons and wife, Cindy Ambuehl (Photo: Don Diamont's Instagram)
The actor said in an interview with Michael Fairman Soaps on 14 January 2013, that fatherhood has been a bliss for him. He also disclosed his relationship with his father which he valued a lot. He described:
"Being a dad is something I always wanted to be.  When I was a kid, I had valued my relationship with my dad, and I lost that pretty young.  I wanted that and I thought it was very important."
The Ashkenazi Jewish ethnicity actor also described that he and his wife rather preferred to stay at home, which he proudly called "homebodies." Being a veteran soap-star, it's difficult for the actor who aged 56, to manage the time for the family and professional work. 
You May Also Like:- Book Club's Diane Keaton 'Never Married' Story, Dream Husband & Adopted Children Talks!
The actor, who has a net worth of $4 million, regards that working in daytime has saved him enough time to have a very good quality time with the family. And also he is having more or less 9-to-5 kind of life.
He also gushed that, the love and support of his family bridge his way to the successful journey of his chosen profession. He further stated that his family is his greatest joy.
"What brings me my greatest joy is my family"
He is so influenced by the love of his seven sons that got him to write a new book about the fatherhood, which he released on the auspicious day of 2018's Father's day.
Autobiography At 55; Being Father To Father's Death
Actor Don Diamont would get the Father's of the Year if there would be any. He recently published his autobiography, MY SEVEN SONS And How We Raised Each Other where he has included the raising of his seven sons including his professional life with Days of Our Lives and The Young and the Restless and Bold & Beautiful. Also, he has submerged his love life and affair with his co-stars.
Don't Miss:- How Did Ben Schwartz Out a Guide Book For Dating While Not Having a Girlfriend?
It's a very personal book for him which includes his great losses of his father, brother, and sister. He has also further included his father and older brother's death, which impacted greatly in his life. His father was both, his best friend and a great dad who taught him the manners and would do anything for him.
He has also described his wife, Cindy as the 'Superwoman,' who can take on any challenge and has an open, warm, loving heart. Moreover, with this book, he wanted to convey the message that parents must prioritize their children first and also regards kids to be a greater reward.