Entertainment
Is Dorothy Wang Dating A Boyfriend She Can Get Married To? It Looks Like It
Is Dorothy Wang Dating A Boyfriend She Can Get Married To? It Looks Like It Rich Kids of Beverly Hills star Dorothy Wang has a boyfriend, but people are curious to know if the relationship between them will grow further and culminate in marriage. So let us peek into their relationship to know more about them along with other interesting details of her life. So without further ado let's dig in.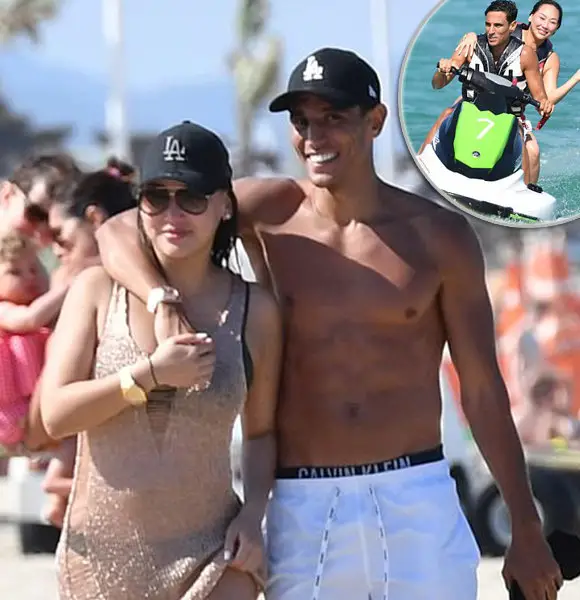 When news of a celebrity's relationship hits the media, people's curiosity level arises about the longevity of it; they wonder if the association will escalate or end up as a fling.
Similar curiosities arose when 'Rich Kids of Beverly Hills' star Dorothy Wang's relationship came to spotlight. Dorothy is currently involved with her boyfriend, and people are curious to know if the relationship between them will grow further and culminate in marriage.
Addressing the same curiosity, let's take a closer look at their relationship and know if they have any plans of getting married!
Real Estate Agent Boyfriend - Dating Timeline
In May 2018, Dorothy set the internet on a frenzy by hinting a romance with Aren Afshraian. She took to Instagram and shared the snap of the two from San Diego Bay.
By November 2018, the reality star was head over heels for Aren following their trip to Japan. Even without her outrightly labeling him a boyfriend, fans assumed that the lovebirds were dating indeed.
Fan Favorite:- Alex Rodriguez & Jennifer Lopez Got Engaged
When Valentine's Day 2019 kicked around, Aren surprised Dorothy with 200 red roses.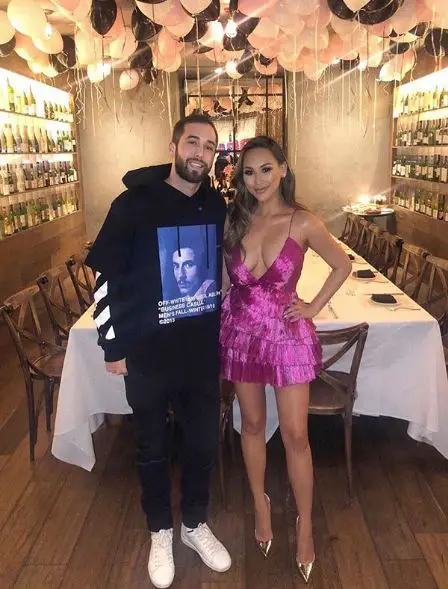 Dorothy Wang and boyfriend Aren Afsharian pose for a Valentine Day snap in 2019 (Photo:- Dorothy Wang's Instagram)
To those unfamiliar, Aren is a real estate agent based in Beverly Hills, California. A graduate of the University of California, Santa Barbara, he began serving as Hilton & Hyland's broker associate in March 2013.
Dating Sam Saadun
Dorothy Wang decided to rehab her relationship skills in the latest season of Famously Single. Sharing the results of the decision during an interview back in June 2017, she expressed,
"Do I think the show worked for me? Yes, I think that the show worked for me. The show, people go on it for different reasons: people go on it o find love, some people go on it to help their dating habits and some people go on it to learn about themselves and to figure out what they want. Definitely the show has helped me."
Moreover, she shared that she had not found someone who is marriage material but was in search of one at the time.
"I'm looking for someone that is very driven, that kind of has their own thing going on. [Someone] that is motivated, hard working but fun and can also kind of keep my interest."
It seemed that her wish got granted soon; she got spotted romancing her boyfriend just a month after she shared the desire.
Stars Whose Dream Came True:- Romelu Lukaku Wife, Girlfriend, Religion, Net Worth
The beautiful lady Dorothy Wang was dating a French businessman, Sam Saadun. The couple got spotted for the first time while they were enjoying a romantic holiday in St. Tropez in July 2017.
Dorothy shared terrific chemistry with her once beau. The glimpse of the budding romance got detected during their time on the water.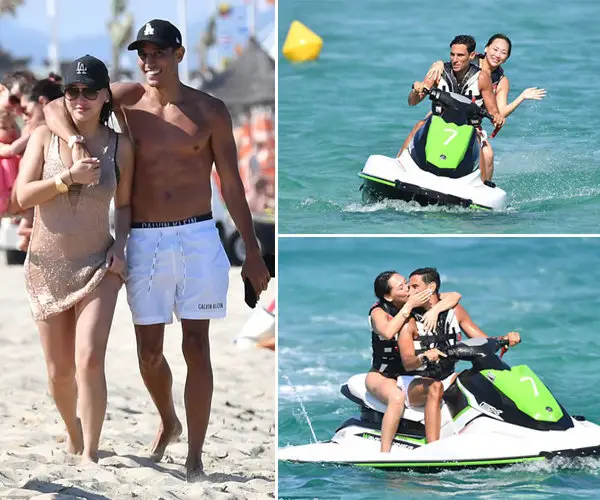 Dorothy Wang spotted romancing with her boyfriend Sam Saadun in St. Tropez in July 2017.
By the looks of it, Dorothy and Sam were smitten by each other. It was even probable that she was thinking of exchanging wedding vows and getting married to him.
Past Romances & Alleged Affairs
Previously, Dorothy was once encircled with false stories and even came forward to address the same,
But while commenting on the story, she revealed a detail regarding her love life in the past.
Dorothy was rumored to be dating French Montana, and it created so much hype that Dorothy found it necessary enough to be addressed. During the premiere of Rich Kids of Beverly Hills Season 4 back in May 2016, she labeled the rumors as "absolutely false," and confessed that she had been dating someone else.
"I've been dating someone since the summer and his name is Quincy, he is a basketball player," 
But the relationship between them was always kept private, and it seemed that the relationship did not last a long run as she was dating Sam Saadun.
Dated French:- Sophia Body Wiki, Age, Boyfriend, Ethnicity
Believe it or not, Dorothy was once in a relationship with Cooper Mount, who was her first serious boyfriend. The two got together during the first season of Rich Kids of Beverly Hills, but failed to make it to the final cut; they drifted apart following some undisclosed reasons.
But while they remained in a relationship, they were socially active and flaunted their incredible bond over Instagram.
Shifting the focus from Dorthy's romantic unions, let's know her a bit more about this amazing lady!
Parents, Plastic Surgery & Net Worth
Born on 27th January 1988, in Beverly Hills, CA, Dorothy Wang became the "youngest-ever" Goodwill Ambassador of Nanjing Charity League at a young age of 12.
Speaking of her parents, she is the daughter of her billionaire father Roger Wang and her mother, Vivine Wang. She also has a sister named Janice. Her father Roger is a former Chief Executive Officer of the Golden Eagle International Group, which specializes in vehicle repair, real estate development, and clothing. 
Even Dorothy is interested in real estate and aspires to work for her father's company.
Suggested Read:- Niykee Heaton Plastic Surgery, Boyfriend, Net Worth
Once, Dorothy got accused of going under the knife and having plastic surgery. She addressed the speculation over her plastic surgery back in July 2014; she tweeted that her contour skills get mistaken as plastic surgery.
Dorothy is a famous reality star best known for her appearance on "Rich Kids of Beverly Hills" and "Famously Single." She is an equally renowned personality on social media sites like Instagram and has over 1 million followers on the photo-sharing app.
Despite being the billionaire's daughter, she has accumulated decent finance on her own; she enjoys a splendid net worth of $10 million.