Entertainment
Draymond Green Married Girlfriend, Mother Of Kids Now Official Wife?
An American basketball player at the top of his game, Draymond Green is one of the most famous names in the sport. His abilities on the court are hidden to none as the NBA star achieves one accomplishment after another in his trophy-laden career.
His personal life, however, is a puzzle that seemingly is hard to solve!
Fulfilling his playing duties for the Golden State Warriors, Draymond with his dynamic personality has been quite a popular figure on and off the court. However, the power forward seemingly is off the market. Is he married to the mother of his kids or is there someone new?
Despite the personal life confusions surrounding him, Draymond's professional success has been no secret to anyone. This success has thus seen him earn some massive contract contributing to his enormous net worth.
Married To Mother Of His Kids Or Dating Somebody New?
Though outspoken, Draymond's personal life has been a hard puzzle to solve for everyone interested. The NBA star takes a significant pride as a father to his son Draymond Jr., born in December 2016. He shares his son along with his high school sweetheart, model Jelissa Hardy.
Read Also: NBA YoungBoy Wiki: Real Name, Baby Mama, Kids, Net Worth - All Revealed
For the Draymond Jr's 2nd birthday, the Golden State Warriors ace took to Facebook to celebrate the momentous occasion. In the post, he called their son "my pride and joy, my biggest accomplishment."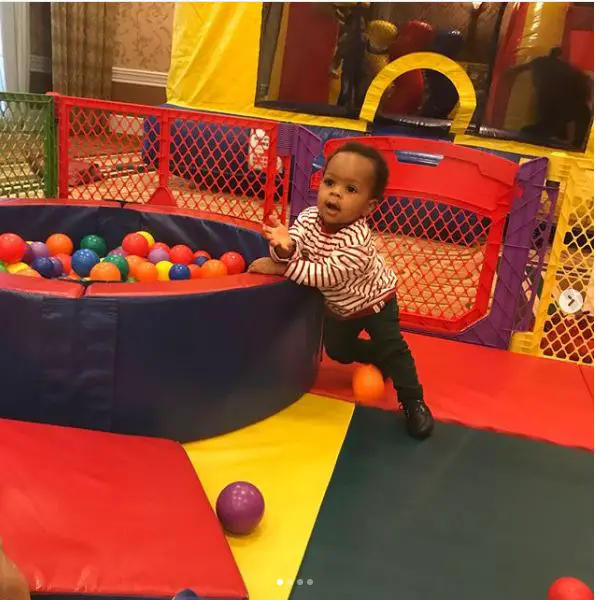 Draymond's son Draymond Jr, who he shares with his former partner Jelissa. (Photo: Draymond Draymond's Instagram)
The duo, who previously resided in Draymond's Emeryville situated apartment alongside their two kids, however, separated since the birth of their son. Whether or not Draymond married his girlfriend Jelissa during the tenure of their relationship remains a widely disputed topic, with no sort of official confirmation.
You May Also Like: Jason Collins, Gay NBA Star & Boyfriend/ Partner Still In Love?
However, Draymond found love again after his split with the mother of his kids Jelissa. The basketball sensation kept it no secret that he is dating The Real Housewives of Atlanta actress Hazel Renee. The duo is believed to be involved in a relationship since August 2017.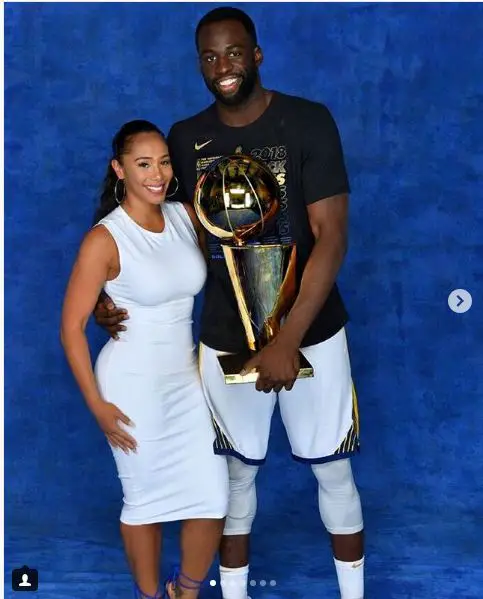 Draymond Green alongside his girlfriend, Hazel Renee (Photo: Draymond Draymond's Instagram)
Head over hills for his girlfriend, Draymond has been extremely open about her affection towards Renee. Wishing his girlfriend on her birthday, Draymond took to Instagram to post a long heartfelt message for his significant other on 1 April 2018.
"You've helped me grow and I thank you. The good outweighs the bad and the ups make the downs all worth it. So on your special day I wish you nothing but happiness and here's to many more great years!!! I love you @lovehazelrenee. HAPPY BIRTHDAY!!!"
Hence, with Draymond heading into the 2018/2019 season defending the title Warriors won the previous season, he knew that he had the full support of his girlfriend and his kids back home.
Unlike many professional athletes, the Saginaw Michigan native doesn't refrain from bringing his children to the games and practices. By his admission, he doesn't want them to lead a privileged life and seeing him work rigorously to hone his talents on the court might teach them a thing a two about success. 
Altercation With Kevin Durant
Golden State Warriors' 2018/19 NBA season didn't begin with flying colors. Mainly because of the then-ongoing rift between Draymond and his teammate Kevin Durant.
The NBA fans first got wind of the rift between the two in November 2018 when they got involved in an on-court altercation.
Working behind the scene, Steph Curry - fellow Warriors player - mediated the peace treaty between him and Kevin. And soon enough, they all got along. The reconciling manifested itself in good team performance on the court.
Wife Of Stephen Curry:- Ayesha Curry Net Worth, Ethnicity, Family, Husband
Once his team got to the playoffs stage in 2019, Draymond repaid Steph for mitigating the feud by raving about his teammate's "never give up" attitude. Along with Steph, he also acknowledged fellow player Klay Thompson's game-winning performances against Houston Rockets.
Giving It Back To Where It All Started
Draymond stands today as one of the best players in the game of basketball, and this has seen him get adequately compensated for all the efforts he has put in over the years to land in the position he is today.
At the age of 29, the forward earns a mind-numbing salary of $17.5 million for the 2018/19 season. Thanks to the big $82 million contracts that Warriors gave him in 2015 which bounded him with his team for the next five years. The mouth boggling contract figure thus significantly contributes to his net worth of $20 million.
Standing in as the 24th best-paid forward in 2018, Draymond never forgot where his origins. He recognized the importance of his college career to land him such huge contract figures and even gave back some of his earnings to the Michigan State University, to help them build better infrastructures.
Don't Miss: NBA Jeff Draymond's Expertise As Partner With Wife-To-Be Melts! Treats "Queen" With Love
On the 14th of September 2015, Draymond donated $3.1 million to Michigan State University and became the highest donating athlete to the institution till date. These philanthropic works have thus seen Draymond become one of the which most famous figures in the sport of basketball.