Entertainment
Jason Collins, Gay NBA Star & Boyfriend Cum Partner Still In Love?
When Jason Collins came out as gay in April of 2013 via an open letter published in Sports Illustrated's official website, the retired NBA star became the first male athlete actively playing in one of the four major American professional team sports (NFL, NHL, NBA & MLB) to do so.
Without delving further into his then-dating status or partner, Jason cited numerous reasons as to why he decided to come then as opposed to a decade earlier. The former Brooklyn Nets player, however, would reference his boyfriend in future interviews.
Following the publication of Jason's Sports Illustrated article, notable names including fellow NBA legend Kobe Bryant and then-President Barack Obama showered the L.A. native with words of support and praise for his bravery.
However, it was Jason's former wife prospect's statement - after he had come out as gay - that turned heads.
Once Wife-To-Be's Reaction To Coming Out Gay Story: "It's a lot to process at this point."
While the world was singing Jason's praises for his inspiring story, they had almost forgotten that he was once engaged to a woman.
Interesting:- Cynthia Frelund Bio: Hottest NFL Reporter's Salary To Married Status
Like the rest of America, Jason's once wife prospect, Carolyn Moos too learned about him being gay through Sports Illustrated article.
Speaking to CNN's Piers Morgan, Carolyn - an ex-WNB athlete - claimed that she didn't for once thought that Jason was gay. The revelation invoked a sense of challenge in her. She quipped:
"It's going to be a process. I did invest eight years in our relationship with a shared dream and vision with him. I had to rewrite the script. I still am rewriting it. It's been very challenging."
Carolyn followed her assertion by professing her desire to find a husband and a soulmate. She added:
"It's a lot to process at this point. I still have time to have those opportunities. I still have time to have children."
Even though Jason had called their wedding off in 2009, there seems to exist zero bad blood between the former duo. Carolyn still considers the former Huston Rockets player to be a "great individual" and wants "him to be happy."
Talking to ABC News - weeks after coming out as gay - the Stanford University Alum echoed similar sentiments toward his once wife prospect. In a mournful tone, he said:
"Calling off the wedding was a tough decision, but it was the right one because I knew I wasn't getting married for the right reasons. I still love her to this day."
As to the reason why he had asked Carolyn to marry him, Jason - in his Sports Illustrated piece - wrote:
"I even got engaged. I thought I had to live a certain way. I thought I needed to marry a woman and raise kids with her. I kept telling myself the sky was red, but I always knew it was blue."
Little did the public know that "blue" was a reference Jason had used to describe his relationship with his then-boyfriend Brunson Green.
Other NBA Star In Our Vault:- NBA Star Steven Adams' Gigantic Family Shows Bond With Sister & 17 Siblings; Yes, 17!
NBA Star & Boyfriend Cum Partner Together For 5 Years
At the time when Jason peened the Sports Illustrated article, he was a free agent. The NBA outfit Brooklyn Nets later signed him for the rest of the 2013/14 season in February of 2014.
Jason - who made $1.32 million in salary that year - didn't take much time to settle at Brooklyn Nets. Following the end of the NBA season, he sat down with Out to discuss his experience at the East Coast-based NBA franchise. He revealed:
"I was at ease when I was with the Brooklyn Nets. One of the road trips we did to Miami, my boyfriend came with me."
Interstingly, it was the first ever time that Jason had referred someone as his boyfriend.
Earlier that year, the Hollywood Reporter had published a report claiming that the LA & Austin based TV and film producer Brunson Green had confirmed that he and Jason were dating.
Discover:- Chris Cillizza From CNN On Meeting Wife, Admiring Family To Fullest
However, it wasn't until January of 2017 - three years after the Hollywood Reporter report - that the pair was deemed official as Jason and his partner, Brunson Green attended that year's Sundance Film Festival together.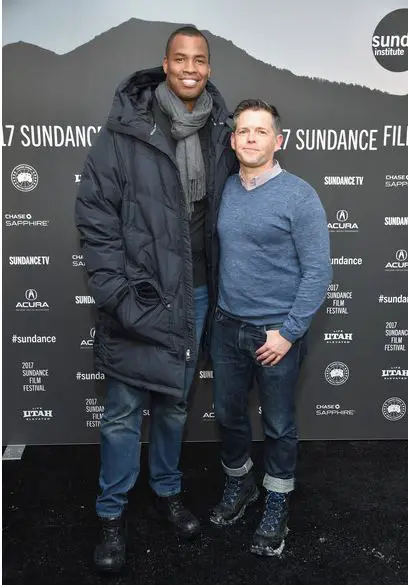 Jason and his boyfriend Brunson Green attend the 2018 Sundance Film Festival (Photo:- zimbio.com)
Since their Sundance appearance, they have gone on to enjoy a rather public life including their five year anniversary as revealed by Jason's Instagram post.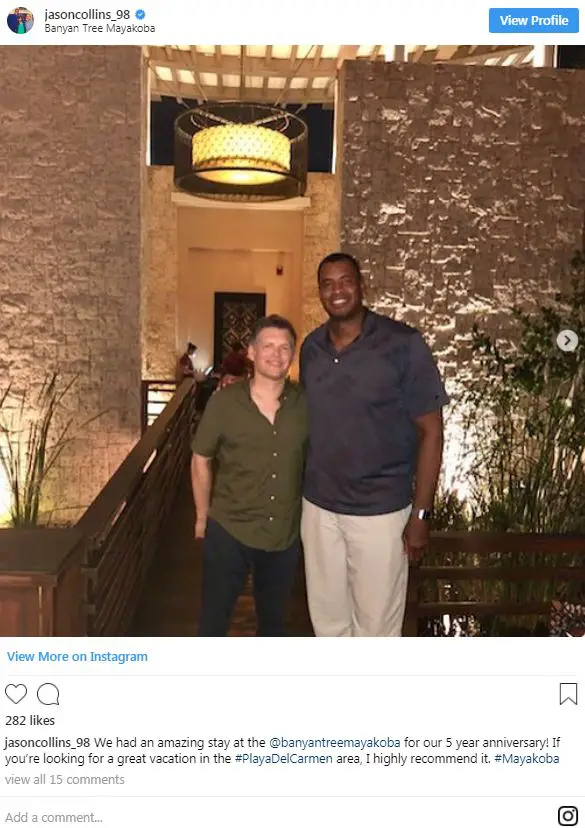 Jason and his partner, Brunson celebrate five-year anniversay by vacationing in the PlayaDelCarmen area (Photo:- Jason Collins' Instagram)
Read Also:- Did Alyssa Edwards Get Married To Her Partner? Personal Life Detail
Now that Jason is truly free, he has the luxury to be with whoever he deems right. And the right person could very well be Brunson, his partner of more than five years.