Entertainment
Every DrLupo Fact Revealed; Age, Real Name, Wife - Explicit Bio Alert!
American professional gamer, DrLupo real name is......The Twitch star's bio suggests that he is married to......His wife goes by the name......Possessing a net worth of ..., the internet celebrity ages...... Along with a loving, he also enjoys a blissful life which has been blessed by the presence of his child......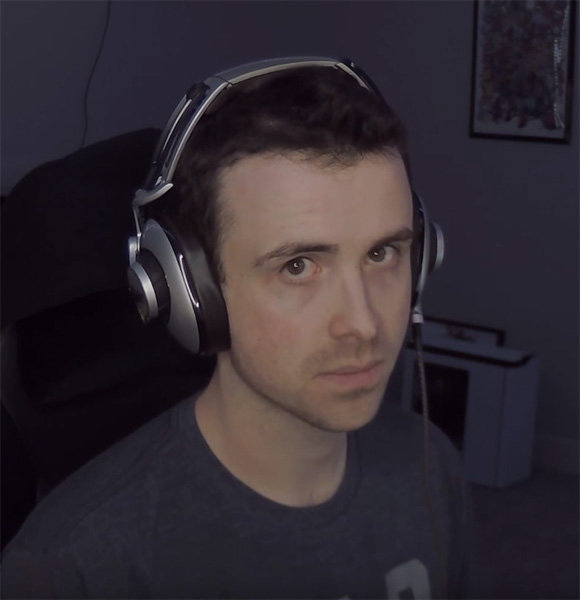 DrLupo is a professional gamer, who found initial fame after streaming content from playing games like Destiny and Fortnite. Also a famous Twitch streamer, the internet personality has amassed a following of over 2.6 million on Twitch.
A married man, his supportive wife is the most sought-after person by his fans. And instead of keeping her real name, his wife is known by the name Mrs. DrLupo among her husband's followers.
She also faced criticisms for using her husband's name, but still, she is supporting her husband and also managing his professional gaming career.
Bio- Real Name, Father Dead From Heart Attack
The Twitch star famously known as DrLupo was born with the real name, Benjamin Lupo on 20 March 1987.  The American gamer started his gaming career at a young age and also grabbed the winning title of 'NBA Jam' by playing Super Nintendo Entertainment System (SNES).
He started streaming on Twitch in 2013 and in 2016 his application to become a Twitch partner was approved which lined his career as a streamer. And to continue his flourishing career full-time, he quit his job in March 2017. 
Recommended "Other Gamer":- Yanet Garcia & Gamer Boyfriend Break Up! Split Reason - 2018's Weirdest
While the world was criticizing his gaming addiction, his father was always there to support him. But on 27 March 2018, DrLupo lost the most crucial support of his life. Over the death of his father, he described it as an unexpected loss while his followers sent their condolences.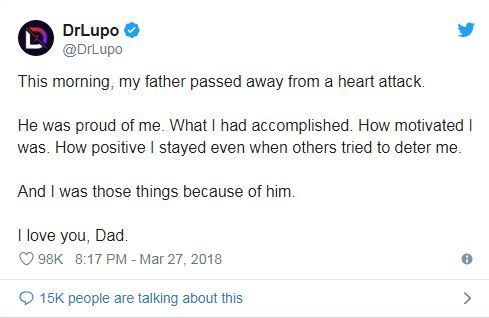 DrLupo tweets on father's death on 27 March 2018 (Photo: DrLupo's Twitter) 
Well, in addition to his father, his wife also always supports his career's decisions. 
Famous Gamer:- RonaldOMG Relishes with Family and Only Sibling at Young Age
Eight Years With Wife; Married Life Blessed With Baby Boy
While his career attests with many fluctuations, he is focusing on his game as his supportive wife manages his professional gaming career. 
Since 2010, the wedding year, his mysterious wife has been supporting him. While his wife also has half a million followers on Twitter, instead of using a real name, she uses a made up name, MrsDrLupo.
A proud wife of the gamer also had to go through a harsh situation as one of her followers disdained her decision for keeping the husband's name rather than keeping her real name.
But, MrsDrLupo fought back as she tweeted back that although she has a real name, she wants to support him and is proud of her husband and what he's achieved.
The couple, who recently completed their eight years of married life, shares a dashing son named Charlie.
Before the couple gushed their long wedding journey, DrLupo's wife shared the happiest moment of the couple on 12 August 2018 as it was the day of their little boy's birthday.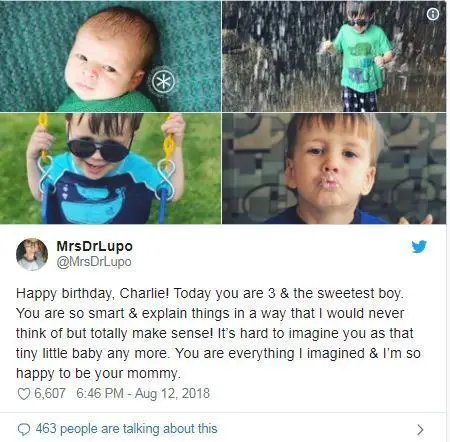 DrLupo's son Charlie's third birthday on 12 August 2018 (Photo: MrsDrLupo's Twitter)
On their eighth wedding anniversary, he knocked out his inner feelings and adored his wife for marrying him.
Don't Miss:- Maximilian Dood, 34, Talks About Relationship and Wife! But Does He Have Any?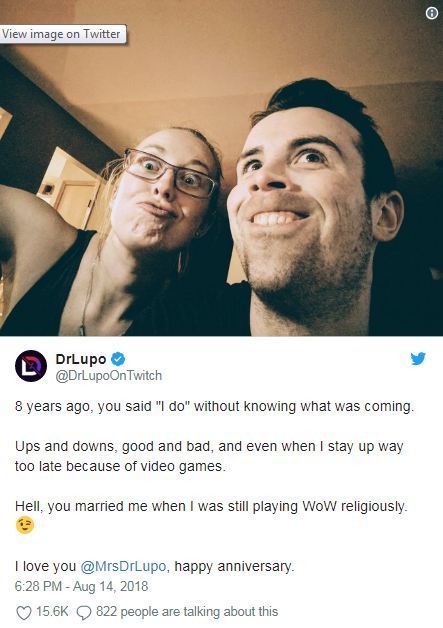 Dr. Lupo eight wedding anniversary with Mrs. Dr Lupo (Photo: Dr Lupo's Twitter)
Well, the gamer, aged 31, is spending as much time as he can streaming, and he usually spends about 10 to 13 hours into his task. Further, he claimed that his career in gaming was not always enjoyable as he couldn't have enough time for his little son, Charlie. And he plans to retire from his gaming career once he hit the age 40.
So as of now, DrLupo, who has concealed his net worth, is saving his earning for future use and for taking care of his child's necessities.