Entertainment
What Is Dwyane Wade Doing Now After His Retirement?
Dwyane Wade is a legendary player of the game of basketball...is now enjoying retirement life with his family...lives a happy life with his current wife...father to five children...his career stats are impressive as...has a massive net worth of around $120 million...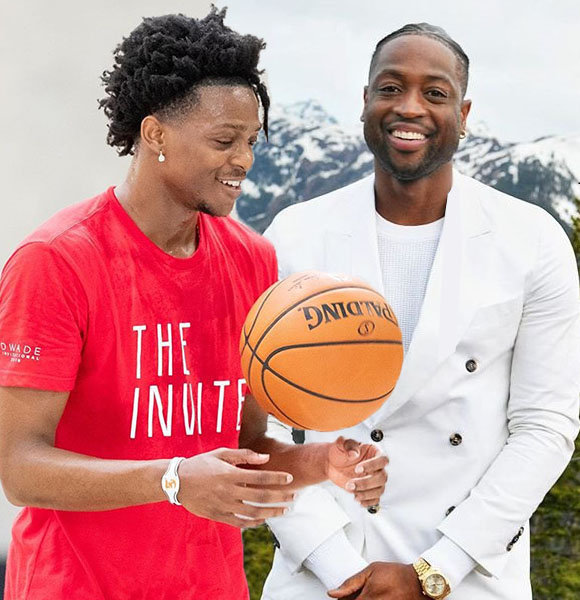 Dwyane Wade is a former NBA title winner with Miami Heat. He has been named in 13 All-Star teams during his career.
It all started for Dwyane with his draft into the Miami Heat roster during the 2003 NBA Draft. He spent 13 years with the Heat, before opting to play for other teams in the NBA. Therefore, he had brief stints with the Chicago Bulls and Cleveland Cavaliers from 2016 to 2018.
However, his love for the Miami Heat pulled him back to the team in 2018. He signed with the Heat for another year, but also expressed his desire to return after the 2018-2019 season. Dwyane retired at the place where it all started and became a legend of the game as well as Miami.
Personal Life: First Marriage And Children
Dwyane has been married twice in his life, and while his first marriage ended in a divorce after a whole bunch of legal chaos, Dwyane's second and current relationship is blissful.
So, let's talk about Dwyane's first relationship. The ex-NBA player married his high school girlfriend Siohvaughn Funches on 18th May 2002. And, the nuptial bond seemed to be going well as the couple had two children.
Their first kid, Zaire, was born in 2002, and second kid Zion followed in 2007. However, there was some unrest between the couple, and Dwyane filed for divorce from Siohvaughn in late 2006.
Another Divorce:- Alain Delon Dating Life Amid Divorce | Children, Net Worth, Now
And the case was going to go on for a long time. Despite living separately since 2007, their divorce went on till 2010. And just when people thought that the case was almost over, things took another turn. In May of 2010, Dwyane filed for sole custody of his two children, and Siohvaughn, at the same time, filed a lawsuit against Gabrielle Union, Dwyane's girlfriend, for "emotional distress."
However, Siohvaughn lost both the case and her children, as her lawsuit against Gabrielle was dismissed by the courts and Dwyane got the sole custody of their children in March 2011.
And thus came to an end Dwyane and Siohvaughn's marriage as their divorce was made legally official on 25th June 2010.
Dwyane's Second Marriage: Life Now
After the tiring legal fight with Siohvaughn came to an end, Dwyane could finally focus on his relationship with Gabrielle.
Dwyane met Gabrielle in February 2007, when he was still married to Siohvaughn. They had the fortune to meet during Dwyane's sponsored Super Bowl party.
However, it took two years for the couple to appear together in public. They were spotted together in July 2009 when Dwyane brought Gabrielle as his guest during a charity dinner. This started speculations about them dating, which later were proven to be true.
Their relationship was progressing continually as the couple even appeared together on the cover of Essence magazine's February 2012 issue. However, things weren't as simple as it looked from the outside.
In an anti-climactic way, Dwyane and Gabrielle decided to take some time apart due to work and lack of time for each other. However, the break only lasted from January to April 2013. During the break, Dwyane had a son, Xavier, with his longtime friend Aja Metoyer, but he was still in love with Gabrielle.
And maybe the break made them both realize their love for each other, thus the couple got engaged in December 2013. Dwyane proposed to Gabrielle with a ring that reportedly cost $1 million, and she accepted the proposal.
Fast forward a few months, the couple's wedding happened. Dwyane and Gabrielle tied the knot on 30th August 2014.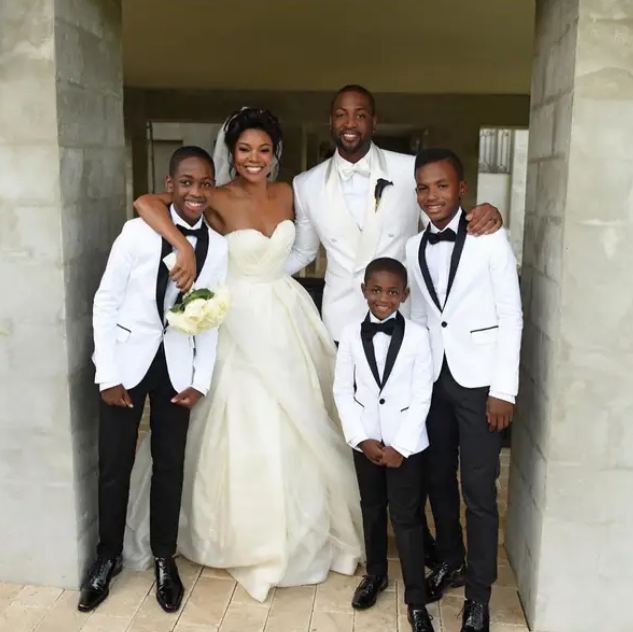 Dwyane Wade with wife Gabrielle Union and kids at his wedding (Photo: Insider)
The couple now has a daughter together, although it took them four years to bring a life into the world. Their daughter, Kaavia James Wade, was born on 7th November 2018 via surrogate as Gabrielle had fertility issues.
As of now, Dwyane is enjoying his retirement life with his wife and five kids. Along with Dwyane's kids from his past and present relationship, along with a kid with his longtime friend, the NBA legend also raises his nephew, Dave Morris.
Net Worth
Dwyane Wade is a legend of the game because of his performances. And usually, performances on the court directly affect one's earnings off the court. Dwyane, too, earned an amount fitting to his performances and his stature in the game.
It would take a whole other article to discuss Dwyane's entire career earnings as a player, but some highlights and major earnings are discussed here.
Despite having played for the Miami Heat for most of his career, and only two seasons with the Chicago Bulls, Dwyane's highest-earning season came with the Bulls. In the 2016-2017 season, Dwyane earned $23,200,000 as a salary. And his second highest-earning season was 2015-2016 season with the Miami Heat, as he bagged a huge $20 million salary.
Another NBA Star:- Who Is NBA Reggie Miller's Wife? His Relationship Status, Kids & Net Worth
All in all, the legend earned a total of $199,499,205 during his playing time.
Now let's move on to his life after retirement. Dwyane currently works as a basketball analyst for TNT and CBS. And he reportedly earns $20 million as salaries for his analysis works.
Dwyane is also active on the real estate front. He bought a beach house in North Bay Road, Miami for just above $10 million in 2010, and is, as of September 2019, planning to sell it. Reports suggest that he is asking $32.5 million for the mansion. He and Gabrielle also bought a house in the Sherman Oaks neighborhood of Los Angeles for $6 million.
Considering his earnings and his property ownerships, Dwyane's net worth falls at around $120 million as of December 2019.
Interesting Facts: Age, Height, Career Stats
Dwyane was born on 17th January 1982 in Chicago, Illinois, USA.
He has a height of 6 feet 4 inches (1.93 meters).
He is an Olympic Gold Medalist with the US Men's National Basketball team.
A devout Christian, he donates 10% of his salary to a church.
Dwyane is just the third player in NBA history to record at least 20,000 points, 5,000 assists, 4,000 rebounds, 1,500 steals, 800 blocks, and 500 three-pointers.