Entertainment
Dylan Jagger Lee [Tommy Lee's Son] Bio, Age, Net Worth & Facts
Dylan Jagger Lee's brother has managed to rake in a net worth of...Brandon Thomas Lee isn't a stranger to fame and riches either...his parents were once at the height o their career... smooching his girlfriend while walking towards the...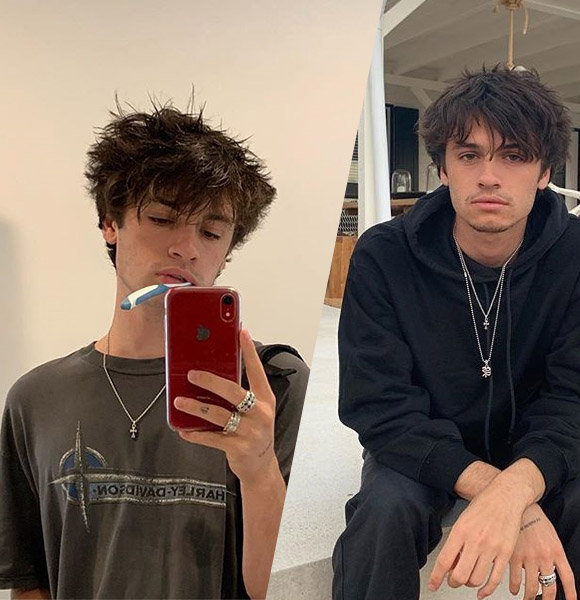 Model-musician Dylan Jagger Lee has made a name for himself as a model and musician. Although he is yet to garner the level of fame his parents (Tommy Lee and Pamela Anderson) enjoy, Dylan also has a significant fan following with more than 150 thousand followers in Insta alone.
Despite coming from a family of high achievers, the young artist has not let his folks' reputation overshadow his sense of achievement.
Gets Spotted With Mystery Girlfriend, Dating Status Now?
Dylan seems to be well educated in keeping a lowkey profile on his dating life. After all, he grew up under the care of his celebrity parents, who have dealt with tabloids throughout their life.
Perhaps that's the reason he has managed to keep his dating affairs under wraps when it comes to keeping his dating affairs under wraps.
For instance, the only time he was spotted in public with a girlfriend was back in the first week of November 2015.
The lad was spotted with a lady - whose name is yet to be known - enjoying lunch at OLLO restaurant located in Malibu. At the date, Dylan also had his mother Pamela Anderson, a well known sizzling actress from '90s, by his side to accompany him.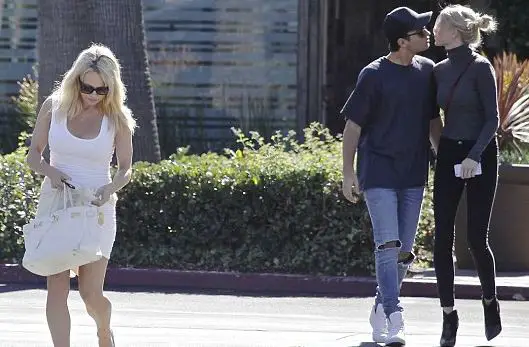 Dylan Jagger Lee kisses his girlfriend while going out for lunch alongside mother Pamela Anderson (on the extreme left) (Photo: dailymail.co.uk)
It's not sure what the trio was celebrating, but the event was organized shortly after Pamela's recovery from Hepatitis B.
At the location, the model could be seen kissing his girlfriend while walking towards the restaurant with his mother tagging alongside them.
Pamela's Ex-Boyfriend :- Is Bret Michaels Married? Wife, Girlfriend, Daughters, Now
As of 2019, however, it remains unknown if he is still together with his mysterious partner. Further, 
Parents' And Siblings' Net Worth
While Dylan's net worth remains undisclosed, it certainly isn't in par with his other family member's net worth. After all, his parents were once at the height of their careers.
His mother relishes an impressive net worth of $12 million, whereas his father Tommy Lee's net worth stands at $70 million. His dad accumulated this vast wealth as a musician, especially as a drummer of a prolific rock band titled Mötley Crüe.
Dated Tommy Lee :- Daisy de la Hoya Now, Boyfriend, Parents
Dylan's elder brother Brandon Thomas Lee isn't a stranger to fame and riches either. With reality shows and movies like The Hills (2019) and Sierra Burgess (2018) under his name, he has managed to rake in a net worth of $1 million.
Facts About Dylan Jagger Lee Including Age 
As per official records, Dylan's birthdate is 29th December 1997; whereas, his birthplace is Malibu, California.
He completed his schooling from Canada and returned to LA later to finish college.
Although his father is a rockstar, Dylan has never listened to rock music in his life.
His mother, Pamela, is a good friend of the famous editor and activist Julian Assange.