Entertainment
Eddie Izzard Despite Partner History, A Heavily Rumored Gay; Here's Why
From his journey as a child who lost his mother at the age of six to become a beloved stand-up comedian Britain has ever produced, Eddie Izzard indeed has taken a significant climb in his life.
But, his desire to dress like a woman, since the age of four, just added more bumps on the way.
Fighting the battle on being a queer, the stand-up comedian now stands as a proud transgender person who doesn't hesitate to put on some makeup and walk past people flaunting his high heels.
Rumored Gay Comedian Thanks God For Making Him Transvestite
The Dress to Kill star, Eddie Izzard first started his comic road down to fame after appearing in Hysteria III, a 1991 AIDS fundraiser held at the London Palladium. Ever since his breakthrough, he has been rubbing belly laughter to his audiences and cramped with schedules filled with tours and shows.
More Gay Comedian: Vice Ganda Bio: Who Is Gay Comedian's Boyfriend? Personal Details
But, it was more to his witty on-stage personality that earned the Ocean's Twelve actor major tabloid headlines. It's his red lipstick, high heels and the Avengers actress, Uma Thurman's fake breast that he had borrowed to wear that made the comedian stand beyond the ordinary.
While Eddie's masculine physique was entirely disguised in a womanly getup, the comic star couldn't help but get bombarded about his inconstant boy-girl-mode by the public who guessed him as a gay man walking down the streets of London.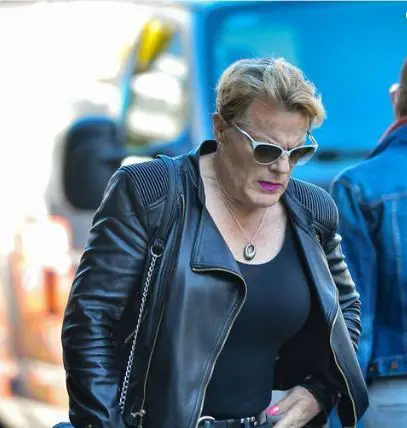 Eddie embraces his girl mode on by flaunting his bosom and lipstick (Pinknews.co.uk)
But the cross-dressing comic sensation kept his lips sealed about his true sexuality till the age of 29. His childhood story about wanting to put on a dress became more public after he came off as a transvestite in 1991.
After coming out to his father, a young Eddie, surprised by his dad's unexpected support, was more confident to come off in his more authentic self to his admirers.
Similar Gay Stories: Assumed Gay Noel Fielding Partner In Crime, Girlfriend Or Sweet Wife?
Two days later, he opened up his sexuality to his fans on stage with a joke.
"If you're a stand-up, it's good to be a minority because then you've got something to rail against. If you're black, you can rail against white supremacists; if you're poor, you can rail against the rich. But if you're a white, male, middle-class stand-up, it's shit. So thank God I'm a transvestite."
Ever since that day, the Valkyrie actor has been proudly flaunting his sexuality.
Without Any Wife: No Intention To Make A Family Of His Own!
There is no doubt that Eddie, who is now a famous stand-up comedian, once held a huge secret hidden inside himself. Though a transvestite, who loves to hop inside a womanly outlook, the 57-year-old still had success in seducing ladies with his equally seductive look.
It was Karon Makill, the comedian's PR, who explained his personality,
"He is not at all girly and not at all camp. I think people expect him to be one or the other, but he is a real man. He likes bosomy, busty women and he is very successful with them. He loves his gadgets and toys, and he loves flirting with women."
She further explained about his girl followers going gaga around him,
"There are so many groupies on the tour - a lot of women find him very attractive. They write him erotic literature - you would not believe it."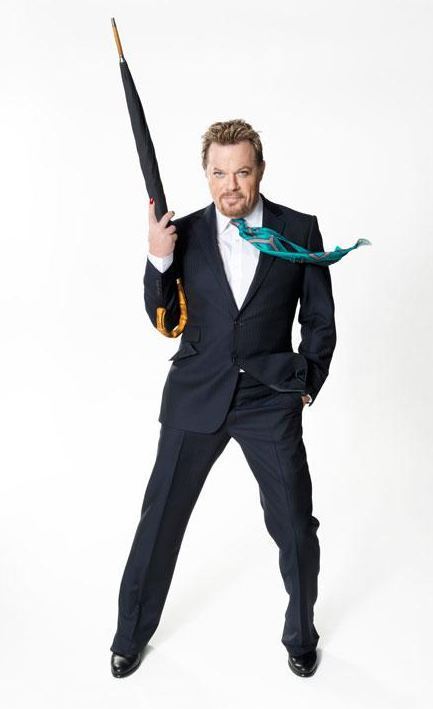 The greatest comedian Britain ever had Eddie Izzard (Photo: EddieIzzard.com)
Karon was rumored to be involved with Eddie romantically, but the gossips were cut short after she confessed to having no romantic relationship with him.
But, one thing that is true about the English personality is that he dated singer Sarah Townsend from 1999 to 2002. The pair, who were first introduced by a mutual friend, led a very complicated relationship together.
Read More: Is Laverne Cox Transgender? Flaunts Boyfriend, Mystery Guy Has A Name?
Even after their break, the two have been running the company "Ella Communications" together while Sarah is busy touring and Eddie is recording his new shows.
The English comic confirmed his sexuality saying,
"And I know that some sections of society find me abhorrent, but, I am not gay. I'd say if I was. But try as I might, I just can't fancy a man."
Eddie is reported to be single till today, but by the looks of it, he won't be getting married any sooner. During an interview with Variety magazine in 2018, he expressed his peculiar views on marriage citing,
"I don't really believe in marriage – it's a governmental rubber stamp or a religious thing – but if you want to use that as an excuse to throw a party, then I won't judge you. I'm a far greater believer in a strong relationship and would love to have kids one day, but I am trying to work out how to do that."
He also added that keeping up a relationship in old age would require sacrificing a showbiz career. It does appear that the comic went through some challenging situation during his past relations. But, there is also the probability that with time, he might end up with the love of his life.
Net Worth, Upcoming Shows
As of today, Eddie relishes a net worth of $20 million and is doing well in his career. He is still active in 2019, giving hit shows that are vital in maintaining his net worth.
Interestingly, due to high demands among the fans, all the shows that are scheduled from 27 to 29 Septemeber are sold out. The shows will be held on the Brighton Dome venue in England, and he'll continue giving performances in other venues in coming months such as Royal Concert Hall and City Hall.
So, with his tour doing well, he's definitely doing well financially for now.