Working for CBS News, broadcast journalist Elaine Quijano anchors the weekday coverage as well as Sunday edition of CBS Weekend News.
An ever-present face across all the network's platforms including CBS This Morning & CBS Evening News, she is also the host of the nightly politics show, Red and Blue.
Elaine initially gained a massive fan following after she moderated the 2016 Vice Presidental Debate. The milestone made her the first anchor of a digital network in US history to do so.
A rundown of her personal life shall reveal her relationship status as well as her physical well being!
Parents, Age, Ethnicity & Nationality
Born in 1974, Elaine is a native of Chicago, Illinois and therefore, owns American nationality.
An Asian-American by ethnicity, the veteran journo is of Filipino descent. Both of her parents are from the Philippines. While her dad is from Davao City, mama Quijano is from Batangas.
Fellow Filipino-American:- Ginger Gonzaga Wiki: Her Age, Height, Dating Affair, Boyfriend and Other Must Know Facts
Now aged 45, Elaine is the second youngest journalist to moderate the presidential debate.
Her Net Worth & Education
After completing high school education, Elaine enrolled at the University of Illinois's journalism programme. Following her graduation around 1994, she commenced her career at Illinois-based WCIA-TV as a reporter/producer/anchor.
Moving up the corporate ladder, she then joined CNN Newsource. On the very first year at her then-new job, she covered the September 11th terrorist attacks. Impressed with her work, CNN would eventually name her its White House Correspondent in 2006.
In 2010, as her career was beginning to gain legs, Elaine left CNN and joined CBS. At CBS, she covers breaking news as well as interesting human stories.
No doubt that the New York-based journalist is a valued member at CBS -- a fact that gets reflected in her burgeoning six-figured net worth.
Married Woman With Husband?
For all her career accolades, Elaine doesn't have anything to show when it comes to romance. She might be a public figure by definition, but she sure doesn't lead a very public married life -- of course, assuming if she even has a husband.
Equally Elusive Marital Life:- Yetide Badaki Married, Husband, Age
Husband or boyfriend, married or dating, the former CNN personnel - for the most part - appears content with keeping the fans on the dark.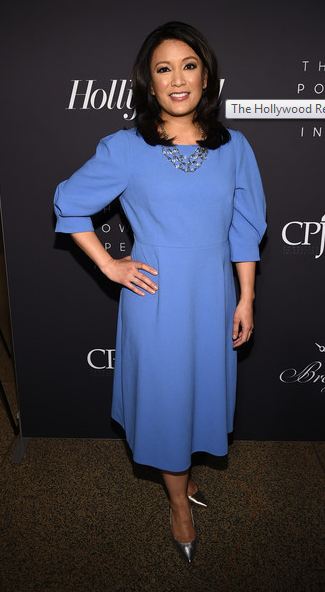 Elaine Quijano signals singlehood by attending The Hollywood Reporter's event alone in April 2019 (Photo:- gettyimages.com)
Nonetheless, her marital status should have no bearing on her professional life as Elaine has proved time and again that she's one of the best in her field.
Eye Surgery, Legs, Feet & Height
Safe to say, Elaine doesn't lack admirers. There's a sect of her fandom that drools over her physical appearances -- her slender legs and mesmerizing feet, to be more specific.
However, all her traits pale in comparison when placed next to the attention her eyes receive. So beautiful are the journalist's eyes that it even led people to believe: she might have undergone secret eye surgery.
Celeb With Equally Alluring Eyes:- Inside Thylane Blondeau Modeling Career Now & Detailed Info Of Parents
Neither Elaine nor her close associate has confirmed the eye surgery suggestions though. Furthermore, she boasts 5 feet and 6 inches (1.6 m) in height.