Entertainment
Ginger Gonzaga Wiki: Her Age, Height, Dating Affair, Boyfriend and Other Must Know Facts
Ginger Gonzaga Wiki: Her Age, Height, Dating Affair, Boyfriend and Other Must Know Facts. Ginger Gonzaga is the actress known for her performances in Ted, Togetherness, and Legit. The rising popularity of this actress has brought curiosity amongst her fans beyond her professional life. Thus, today we bring your small details of your favorite star including her romantic life along with wiki details.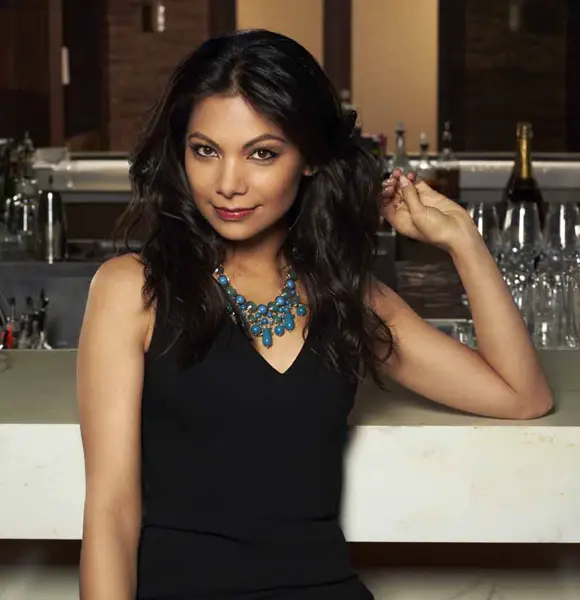 Ginger Gonzaga is the actress known for her performances in Ted, Togetherness, and Legit. The rising popularity of this actress has brought curiosity amongst her fans beyond her professional life.
Read along to learn some details of the star's romantic life in a wiki-like bio!
Wiki - Parents & Height
Ginger Gonzaga was born on 17 May 1984 in Pennsylvania. She reached the age of 35 on 17th May 2019. In terms of height, she stands five feet and five inches tall.
Speaking about her parents: Ginger's father hails from Cebu, and her mother is Dutch, suggesting that she is Filipino-American by ethnicity.
The beautiful and talented actress has won many hearts with her performances in The Morning After (2011), Ted (2012), Legit (2012), and Togetherness (2015). Moreover, she narrated the ABC series, Mixology, and guest voiced in animated series, Family Guy.
Similar Background:- Solenn Heussaff Age, Husband, Sibling, Height
Momentarily, let's move onto other must-know facts about your favorite star Ginger Gonzaga!
Ginger grew up in Modesto, California, and went to a high school, where 99 percent were white. She graduated with a degree of BA in Political Science and has done minor in Chinese.
The Togetherness star was a nationally ranked debater. Moreover, she is also a jazz singer and sings at different Hollywood Hotspots.
As a child, she used to get dressed up as her Cebuano grandmother. To make them look realistic, she even used to draw wrinkles, and further, she would impersonate in front of the neighbors. 
It was the early sign of a comedian within Ginger. Later, she went to perform as a comedian in Los Angeles comedy clubs and South Korean based US military camps.
Ginger shared about the work of her favorite acting and comedic influences as,
I love Sacha Baron Cohen and I love "Borat." I've never tried doing what he did in "Borat" but he's definitely someone I love. Gene Wilder in "Willy Wonka and the Chocolate Factory." And [the late] Philip Seymour Hoffman—I really love "The Master." And I love Cate Blanchett in "Blue Jasmine."
Ginger takes pride in being a Filipino and even shared that she has been to the Philippines twice. She feels lucky to have many cousins there and loves to have big celebrations.
Dating & Boyfriend Related
An immensely gifted actress, Ginger is also drop-dead gorgeous. Therefore, it's only right that her boyfriend should be of a marvelous caliber. Legendary actor Jim Carrey certainly fits the description.
The Mixology actress and Jim met on the set of the drama series I'm Dying Up Here in 2017. However, it wasn't until they began filming for Showtime's show Kidding that the duo started seeing each other offscreen too.
Dated Jim Carrey:- January Jones Candid On Son & Baby Father; Boyfriend/Husband, Revealed?
Debuting their romance at the 2019 Golden Globes, Ginger and her actor boyfriend seemed very much like a real-life couple. As the lovebirds' posed for cameras during the event's red carpet ceremony, the attendees couldn't help but see how good they looked together.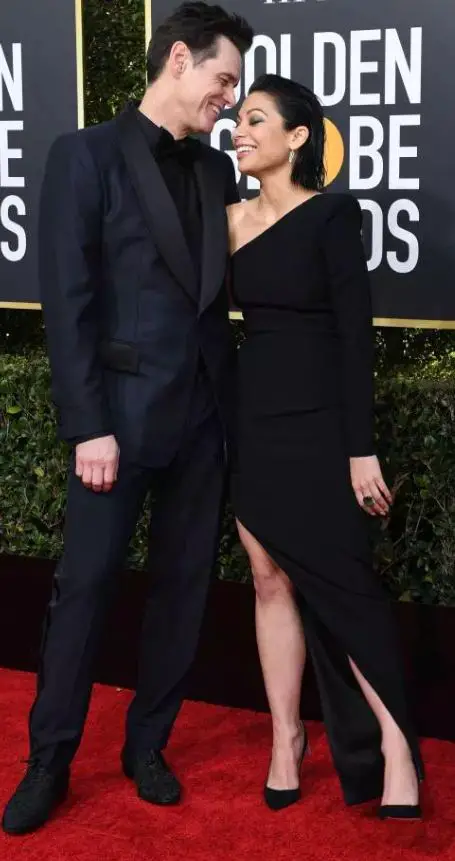 Ginger Gonzaga and boyfriend, Jim Carrey at the 2019 Golden Globe Awards (Photo:- thesun.co.uk)
The romance marked Jim's first-ever public love affair following his ex-girlfriend Cathriona White's tragic death in 2015. Meanwhile, it was Ginger's highest-profile relationship to date. Her partner was even very vocal about appreciation for her quoting,
"She is an incredible, unbelievable, [a] wicked talent and amazing person."
Interestingly, she and her boyfriend had played each other love interest in the show where the actress portrayed the role of a recovering cancer patient.
Split With Jim Carrey
It was definitely a coincidental and pleasing sight to see Ginger and Jim dating in real life too. Unfortunately, somehow life mirrored art. Like in the show Kidding, the two split in real life towards the half of the first season in a terrible note.
Not that the two ended their relation citing any irreconcilable difference, but somehow they parted ways without disclosing any reasons behind their breakup. However, none of them have confirmed about breakup neither their representatives have made any comments on the reported split.
Furthermore, it remains a mystery if the actress will reprise her role in season 2 of Kidding. Even if she does, it's less likely that their onscreen romance will bloom again. So, until the premiere of the shows second season, fans will have to wait for the couple's fate.
Dating History
Ginger Gonzaga has maintained a tight guard over her love life, and least information regarding her romances - besides Jim Carrey - has been out in the media.
Back in 2016, the Ted actress shared several images with a mystery man. In November that year, during the election, Ginger's bf, who is a mystery man, drove Ginger's elderly neighbor to vote. While appreciating this fact, she described the mystery man's attention-grabbing t-shirt.
However, it remains unknown if the term bf stands for best friend or boyfriend in her dictionary.
Valentine's Day is a special day dedicated to Love, and on this occasion, Ginger conferred her love towards two Otters of her life.
In her February 2017 post, she hinted that the mystery man might be her boyfriend. Additionally, Ginger's subsequent uploads suggested that she and the mystery man could be dating.
Equally Confusing Love History:- Jerryd Bayless Contract, Stats, High School, Girlfriend
In another instance, Ginger shared a picture with her mystery man and called him her best friend on the occasion of the national best friend's day.