British singer Ellie Goulding rose to fame after being chosen to sing during Prince William and Kate Middleton's wedding. The Love Me Like You Do hitmaker captured public imagination after that, and her music career took off; making her one of the most in-demand singers of the modern times.
The singer, who has had a perfect professional life, had difficulties making the right choices when it came to her personal experience resulting in many failed relationships.
Complicated Dating Life
Ellie Goulding has faced her share of failed romances.
The British singer was in a relationship with Radio 1 DJ Greg James from 2010 to 2011. Ellie, the second daughter in a family of four, even admitted to GMTV that she had been dating with the radio DJ. However, the couple parted their ways in 2011 in amicable terms, citing busy schedules as their inability to be together.
Multiple Relationships:- Nettie Stanley Bio, Kids, Net Worth, Husband
After Greg, Ellie courted relationship rumors when she was pictured holding hands with pop sensation Ed Sheeran in the MTV VMAs. Ed later hinted of romance between the two when he said that ordinary people don't hold hands to Washington Radio. He was quoted saying:
"I mean, normal people don't hold hands if they're just friends. It was going on. And now it's not"
However, Ellie distanced her from Ed's claim and denied the rumors. Seventeen Magazine cited her as saying:
"We've bumped into each other and we've hung out and stuff, but the thing is if I hang out with someone, it's instantly like I'm 'dating' them. We were never in a relationship."
After Ed, came another singer in Ellie's life, this time One Direction's, Niall Horan in early 2015. She added in the Seventeen mag's interview that she had gone on a few dates with Niall. But, also clarified that they were not seeing each other and had remained good friends. She affirmed:
"We went on a few dates, and it was really fun. He's a really, really lovely guy. He's got the biggest sense of humor, he's very caring, and I see him as a genuine friend in the industry."
Furthermore, the beautiful singer was involved in a romantic relationship with McFly star Dougie Poynter. The pair dated for about two years from 2014 through 2016 and Ellie had publicly disclosed her relationship with him. She even discussed that despite the distances between the loved-up couple, they tried to make sure that they made their relationship work. Dailymail quoted her as saying:
'He's out in LA working hard and he's doing all sorts of things.'We work it out, we figure it out. We are pretty realistic with things. We're pretty sensible about it and we just see each other when we can.'
On getting married and settling down with her American boyfriend, the Starry Eyed hitmaker said:
'It's just that time that everything comes up in the air, you don't know what's gonna... but at some point, maybe.'
After many failed relationship, it just felt that the songstress had found her a perfect love with musician beau. However, they parted their ways in 2016, with Ellie claiming that her relationship with Dougie was an unfinished business hinting at a possible reunion between the pair. But Ellie's fans hoping for a potential match-up between them were left shocked when Ellie was pictured flaunting the newest love interest in her life.
Finally Found Love!
Following a lot of failures, Ellie found the right man for her.
After a year getting to know each other, the couple had a very private engagement ceremony. The news only came out to the public when Ellie and Caspar announced it in the marriage section of the U.K's The Times newspaper. However, that is all that they revealed about the event. Maybe Ellie has learned from her past relationships that being public and letting the world know every detail is not a good idea.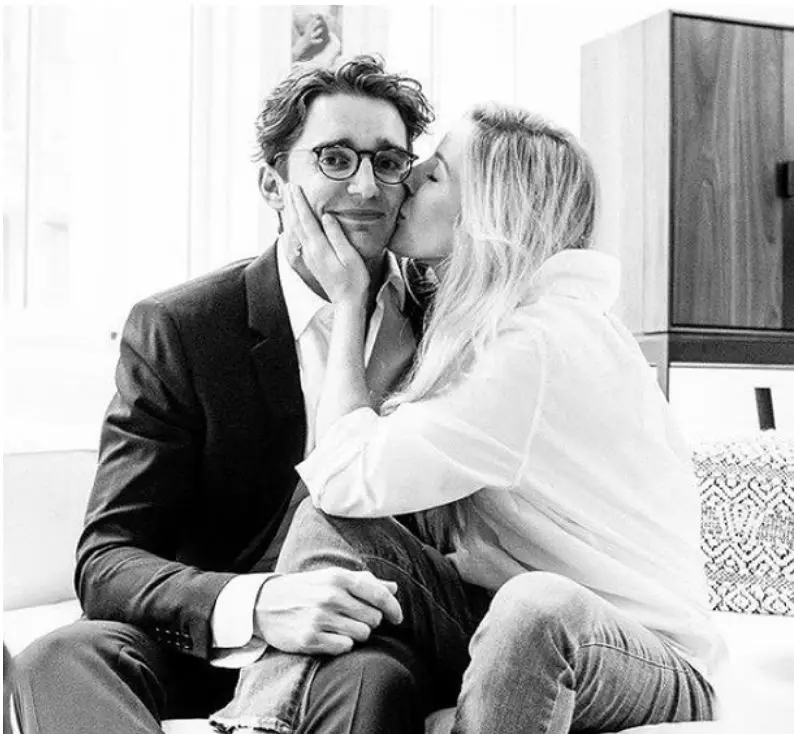 Ellie Goulding kisses her fiancé, Caspar Jopling (Photo: dailyrecord.co.uk)
After the engagement, fans were expecting a low essential wedding as the soon to be married couple revealed only the location of the wedding. But, the fans were in for a surprise when the big day finally arrived.
Lavish Wedding Ceremony!
Ellie Goulding and Caspar Jopling relived history, as they walk down the aisle in what was an ecstatic wedding ceremony conducted in the historic York Minster in Yorkshires city center on 31 August 2019.
The Love Me Like You Do hitmaker was over the moon, looking gorgeous on her Chloe-designed wedding gown. The customized clothing was speculated to have taken 640 hours to make, with even the finest of details captured on the dress.
Another Breath-Taking Wedding:- Rachel Lindsay Married, Wedding, Husband
As a result, Ellie donned a long-sleeved, high neck, hand-decorated gown with glass bead and white roses of York. On the other hand, the bridegroom looked pretty smart with a matching white rose in the lapel of his wedding suit.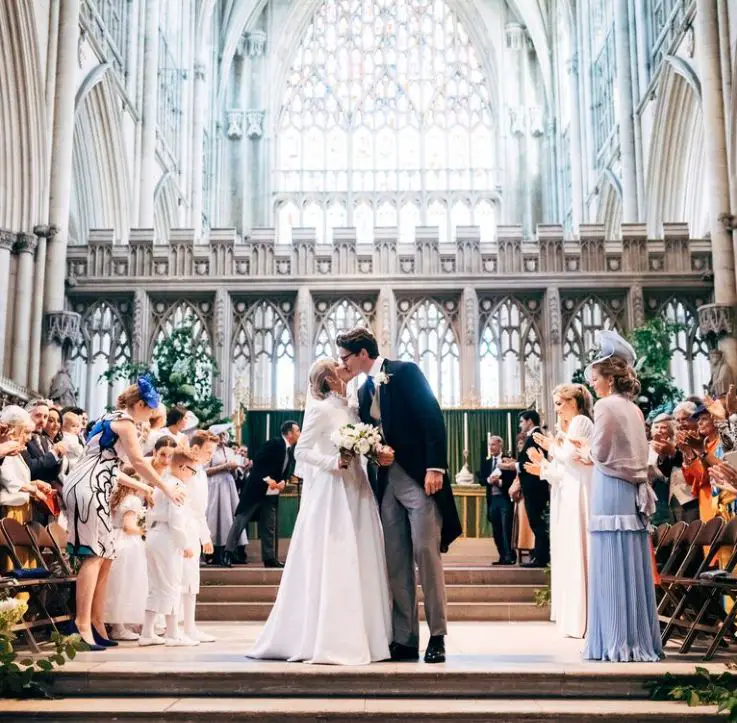 Ellie Goulding and husband Caspar Jopling tie the knot on 31 August 2019 (Photo: elle.com)
The ceremony consisted of famous faces like Katy Perry and her finance Orlando Bloom, royals like Princess Eugenie and Princess Beatrice, to name a few. With their grand wedding, the loving couple has found the perfect ingredient to garnish their relationship. The pair are sure to make excellent parents to their future children.