Entertainment
Emiliano Sala: Cardiff City Striker Goes Missing, Massive Search Underway
As the search for Cardiff City F.C.'s most expensive signing Emiliano Sala intensifies after the plane - he had boarded - got declared missing, the footballing world continues to sent out prayers and thoughts to the player's family and close relatives.
A massive search party organized by Guernsey Police in conjunction with French authority has been so far unable to locate the promising footballing sensation of Argentine nationality.
Read along to learn more including a bio on Emiliano's humble family roots back home in Argentina.
Search For Cardiff City F.C. Acquisition Ends; Missing Or Deceased By Now?
On the back of the impressive first-half performance in the 2018/19 season, Emiliano landed a lucrative transfer deal to the premier league outfit Cardiff City F.C. from the Ligue 1 side F.C. Nantes for a fee of 15 million pounds.
Another Missing Person Story:- Kelsey Berreth Age 29 Reported Missing Enters 4th Week, Family Status Now
Rejecting a big money contract which would have guaranteed him a seven-figure salary from at a Chinese club, the Bordeaux youth product, thus, became the most expensive signing in the English club's history.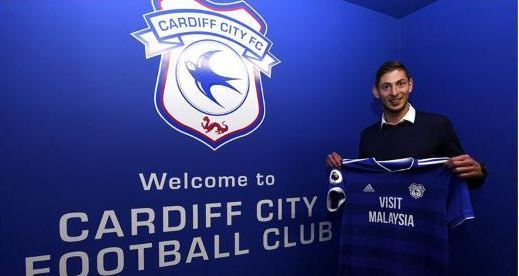 Emiliano Sala gets unveiled as Cardiff City F.C. on 19th January 2019 (Photo:- mirror.co.uk)
The 28-year-old got officially unveiled as Cardiff City F.C.'s player on 19th January 2019. Ken Choo, the club's CEO, took the initiative to welcome him to the capital city of Wales. Such was the excitement surrounding his acquisition.
Following his unveiling, he returned to France to bid farewell to his former teammates at F.C. Nantes. On his way back to Cardiff on 21st January 2019, the Piper Malibu aircraft carrying him, and the pilot David Ibbotson went off the radar close Alderney in the Channel Islands.
Soccer Player You May Know:- Real Madrid Ex-Coach Zinedine Zidane Age 46 Shocking Salary & Net Worth!
Since the plane's disappearance, the Guernsey Police in collaboration with French authority had launched a massive search party. A total of two planes and a lifeboat were deployed to navigate the 1,155sq miles search area.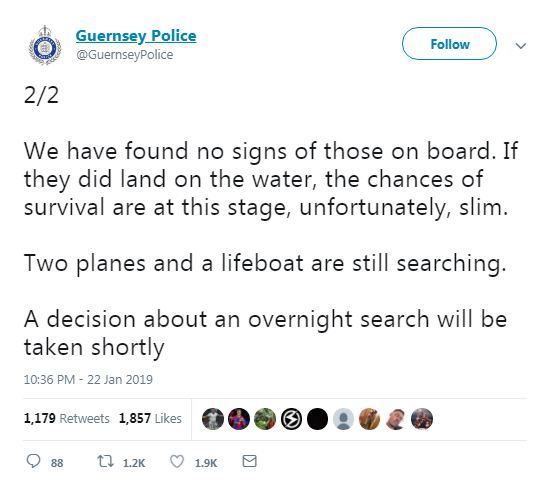 Guernsey Police provides new updates on the missing case of Emiliano Sala (Photo:- Guernsey Police's Twitter) 
A statement issued by Guernsey Police asserted that the chance of survival at the stage were slim to none. The leaked voice messages sent by Emiliano to his friends while in the air corroborates with the claim.
Moreover, the Guernsey police released another statement on 24 January 2019 to announce the end of the search and rescue operation after their best efforts since the plane disappeared.
Also, it claimed despite their enormous 24 hours searching in over approximately 1,700 square miles, there was no trace of the aircraft, passenger or the pilot.  
The Harbourmaster captain, David Barker explained ending the search mission as a "difficult decision." Further, the police department stated that the case is still open and will be broadcasting the updates although they won't be actively searching.
The Cardiff City owner, Vincent Tan expressed his gratitude to everyone involved in the operation. Furthermore, since the missing case of Emiliano Sala remained unsolved, the club won't be granted with the additional time to replace the missing striker.
Bio Unveils Humble Family Roots & Personal Life Details
The news of him missing got met with an outcry of support and prayers for her family from all over the world during the trying times.
Born on 31 October 1990 in Santa Fe, Argentina to a van driver father, Horacio and a homemaker mother, Emiliano alongside two sibling - Dari and Romina - grew up in a financially unstable household.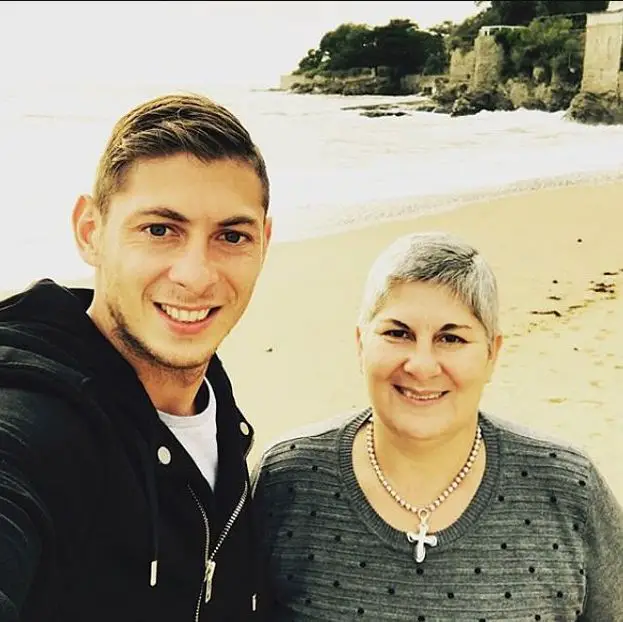 Emiliano Sala next to his mother poses for a selfie in 2018 (Photo:- dailymail.co.uk)
A naturally gifted footballer with the height of six feet and three inches (187 cm), the former US Orleans center forward moved to France at a young age, chasing his footballing inspirations.
Starting with Bordeaux B team, Emiliano embarked on a long and tedious journey that saw him spend three different loan spells, before his 1.35 million pounds transfer to Ligue 1 side F.C. Nantes.
Athlete In Our Vault:- Dak Prescott Stats & Latest Contracts | Girlfriend Info, Salary & Facts
At Nantes, he became a fan favorite. Playing two and a half seasons for the team, he netted 36 goals in total, making him one of the best strikers in the French league.
Besides football, Emiliano loved playing guitar and was an avid reader. Apart from his bio suggesting him of holding a high school graduate degree, the Santa Fe Argentina-native studied Chinese philosophy with enthusiasm.