Entertainment
Who Are Erinn Westbrook Age 27, Parents & Siblings? Explicit Details
Despite Insatiable's poor ratings, Netflix renewed the black comedy-drama series for the second season. Lucky for fans of Erin Westbrook, they will get to see their idol give continuity to the character of Magnolia for another season, at the very least.
Erin, age 27, is all too familiar with outliving her on-screen personas. Before Insatiable, she had a successful 7-episodes-stint at FOX Musical series Glee as Bree. And later, she starred as Gabby Richards in MTV series Awkward for a total of 17 episodes, before leaving the show in 2016.
With her decision to hop from one role to the another without resting on her past laurels, the Long Island native has displayed a level of maturity which is unthinkable for someone of her age. Is this something that Erin inherited from her parents? Did her siblings inherit the same traits as well?
Progressive Parents; Supportive Siblings
Erin is a fruit that didn't fall far from her family tree!
Not only did Erin inherit her parents' height and good looks, but it seems like that the Insatiable actress has also picked up their progressive ideologies as well.
Don't Miss:- Bob Barker Health Issues Arise: Hospitalized At Age 94 As Backache Sears
Like the rest of Black America, Erin parents' have also marched against the police brutality and systemic oppression imposed on African-Americans as a part of Black Lives Matter Movement.
The Awkward actress couldn't be more proud of her parents' allegiances when they attended a Black Lives Matter rally; so much so that she uploaded the picture of them from a rally on her Instagram.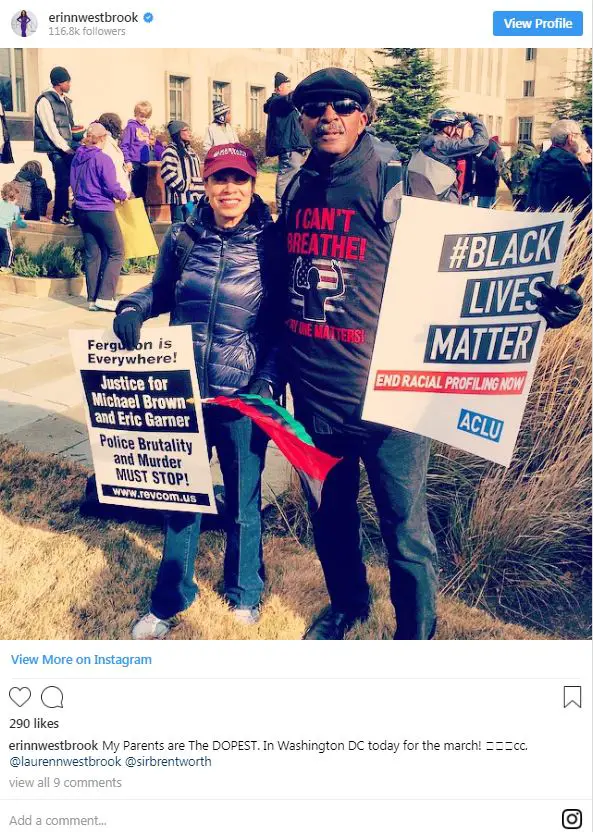 Erin's parents at the Black Lives Matter rally in DC (Photo:- Erin Westbrook's Instagram)
Attractive physical traits aside, the Westbrook family is renowned for their academic achievements as well. All of Westbrook children including Erin attended the prestigious Harvard University.
Discover:- Kia Proctor & Cam Are Parents To Adorable Daughter, Net Worth At Age 29?
Of the three siblings, the Glee star's younger brother Brent C. Westbrook, age 25, was the last one to graduate from the famed Ivy League University. Erin and Brent were merely following their elder sister Lauren Westbrook's suit, who had graduated from Harvard University a few years earlier.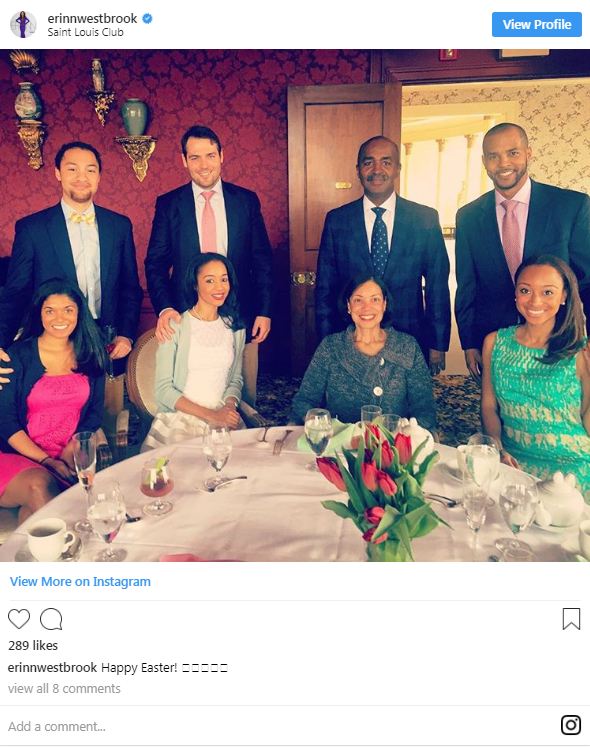 Erin, her siblings & their significant others, and her parents pose for a family portrait (Photo:- Erin Westbrook's Instagram)
Today, Erin's sister Lauren no longer identifies herself as just a Westbrook, having married her longtime boyfriend, Brian McIntosh, in 2016. Like before, Erin is set to follow her elder sister's footsteps when she walks down the aisle on the day of her wedding.
White Boyfriend Turned Fiance; Dating History Unclear
And that fateful day might be a lot closer than Erin would like her fans to believe!
Interesting:- Sam Boik Age 34 Wiki Unfolds: Married Status, Height, Parents & More Facts
After all, eight months have already passed since her engagement to her long-term boyfriend, who goes by the username "awheffer" on Instagram. The Glee actress first broke the news of her commitment to awheffer via Instagram.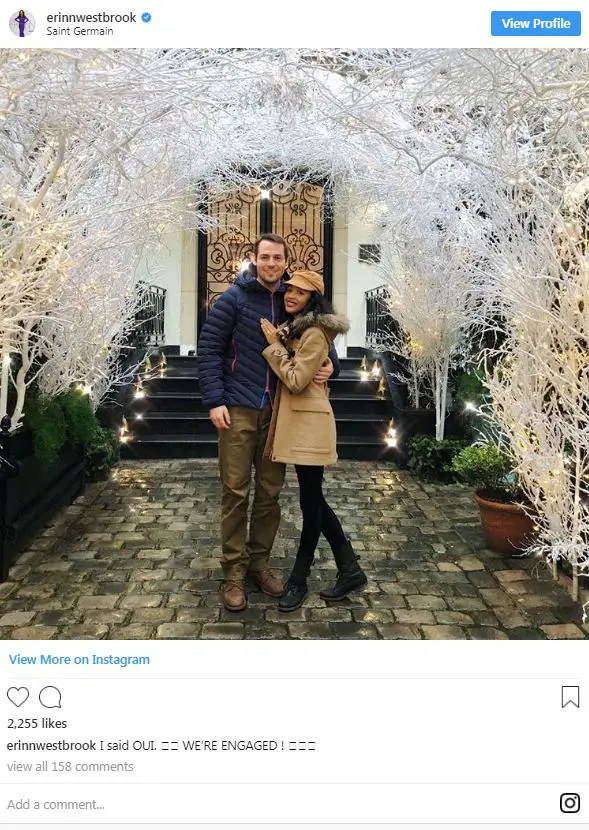 Erin announces her engagement to her long-term boyfriend (Photo:- Erin Westbrook's Instagram)
Between the two, the Awkward actress seems more excited about the impending wedding as suggested by her Instagram posts. A couple of months after her engagement announcement, she put up a photo of her man with the caption:
"I have a serious crush on my future hubby."
It is still unclear when Erin - whose net worth is expected to cross seven figures mark anytime now - and her husband-to-be began dating, but the soon-to-be-married couple's relationship dates as far back as 2015.
Interestingly enough, in 2016 the pair celebrated their one year anniversary of dating each other at the famous Four Seasons Resort located in Hualalai.