Entertainment
Erykah Badu Multiple Kids & Different Baby Father; Who Are They, Dating Now?
Andre 3000's verse on Outkast's single Mrs. Jackson isn't as much of an apology to his ex Erykah Badu's mother as it is an ode to the On & On singer. The single off of Outkast's studio offering Stankonia would prove to instrumental as it gave birth to the myth, that is Erykah Badu.
Since Mrs. Jackson, a plethora of rappers and singers have referenced the Texas native in one form or the other on their records; most notably by a certain someone named Drake in the loosie Days In The East.
Unlike Andre - who's the first of the Neo-Soul singer's three baby fathers - Drake didn't even have any romantic ties with Erykah. Such is the level of reverence she possesses among the men in the music industry.
The fact that Erykah, at age 47 with multiple kids to her name, is still as relevant as she was at the peak of her career is a testament to her singing talents as much as it is to her feminine charms.
Three Kids, Three Different Baby Fathers: None Is Husband
The very feminine charms that are keeping her relevant today are the same ones who made the legendary rapper Andre 3000 fall for her.
Don't Miss:- Afrika Bambaataa, Allegedly Gay Man - Has Married Life With Wife To Show?
The year 1995 proved to be a watershed moment for Erykah. Not only it was the year that she signed her first professional contract but also the year she met Andre 3000. After two years of dating, the pair welcomed their first child, Seven Sirius Benjamin in 1997.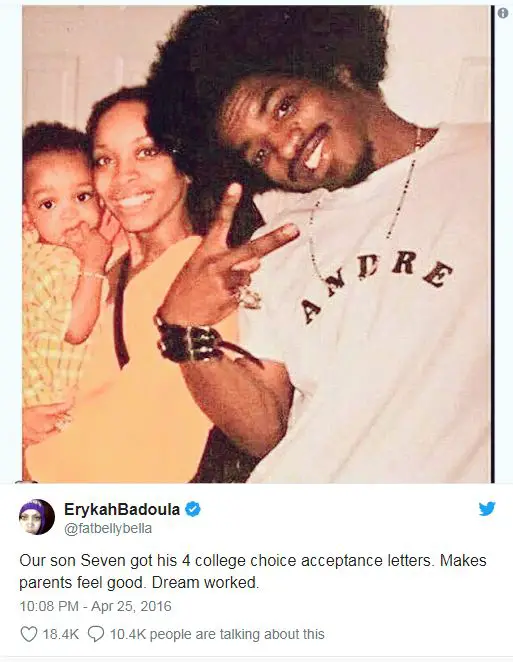 Erykah posts a throwback picture of her first baby father and their kid (Photo:- Erykah Badu's Twitter)
She and the Wheels Of Steel rapper would go on to date for two more years before calling it quits. Unlike other estranged lovers, they seem very supportive of each other. Andre even likened Erykah to a sister in his 2014 Vibe Magazine interview. He claimed:
"Erykah and I are cool friends, man. We talk on the phone. She even asks my advice on relationships. She's like a cool sister more than anything."
Following her split from her first baby father, Erykah began dating fellow Soulquarian, Common. She and the I Used To Love Her Rapper dated for two years between 2002 and 2004, before parting their separate ways.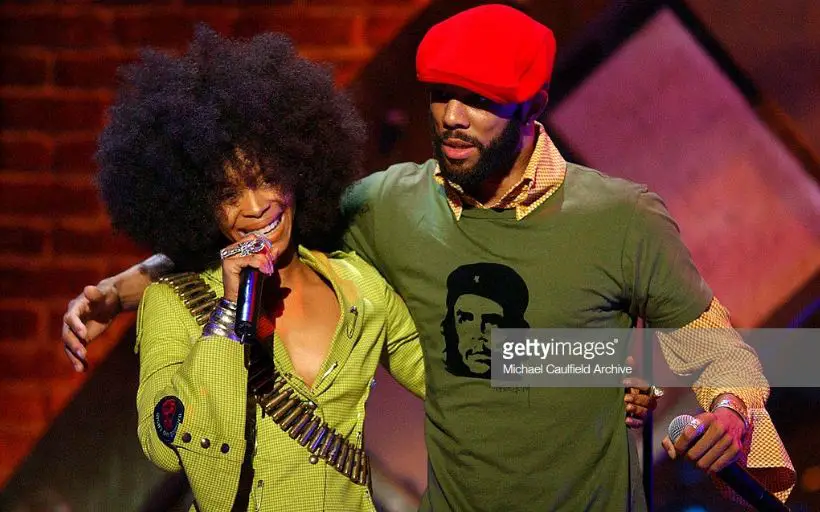 Erykah and her then-boyfriend Common at the 2003 Essence Awards (Photo:-gettyimages.com)
Of the two, her ex-boyfriend Common seemed to have felt the most about their breakup as revealed by his 2018  speech at The University of Colorado-Boulder. The Chicago native revealed:
"When we did break up, one of the most important things I discovered was that I was scared to wear my greatness. I was afraid to wear my greatness, which meant, I could be in a relationship and dim my light for others."
Erykah continued her trend of dating rappers when she began seeing legendary West Coast emcee D.O.C, a less than a year after ending her relationship with her ex-boyfriend Common.
Read Also:- Seth Gilliam Hides His Married Life With Wife; Offers Professional Life Instead Of Personal
Shortly after, she gave birth to her first daughter and second child, Puma Sabti Curry, making D.O.C her second baby father. Like her first baby father, the 47-year-old songstress wouldn't "husband" the father of her older daughter either.
Erykah's youngest daughter and third child, Mars Merkaba Thedford was born in 2009 as a result of her relationship with her then-boyfriend Jay Electronica. Much like her previous relationships with her baby fathers, this too ended after five years of dating.
Talking about unrequited love, it seems like things have ended between Erykah and her most recent boo Carl Jones. Perhaps, the Baduizm Soulstress has too much on her plate with growing kids to ever commit to a relationship.
More About Erykah Badu's Kids
Staying true to her motherly instincts and free spirited-nature, Erykah didn't take in a husband for a partner and instead dedicated herself raising her three kids.
Raised in an artistic household herself, Erykah made sure that her kids - who were all home delivered - would also grow up in a similar environment by homeschooling them.
Interesting:- Boy George, 'The Voice' Judge Married In Secrecy? A Different Kind Of Gay
She shared her experience of homeschooling her son Seven, age 21, in her May 2018 interview with The Guardian. She quipped:
"With my first baby, I was trying to do everything right and put everything in his brain that I thought should be in there. He was the three-year-old walking around knowing how many planets there were and how many moons they each had." 
Her teaching seemed to have done great tricks for Seven. Or how else would you explain her son getting excepted at four colleges?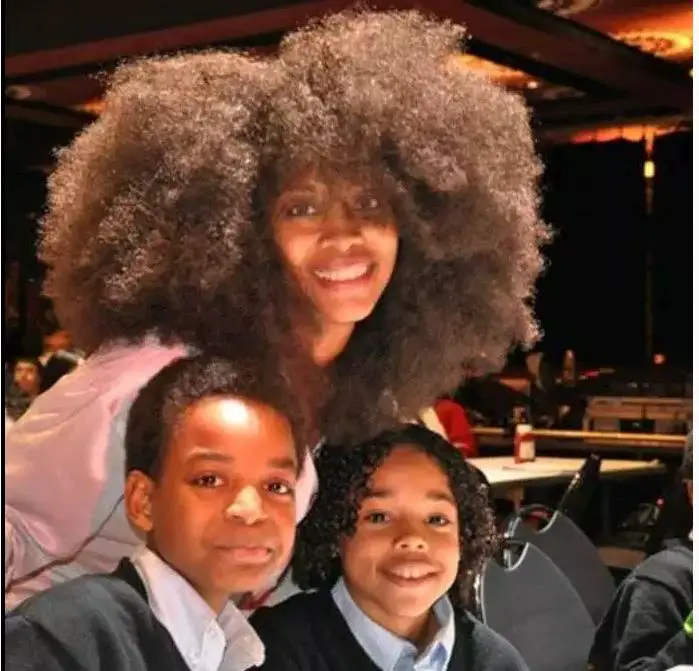 Erykah with the kids (Photo:- heavy.com)
The Bag Lady hitmaker is planning on to impart her knowledge onto her daughters Puma and Mars as well. More than anything, she wants her daughters to be master the art of communication through languages other than English. She told The Guardian:
"Languages are very important. They're very important in social evolution. Puma speaks French and Mandarin; Mars is speaking Spanish and starts French in the summer."
Mars, the middle child of the Badu kids, could be the one to follow her mother's footstep, according to Erykah. But not so much her youngest daughter, who's more into sports than arts.
Discover:- Did Afua Hirsch Secretly Married Ghanaian Descent Partner? Personal Detail
May Erykah's kids impart all the wisdom they have learned from their mother to their future offsprings!