Entertainment
ESPN's Sports Reporter Holly Rowe Has Supportive Family But Does She Have A Husband?
ESPN reported Holly Rowe has a long history of cancer. She has been a true fighter battling it for years now. However, she was not alone on the way; She is lucky to have a supportive family who has been through every thick and thin in her life.   
There are different cancer survivors like Amy Robach, Bryant Gumbel, Hill Harper, and Micheal Aspel, who battled cancer with their family and friends' support.
Along the way, she has not missed any chances on thanking her family for the love and care. But there is a part that she has failed to notify her fans about. And that is her relationship details.  
ESPN's Holly Rowe Battle With Cancer
Holly, age 54, was previously infected by a cancerous tumor on her chest, which was removed in May 2015. Almost after a year, she revealed that she was again diagnosed with a new tumor that needed to be removed through surgery; It was a rare form of melanoma cancer.
Then on 2nd February 2016, the ESPN sideline reporter underwent successful surgery.
You May Also Like: FOX 5 Mike Woods Fights Cancer, Gay Rumors Swirls - Personal Life Facts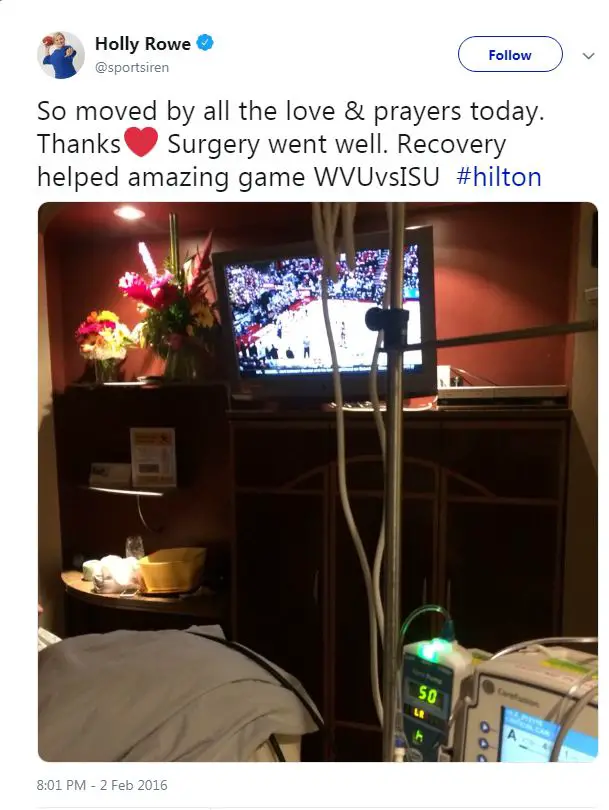 Holly Rowe updating her fans about her cancer treatment (Photo: Holly Rowe's Twitter)
However, her cancer had already spread to her lungs. As soon as she received the news in July the same year, she joined the UCLA Jonsson Comprehensive Cancer Center in Los Angeles. And for two years, she flew to L.A. every 21 days for intravenous infusions. 
Read Also: WWE Star Roman Reigns Reveals Cancer Battle; How Serious Is It?
Fortunately, within three months of the trial, the tumors had started to contract. And by the end of the treatment, the largest tumor had shrunk from 21mm to 3mm. As per her doctors, the remaining was likely residual scar tissue.
She has follow-up visits and scans every three months at UCLA. She said she is not back to normal, but she is feeling better and better.  
Holly Rowe Has A Son
Holly is a mother of a grown-up son McKylin Rowe. He ages around 26. He is a rising star who has worked as a writer and actor in the TV series, The Egos.  
The passion for acting had been running through his veins from an early age. He has acted in a couple of plays in his college days. Rowe even attended one of his college musicals, Cinderella, where he portrayed Prince Charming's role. 
Congratulating him on his work, Rowe shared the moment on her Twitter handle. She doesn't shy away from flaunting her love for her son on social media.   
Around 2016, she moved to NYC just to spend quality time with her son. They lived in a sunny apartment near Central Park in Manhattan. McKylin shared why it was important for him to spend time with Rowe. He said: 
I was all for it, especially since I didn't know how much more time we would have.
One of her biggest supporters in the most difficult times, McKylin considers his mother to be his hero.
Is Holly Rowe Married? Does She Have A Husband?
Rowe, a true fighter, has always been thankful to his family and friends, who have shown tremendous support over the years. 
And it is evident that she doesn't miss out on showcasing her gratitude towards them on social media. 
Don't Miss: 'NCIS: LA' Star Daniela Ruah Married Life, Husband, Children
No doubt she has a family of her own and even a son, but what struck most of her fans was her marital status. Who is her husband?
Everyone was curious to know is she was married, but Rowe, to date, has never uttered a single word regarding her husband. 
Whether she has a husband or a partner, nobody knows. However, Rowe spending time with her son only somewhat suggests that she is no longer together with her partner or possible ex-husband.