Entertainment
ESPN's Sports Reporter Holly Rowe Thanks her Son and Family for Support in Battling Illness!
There is no doubt that illness teaches a person a real value of life. A person who is battling a certain disease or illness usually tries to live every moment to the fullest as they know that they only live once.
But not every sick person can enjoy their life without the support of their family and closed ones. Hence, family support is very important and useful in battling illness.
There are different cancer patients and cancer survivors like Amy Robach, Bryant Gumbel, Hill Harper, and Micheal Aspel who could battle with cancer with the support of their family and friends.
Likewise, today we will be talking about ESPN's sports reporter Holly Rowe who is now battling her second bout with cancer and how she is thankful for her family and son.
ESPN's Holly Rowe battling with the second bout of cancer
Holly, age 52, was previously infected by a cancerous tumor on her chest which was removed in May 2015. In February 2016, she revealed that she was diagnosed with a new tumor which needs to be removed through surgery.
It was a rare form of melanoma cancer. ESPN's Sideline reporter Holly Rowe had a surgery to remove a tumor on 2nd February 2016.
You May Also Like: FOX 5 Mike Woods Fights Cancer, Gay Rumors Swirls - Personal Life Facts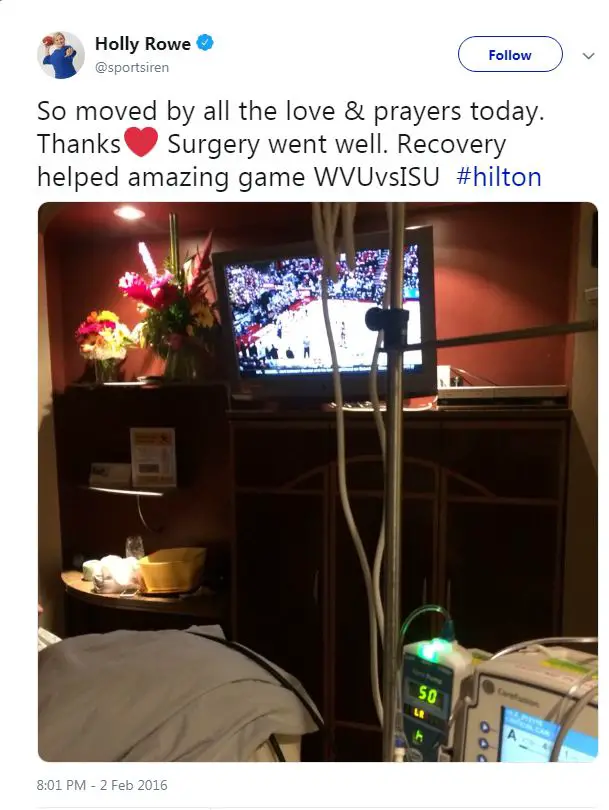 Holly Rowe updating her fans about her cancer treatment. (Photo: Holly Rowe's Twitter)
Rowe, who was diagnosed with desmoplastic melanoma, a skin cancer, however, had some good news for her fans throughout the world. In a video released on Twitter by the sports telecaster, she mentioned that she had recently had her last phase of chemotherapy for the treatment of cancer.
"So excited slash terrified, that maybe my future is possible. My doctor thinks it's safe to go off treatment and monitor with scans. Just wanted to say a very special thank you to everybody."
Read Also: WWE Star Roman Reigns Reveals Cancer Battle; How Serious Is It?
With good news on the cards after two years of battle against cancer, Holly seems all set to get back on her tracks and live her life to the fullest, a life which was slowly going away previously.
Married With Husband; Remains Thankful To Son and Family
Rowe, who is popular for jumping onto tables to get interviews of exhausted players, believes that she can achieve anything with the support of the good people and her well-wishers. While revealing about her tumor, she said-
"I once ran a marathon, and as I was struggling to finish, I said to the strangers on the side of the road, who were there to cheer for others, 'my name is Holly, can you cheer for me too?' I know I can conquer anything with prayer, love, positive energy and the support of good people behind me, and I am thankful for my son and amazing family."
No doubt Holly is married, but she has been keeping her personal life private. Neither has she revealed any information about her husband. However, she has been mentioning her son in some interviews and her social updates.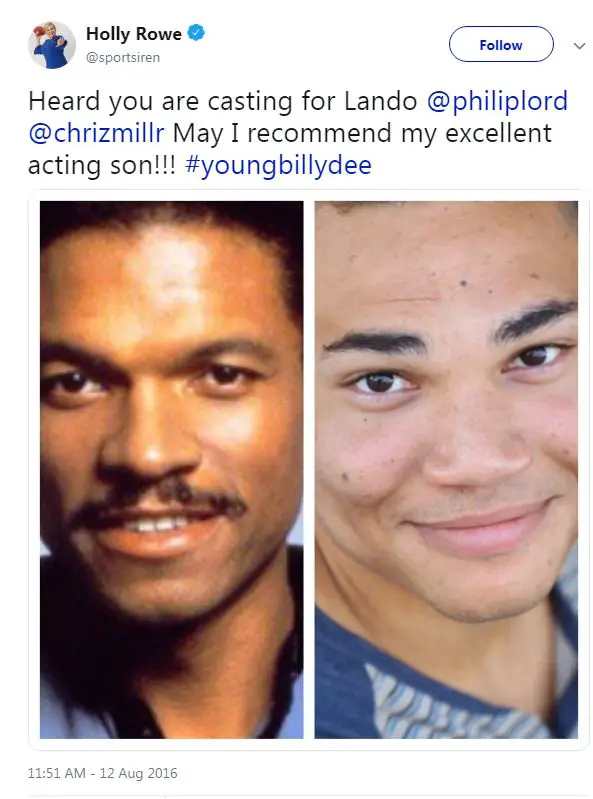 Holly Rowe talks about her son in her Twitter account. (Photo: Holly Rowe's Twitter)
The way Holly mentions about her family in the interviews, it seems that they are very supportive and has been helping her to overcome her illness.
She also seems extremely fond of her son and husband for supporting her through her cancer battle. Though not much has been revealed by the ESPN's prodigy about her husband, she hasn't hidden her appreciation for her son.
Don't Miss: Julia Baird Reflects On Health Crisis | Cancer Threatens Married Life​​​​​​​
Holly shared the conversation she had with her son alongside a picture of the duo in her Facebook account on 21 September 2017.
"Best time hanging with my son @chuckmcdiggins in New York. He tells me I was a great mom putting clothes on his back, food on the table....but my inability to properly "tag" him on social media is downgrading my mom rating in his eyes. Love you honey."
Born on June 16, 1966, Holly is popular for working in the sports television network, ESPN where she covers the college football and other sports. Holly is believed to receive a wonderful salary from her profession however her net worth is not disclosed yet.