Entertainment
White Ethnicity TV Personality Melissa Grelo: Married to Her Husband in 2008, Had Problem Getting Pregnant?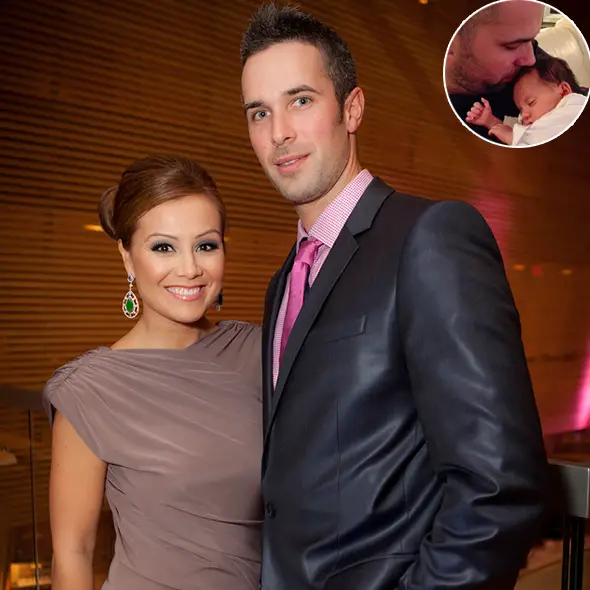 Pregnancy is the happiest feeling to most of the women out there. There are just few who wouldn't love to conceive. Unlike those women, the moderator of "The Social," Melissa Grelo struggled infertility to have a baby.
No doubt, being a mother is the greatest gift and happiness to a woman. Being pregnant is seeing yourself change physically and mentally in the process of giving birth to young ones. In this process, the mother to be will obviously face difficulties and pain, but it fades away with the happiest time when she gives birth to a baby.
After many hurdles, the Canadian television personality, Melissa is living blissfully with her baby and husband leaving behind the memories of struggles that she had.
Melissa Ringing Wedding Bells: Now A Married Lady!
Melissa is married to her boyfriend, Ryan Gaggi. They tied the knot in Sept. 2008, and the wedding took place in Ryan Gaggie's hometown, Woodbridge. For the honeymoon, the newly married couple traveled to Egypt, Greece, and Turkey. Her husband Ryan is the owner of construction business Alpha Con Inc.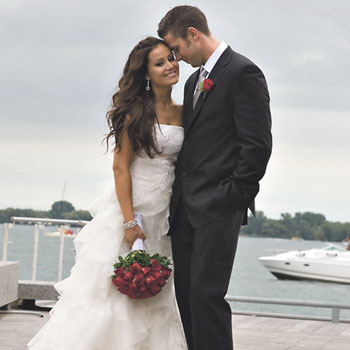 The actress with white ethnicity Melissa Grelo married her boyfriend Ryan Gaggi in September 2008 in Ryan Gaggi's hometown, Woodbridge (Photo: printest.com)
However, before tying the knot, it was Ryan who had bent his knees to Melissa while they were having a late night dinner at her place.
Their cute proposal story started off with Mellisa, who came home tired after her long reporting shift. At that time she reported having a headache, so after changing her clothes the duo sat for the dinner.
Similar Article: Willam Belli Married & Husband | Personal Life - Where Is Drag Queen Now?
At that moment Ryan went to the bathroom and appeared to her a few minutes later placing his hands on her shoulder. That was the time when Melissa heard Ryan reciting something beautiful. She couldn't control her emotions when Ryan asked her for marriage. And the answer, of course, was a YES!
How Did She First Meet Up With Her Husband?
The co-host of CP24 Breakfast, Melissa has a very interesting love story. She admits that she felt no connection when she first met her husband Ryan Gaggi but the first date with him was very romantic.
In an interview with Post City Magazine in June 2012, Melissa revealed how she met her husband. They were first introduced by one of their mutual friends. Melissa said that they had a very good conversation where she shared Ryan her phone number.
After meeting Ryan for more than a year and a half, Melissa again met him at a nightclub. After three or four days, they had their first date.
Struggles For Getting Pregnant:
When Melisa and her husband were ready to start a family, they struggled with infertility issues. Today, Melissa, a television personality, who earns a wonderful salary and makes a wonderful net worth of is a proud mother. She shares her story to aware couples who are struggling to conceive.
Read Also: Jacinda Ardern Baby Bliss With Partner, Married Life Through Hurdles
 After six years of marriage, Melisa finally gave birth to a baby girl named "Marquesa." The couple tried to conceive for more than two and a half years and also visited two fertility clinics. They went through many tests just to make sure that they were healthy. Six months after stopping visiting clinics and reassign the journey, Melissa got pregnant.
At Toronto's Mount Sinai hospital, Melissa gave birth to her daughter Marquesa Gaggi after 10 hours of labor. Baby girl arrived weighing 5 lbs., 9 oz.
Her daughter is currently four years old. The couple who had a hard time welcoming a baby into the world has been living blissfully together every day together with their daughter. Melissa who earns a significant net worth from her reporting job makes sure that her daughter gets everything that makes her happy. 
Don't Miss: Katherine Waterston Age 38 Bio: Pregnant With Baby, Who Is Her Husband?
No doubts about Mellisa who today stands as a proud mom!