Entertainment
Evanna Lynch Dating Again! Healed Over Pain From Past Affair?
Evanna Lynch Dating Again! Healed Over Pain From Past Affair? Celebrities usually tend to hide away their personal life from the prying eyes, but Evanna Lynch, better known as Luna Lovegood from the 'Harry Potter' franchise, isn't one of them.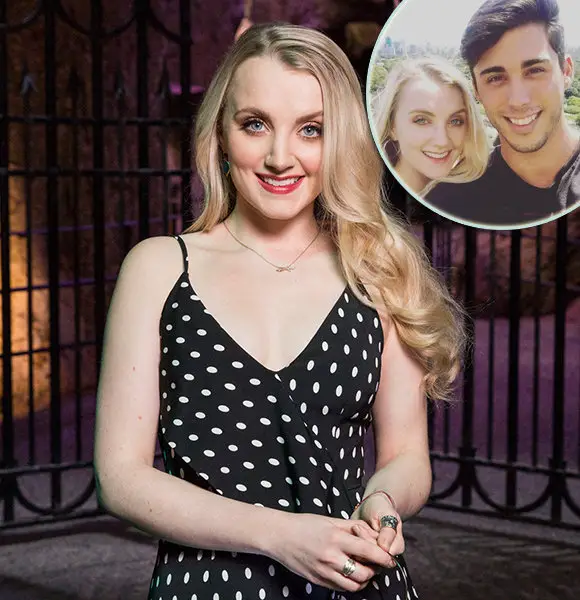 Celebrities usually tend to hide away their personal life from the prying eyes, but Evanna Lynch, better known as Luna Lovegood from the 'Harry Potter' franchise, isn't one of them.
When it comes to dating, Evanna has just one rule: Let the haters know! And the rumors of the new relationship of 26-years-old Evanna started when she recently took Instagram to flaunt her picture with a young man. 
So is Evanna really in love with this man? And if yes, who is this lucky guy who won her heart? Dig in to find that out!
Picture Confession Of Her Love
The actress, who was living a single life after her breakup, was reported to be dating again, this time with singer-songwriter, Andel. 
Don't Miss:- Did Shawn Booth Split With Kaitlyn? Reveals The Truth Amid Break Up Rumors
It turned out that the rumors were actually true after Evanna confessed her love on Instagram. She uploaded a picture to reveal her boyfriend to the world, and the caption reads,
 "Trying to take pictures with my incredibly mature boyfriend @officialandel in case you thought he was attractive, this is the expression I have to look upon 90% of the time. #truelove."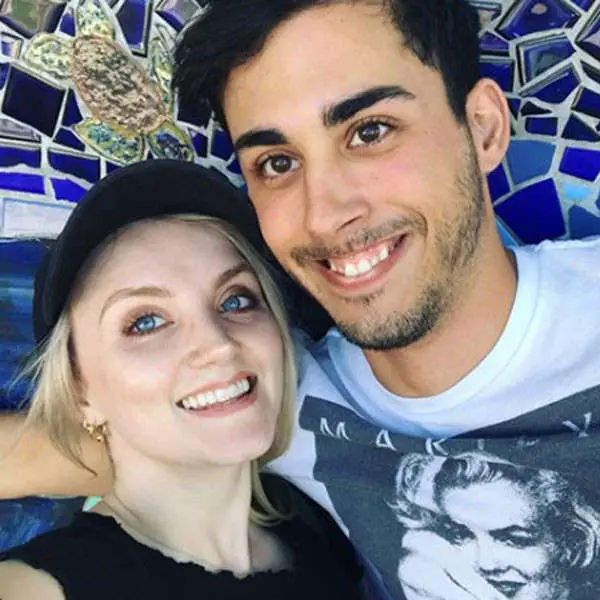 Evanna Lynch flaunting boyfriend through Instagram (Photo Credit: Evanna Lynch's Instagram)
The couple seems very happy together in the picture, although she reveals that it's not going to be easy for the two of them as they share a completely different view regarding food hygiene. Evanna is a Vegan whereas Andel happens to be a meat-eater. But, it seems like the two are ready to put their differences aside for the sake of their relationship.
In an interview for the April issue of Irish Tatler, she said,
"My boyfriend is a total meat-eater. He really challenges me on these things and I have to think more. I have certain rules like he's not allowed to eat baby animals when I'm around, so no lamb. But he always goes to vegan restaurants with me as well."
Evanna, who is supposedly in a long-distance relationship with Andel, opened up to the Independent about her current status,
"It's about, 'I like this person better than everyone else and they bring something to my life. I'm all about relationships being a real friendship. Checking every day seeing how they are and just having a best friend that you can really talk to."
It's said that the taste of victory is sweetest only after a defeat. Maybe Evanna was destined to go through heartbreak before she could find her true soul mate.
Evanna's Ugly Past
Before Andel, Evanna was in a relationship with actor Robbie Jarvis. The pair first met in 2007 while shooting for the movie 'Harry Potter and the Order of the Phoenix,' where Robbie portrayed the character of young James Potter, Harry's father. The two hit it off quickly and soon became a couple.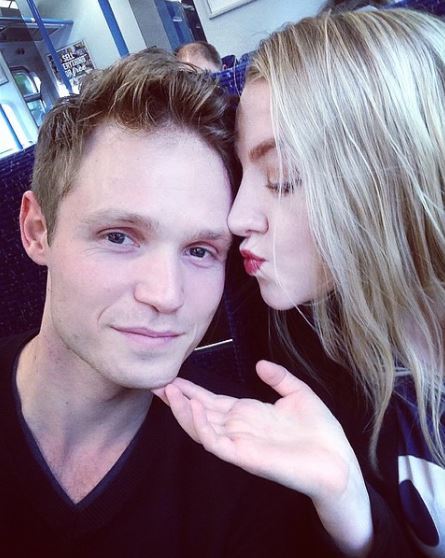 Evanna Lynch with former boyfriend, Robbie Jarvis (Photo: Evanna Lynch's Instagram)
The relationship was going on strong for nine years, but as they were about to touch the decade mark, Evanna led a massive revelation that the relationship had come to its end.
See Also:- Toby Jones Bond With Wife Grows While Career Grabs New Heights Despite 'Terrible' Teeth
Back in 2016, at the premiere of Harry Potter spin-off 'Fantastic Beast and Where to Find Them,' Evanna was asked if she was still together with Robbie. In response, Evanna told the US Weekly,
"No, but we're still friends."
She further added,
 "We're both vegans, so we go to a lot of vegan events together"
Whether they parted on good terms or not, a heartbreak can still be a terrible experience. But now that Evanna has found her way to a successful relationship with Andel, her wounds from the past are finally beginning to heal.
Vegan Activist
An animal lover and a vegan, Evanna has been dedicating herself to spread awareness against animal cruelty. She even spoke in favor of animal rights at London's Official Animal Rights March in August 2018. The march was attended by nearly 10000 animal activists. Similarly, she has also planned to launch a beauty box consisting of cosmetic items that are free from any kind of animal testing.
You May Also Like:- John Salley's Wife Supports Vegan But What About His Wife And Daughter?
Further, Evanna has also narrated in a five-minute long feature video titled "iAnimal: The Dairy Industry in 360-Degrees." The short awareness clip is short-listed at the 2018 Raindance Film Festival to win the Best Social Impact Experience.
Moreover, Evanna also shares a cat along with her dad called Puff. On 16 April 2018, she shared a picture of her father and cat, wishing her pet for his birthday.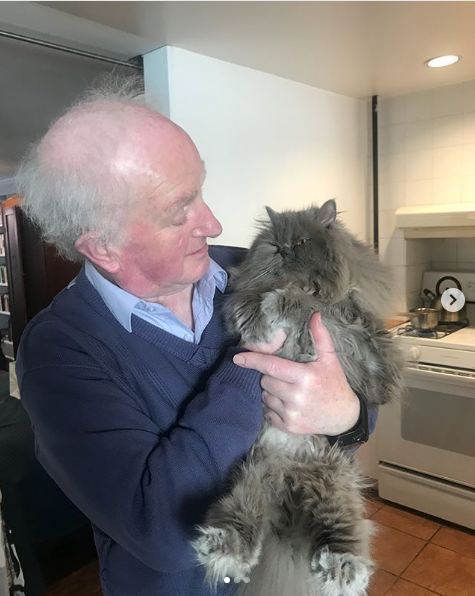 Evanna's father along with their pet cat, Puff (Photo: Evanna Lynch's Instagram)
In the meanwhile, Evanna has taken a break from social media and has vowed not to return until the end of summer.
Short Bio of Evanna Lynch
Evanna was born on 16 August 1991 in County Louth, Ireland to parents Donal and Marguerite Lynch.  She attended Cartown National School in Termonfeckin until June 2004 and then moved to Our Lady's College in Drogheda, where her father was the deputy principal. In 2008, Lynch studied speculative fiction and drama at the Centre for Talented Youth in Ireland, which is located in Glasnevin.
Earlier in her childhood, Evanna suffered from anorexia, an eating disorder forcing her to move in and out of rehabilitation clinics. The illness also resulted in Evanna being hospitalized by age 11. Though she has recovered now, she still works to promote healthy self-esteem and body image in young girls and has written the essay titled 'Why the Body Bind is My Nightmare' where she describes her emotional struggle with her appearance and how she managed to overcome this through the use of allusions.
Evanna, who is a fan of the Harry Potter books, became pen pals with J.K. Rowling after exchanging a series of letters with the writer. It was J.K. Rowling who suggested her to audition for the role of Luna Lovegood in 'Harry Potter and the Order of the Phoenix.'  Although her mother initially doubted whether she could get the role, still her father flew her off to London for the open audition. She beat nearly 15000 other girls to win the part and also appeared in the last three movies of the franchise. Her performance in 'Harry Potter and the Half-Blood Prince' has earned her Scream Award and Young Artist Award nominations.
Her other notable works include movies like 'GBF,' 'Dynamite: A Cautionary Tale AKA Addiction: A 60's Love Story,' 'Monster Butler,' 'Danny and the Human Zoo,' 'My name is Emily' and TV shows like 'Sinbad and Apex.'