Entertainment
Toby Jones Bond With Wife Grows While Career Grabs New Heights Despite 'Terrible' Teeth
English actor Toby Jones is known for his roles in movies The Girl, Infamous, Harry Potter Series and The Hunger Games.
The London native is living a happy married life with his wife and kids after a long dating history. What's more, the actor has managed to create a niche for himself in Hollywood after a long and arduous struggle.
Long Time Dating, Finally Married
The bond between Toby Jones and his defense attorney wife Karen Jones is constantly on the rise. Their love for each other has not diluted despite having spent close to a quarter-century in each others company.
Interesting:- Who Are John Henton's Wife & Daughter? 'Living Single' Star's Married Life
After dating for more than two decades, Toby announced in 2014 that they were taking their relationship forward and getting married in July 2014. The couple married in a secret location without revealing the actual dates of the nuptials.
Before tying the knots, the husband and wife were involved in a romantic relationship lasting more than two decades. What's more, the English actor had two daughters with his wife before getting married.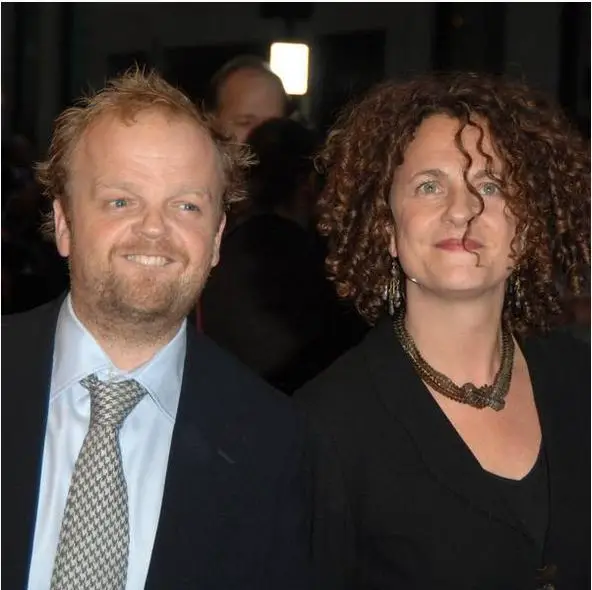 Toby Jones with wife Karen Jones in 2012 (photo: express.co.uk)
The Hunger Games actor lives in Stockwell London with his wife and two daughters.
He does not want his daughters to follow him in acting. Speaking to Scotland Herald in 2016 he expressed that showbiz was a risky business and was tough both physically and psychologically.
He quipped:
"I can think of few riskier jobs than becoming an actress. It's such a perilous, psychologically demanding job."
The actor could have been speaking from the experiences from his extended period of struggle from 1992-2005, where he was not only frustrated with the lack of opportunities but also became a subject of ridicule because of his short height, i.e. 5 feet and 5 inches, and a relatively massive head.
Read Also:- Sonya Curry Age 52 Bio: Height, Ethnicity To Net Worth, Instagram & Facts
Toby echoed similar sentiments when he spoke to Isabel Thompson of Vanity Fair back in January 2018. The Sherlock actor spoke about the thin line between wanting to tell the younger actors to dream big and at the same time, advising them to face the reality. He elaborated:
"You should always encourage young people; you can't not allow people to dream."
Diving further into the precarious position he sometimes finds himself in, he spoke frankly about the odds that stack against the younger actors simultaneously acknowledging the power of his words. He said:
But it's not my job to put them off.
Most recently, the Detectorists star appeared on the Co Donegal staging of Friel's 1979 monologue-based play Faith Healer, which was showcased at the Friel Fest.
Short Height, Lofty Achievements
The Dad's Army actor rose to prominence after a 13-year struggle in the industry after his portrayal of Truman Capote in his 2006 biopic Infamous.
The movie Infamous made Toby famous and earned him recognition as one of the most excellent actors of the generation. After the movie, he has been a part of numerous mega-hit franchises including Harry Potter, Captain America, and Hunger Games.
Discover:- Luciana Barroso Bio Details Age, Ex Husband, & Content Family With 'Martian' Star
The actor's vintage moment came after he characterized Alfred Hitchcock in TV film The Girl in 2012. The actor was nominated for the best actor in all the most significant small screen awards including the Golden Gloves, Prime Time Emmys, and the BAFTA.
In 2018's British Academy Television Awards, Toby won his first ever BAFTA award for the Best Male Performance in Comedy for his performances on BBC4 comedy series Detectorists.
Besides his wife and daughters, he thanked the whole crew and cast of the popular BBC4 series. He said:
"It's true but you're only good as the cast that surrounds you."
The actor has always excelled in uglier roles, which has led to suggestions about his being typecasted in a certain role. With a short height, yellowish tinged uneven teeth and a disproportionally high forehead, the actor has played a majority of roles of losers.
One such role that stands out is of Culverton Smith, a wealthy but murder obsessed philanthropist in the hit BBC series Sherlock, where his yellowish teeth symbolized his rotten mentality.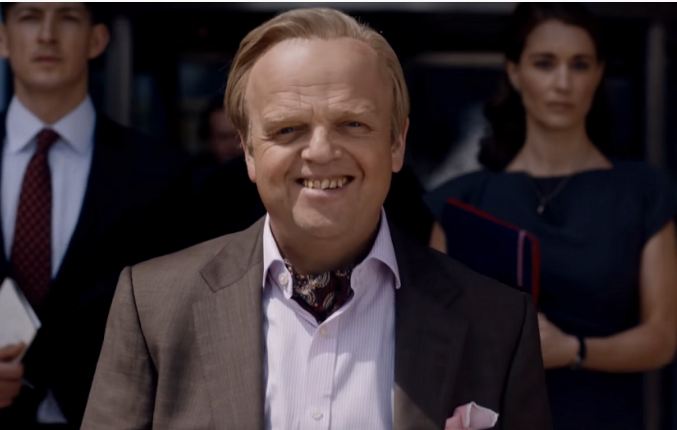 Toby Jones as Culverton Smith with rotten teeth and a murder obsessed heart (photo: bleedingcool.com)
Writer and actor for the series, Mark Gattis listed Culverton Smith as the darkest villain in Sherlock's history and explained about his character:
"Toby is doing something very interesting. He's an avuncular, funny seeming man with terrible teeth. We've given him terrible teeth, which are symbolic of the rot inside him. It's a great complex, shaded character. You're not quite sure what the relationship is with him."
Despite having played characters border lining losers in his movies, Toby Jones is a winner in the sense that he has done the losers justice with his real life like portrayal.
What's more, the lofty heights his career has hit has even made a mockery of his short stature.