Entertainment
Former Soccer Hottie Sammi Giancola: Dating With Ronnie Ortiz-Magro Again?
Falling in love can be tricky. You might break up with your significant other or you might be looking for a bright future in your relationship. Even if you decide to break it off with your boyfriend or girlfriend, there will be chances where you might get back together with the same person you broke up with. Or you might be good friends and on good terms.
The same thing happened to Sammi Giancola and Ronnie Ortiz-Margo. Before Sammi became famous she was known for her talent for playing soccer in high school. The Italian beauty became famous and gained recognition for becoming part of MTV's Jersey Shore cast.
Sammie Giancola and Ronnie Ortiz-Margo Dating History:
Sammi and Ronnie first met when they were cast together in the reality TV series Jersey Shore on 3 December 2009. The couple started dating on and off but Sammi called quits after learning Ronnie was cheating on her. They broke up in the 3rd season of the reality TV series in 2011.
Dating After Divorce:- Will Arnett Dating Again, Who Is Girlfriend After Divorce? Kids, Age, Height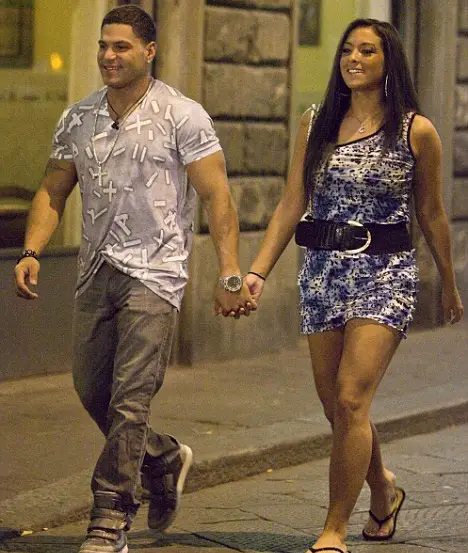 Sammi and Ronnie holding hands after leaving a romantic dinner date in Florence on 24 May 2011 (Source: dailymail.co.uk)
However, the attraction was too hard to resist as they were again seen together hand in hand on 24 May 2011. Sammi and Ronnie were the hottest couples in Jersey Shore. Even after the end of the TV series, the couple continued dating.
After the on-off romance, the couple finally broke up in 2014. After a gap of 1 year between the dramatic split, seemed like they're getting close again in 2016. The famous exes reunited at Sammi's 29th birthday party and went vacationing together in Italy.
There were no photos of them together in Italy but both of them posted a separate photo of themselves in the exact spot while visiting the Colosseum in Rome. After reconnecting in Sammi's 29th birthday, Sammi and Ronnie were seen cozying up to each other in the picture posted by Sammi on her Instagram account.
The body language between the two former couple said it all. They were leaning closer to each other while looking comfortable in each other's presence.
Back With Wife:- Juan Diego Botto Saved His Married Life! Is Back With Wife In A Reunited Family
After seeing this in Sammi's Instagram, the fans of the show, Jersey Shore were eager to know what the future hold for them. Unfortunately, fans were treated with disappointment when it turned out that the pair had not got back together.
However, Sammi's admirers were rejoiced to find out that she is currently in a relationship and may have even gotten engaged to her new boyfriend.
With New Boyfriend; Engaged
Sammi is currently dating a man named Christian Biscardi. Although it's not when or where they first met, the couple has been supposedly dating since February 2017. Further, they are also business partners as they run an online business together called The Strength Spot.
After dating for more than two years, Sammi's boyfriend decided it was time to take their romance to a new level. On 4 March 2019, Christian proposed to his partner and Sammi immediately accepted his proposal.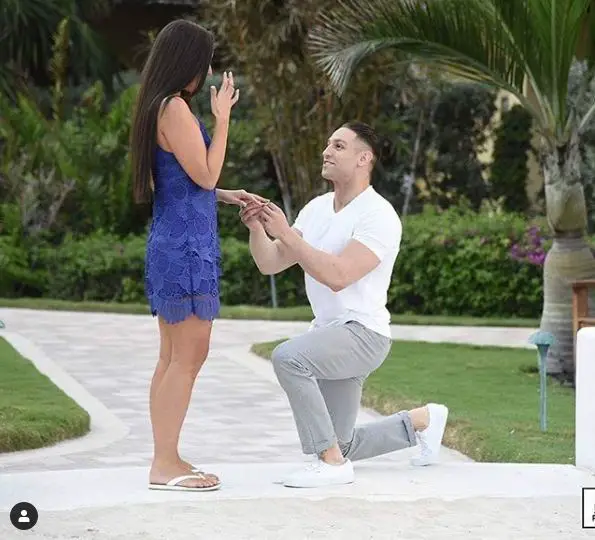 Sammi Giancola's boyfriend Christian Biscardi gets down on one knee to propose her for marriage (Photo: Samantha Giancola's Instagram)
Newly Engaged:- Cooke Maroney Engaged To Jennifer Lawrence | Details
The newly engaged couple has not revealed their plans for a wedding but looking at how Sammi has already started calling herself "Mrs. Biscardi," a wedding could be on the schedule.
Sammi Giancola's Short Bio:
Samantha Rae Giancola AKA Sammi Giancola was born on 14 March 1987. She is an American tv personality, model, and actress. She gained recognition after being cast as one of the eight main characters in MTV's reality tv show Jersey Shore.
When Jersey Shore was at its peak Giancola was earning $150,000 per episode which resulted in a net worth of $2 million. Giancola was a four-year letter varsity soccer letter winner at Raritan High School.
After the major hit of the tv series Jersey Shore, she has also appeared with her cast mates on The Tonight Show with Jay Leno, The Ellen DeGeneres Show, The Wendy Williams Show and Live with Regis and Kelly. In 2012, Sammi and her Jersey Shore castmates later appeared in the movie The Three Stooges.